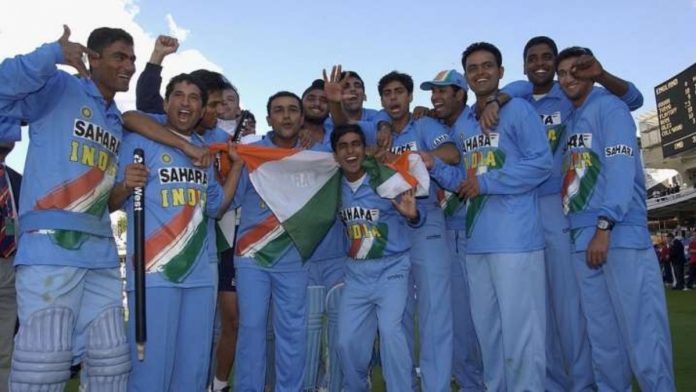 The Indian cricket team has exemplified a never-say-die attitude and has been one that is always known for its highest quality of cricket. Over the course of its rich history, the side has pulled off a plethora of stupendous wins that are etched in the minds of cricketing fans not only in the country but around the world as well. Further, they have always come back quite a lot of times from the jaws of defeat to clinch victory in encounters in the past.
Here are 5 other ODI comebacks that Indian cricket fans fondly remember.
India vs Zimbabwe, Prudential World Cup 1983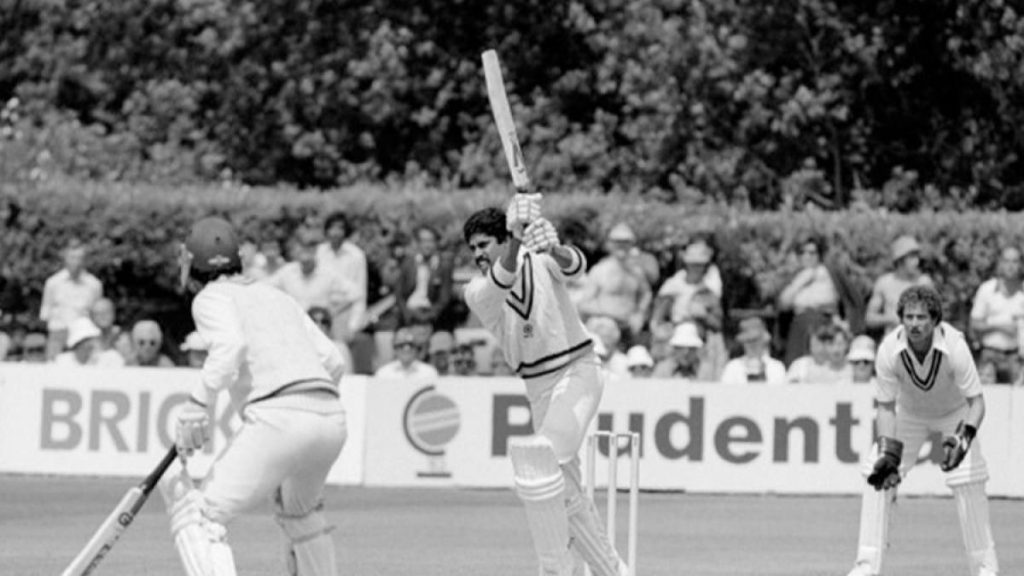 This match and the related anecdotes have achieved a mythical status in Indian cricket history. India were in disarray at Tunbridge Wells after winning the toss and deciding to bat first. Kevin Curran and Peter Rawson wreaked havoc on the Indian top order, leaving India tottering at 17/5.
Out walked India's captain and number six batsman Kapil Dev who produced an innings that will be remembered as one of the best as long as ODI cricket is played. His 175 not out included 16 fours and 6 sixes. With the help of cameos by Roger Binny and Madan Lal and an unbeaten partnership of 126 with Syed Kirmani, Kapil took India to a challenging total of 266/8 in 60 overs.
What is even more remarkable about this knock is the strike rate; 175 off 138 balls is difficult to reproduce even in modern ODIs let alone in 1983 when ODIs and Tests weren't regarded very differently. Kapil's inspirational performance gave India a huge fillip. The bowlers bundled out Zimbabwe for 235 with Kapil also taking a wicket.
In fact this was the innings that changed India's course for the 1983 World Cup. Kapil's Devils harnessed the self-belief and positivity generated from this match all the way to lifting the 1983 World Cup. India's World Cup win changed world cricket forever and it all began at the Nevill Ground, Tunbridge Wells, Kent. This match was famously not recorded on camera due to a BBC strike, much to the dismay of cricket fans worldwide.
India vs England, NatWest Final 2002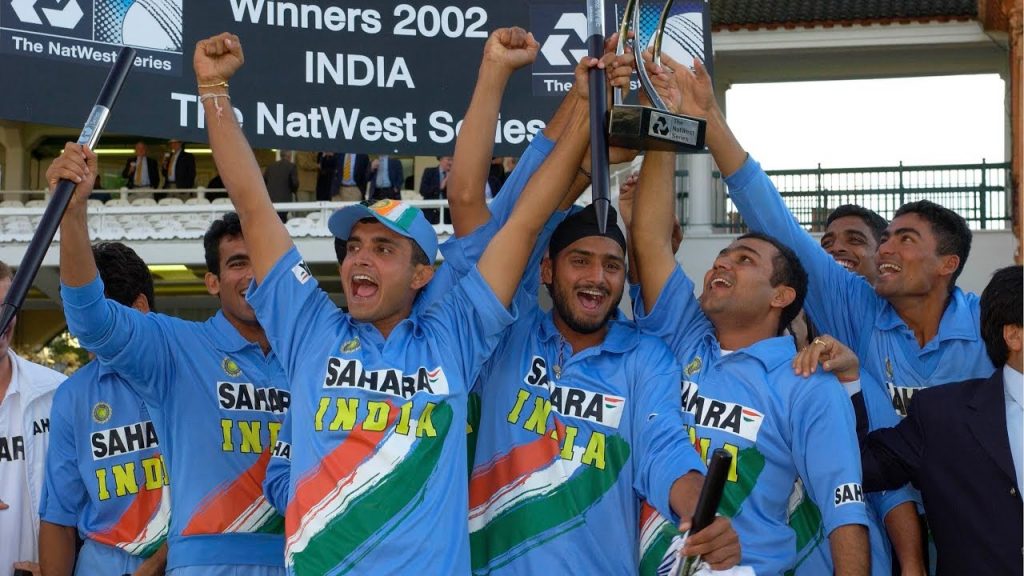 Mention the NatWest series to any millennial cricket fan from India and you will rekindle fond memories. Back in 2002, India had a terrible record in chasing 250+ totals and an even worse record in tournament finals. So the Men in Blue were truly up against history when England scored a mammoth 325 runs in the finals of the 2002 NatWest tri-series at Lord's. Although openers Sehwag and Ganguly got India off to a good start, the pressure of the chase meant India lost quick wickets soon after their dismissals. India were reduced to 146/5. Tendulkar and Dravid included those back in the pavilion.
Yuvraj Singh and Mohammad Kaif were India's last recognised batsmen on the crease. Both were inexperienced and were expected to roll over soon. Even the commentators had written them off. But the duo fearlessly kept on going and defied all expectations. They ran superbly between the wickets and regularly hit boundaries to keep the asking rate under control. By the time Yuvi was dismissed for 69 runs, India were 267/6, still not safe but they definitely had belief.
Kaif was still unbeaten in what turned out to be the most memorable innings of his career. His 87 not out included 6 fours and 2 sixes. He combined with Harbhajan Singh and later Zaheer Khan to take India home in a most thrilling manner in the last over with 3 balls to spare. India were 326/8, winning by 2 wickets. India's spectacular victory triggered a wild shirtless celebration by captain Sourav Ganguly from the Lord's balcony, which became another talking point apart from the cricket
The manner of the victory and the scenes that followed showed that the Nineties era of Indian cricket was officially over.
India vs South Africa, ICC Champions Trophy Semi-Final 2002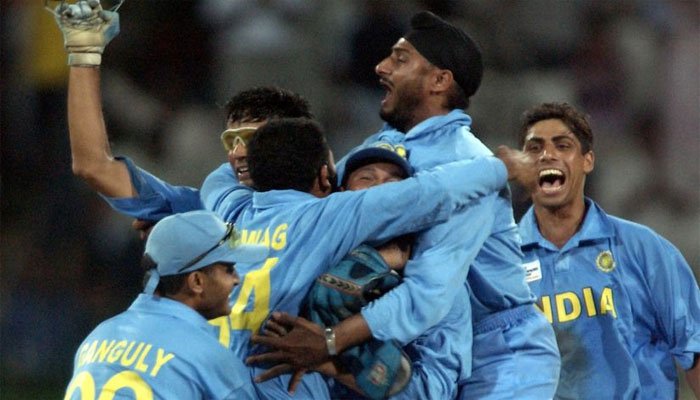 Just a few months after the NatWest series, the new ethos created for the Indian team under Ganguly came to the forefront yet again. India were facing South Africa in the 2002 Champions Trophy semis, a team against whom the Indians did not have a great record. Batting first at the R Premadasa Stadium in Colombo, India scored a decent 261/9 with major contributions by Sehwag, Yuvraj and Dravid.
In reply although SA lost Smith early, Herschelle Gibbs and Jacques Kallis set up a 178 run partnership that all but took the game away from India. Gibbs scored a fabulous century at almost a run-a-ball. Ultimately it was not the Indian bowlers that led to Gibbs's departure, it was Colombo's heat and humidity. Despite calling for a runner he could not continue his innings any further and retired hurt at 116 off 119 balls after the 37th over. South Africa's score read 192/1.
SA were still the favourites with Kallis still there and Rhodes, Boucher and Klusner among others to come. But South Africa have an unfortunate tag of choking in big matches and the Indian bowlers did exactly that to the SA batsmen. The runs suddenly dried up after Gibbs' departure, the asking rate climbed up and the Proteas kept losing wickets regularly.
The Indian team never gave up and kept on chipping away at South Africa. This never-say-due attitude was best demonstrated by Yuvraj's spectacular catch to dismiss Rhodes. Harbhajan and Zaheer were the pick of the bowlers due to their economy rate. Sehwag was man of the match for his first innings fifty and 3 crucial wickets, 2 of them in the last over.
SA ended up at 251/6 in 50 overs. India were through to the finals where they would be joint-winners with Sri Lanka. Another famous win for India under Ganguly.
India vs South Africa, 2nd ODI 2011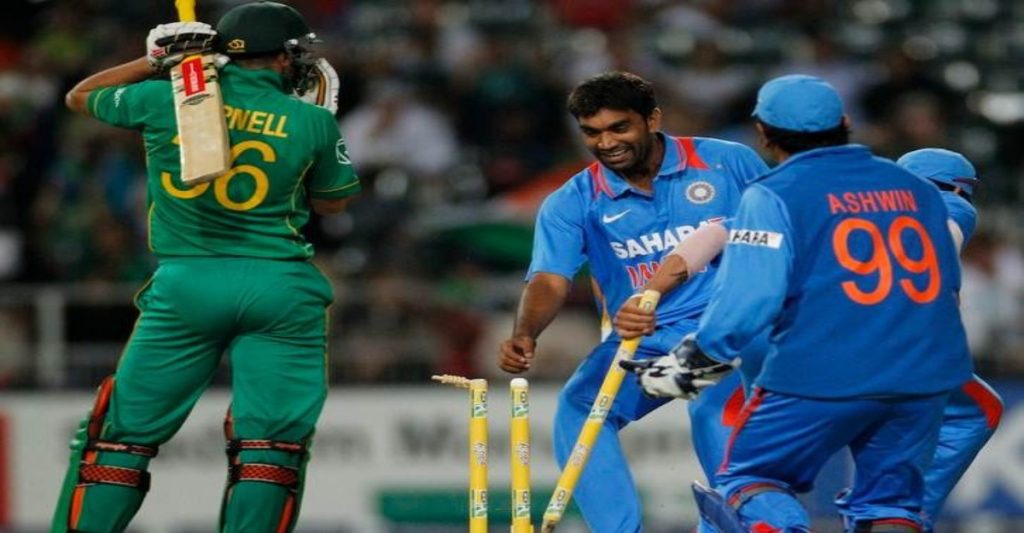 This was a series that took place in South Africa just before the 2011 World Cup. India did well to draw the Test series but weren't expected to do as well in the ODIs. Though eventually India did lose the series 2-3, this match and the one that followed showed the team that if they can compete in tough South African conditions, how much better can they do in the World Cup that would be played at home.
After deciding to bat first in the 2nd ODI at Johannesburg, India only managed a sub-par 190 in the first innings. Only Yuvraj got to a 50 for India while Tsotsobe took a 4-wicket haul for the hosts. Similar to the 2002 semifinal, South Africa again made a mess of what should have been an easy run chase even as India fought till the end.
Graeme Smith played a captain's knock of 77 but simply could not find support at the other end. India kept taking wickets whenever a partnership would appear. Ingram, De Viliers, Duminy all perished to loose shots. When Smith was finally out after 32 overs with the score reading 152/5, India saw an opportunity and firmly took hold of it.
Zaheer Khan first dismissed the dangerous David Miller and then got rid of Johan Botha. When Steyn got run-out, the score was 177/8, with all rounder Wayne Parnell still batting. Parnell and Morne Morkel took SA upto 188/8. Medium pacer Munaf Patel then produced a stunning spell that dismissed both of them in the 43rd over. From 152/5 SA had collapsed to 189 all out. India won by just a run and Patel was MotM. This win gave India a lot of confidence just before their successful World Cup campaign.
India vs Sri Lanka, 2nd ODI Pallakele 2017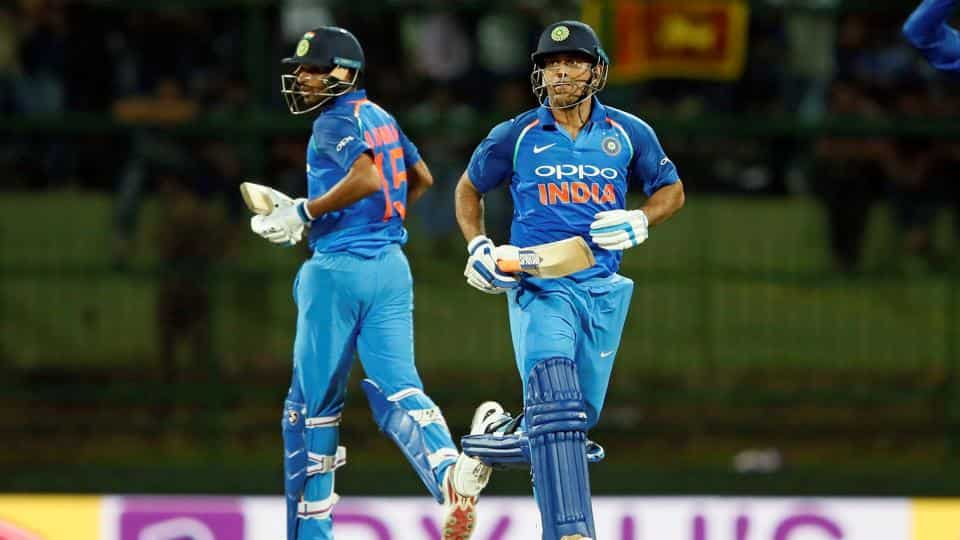 The image of the Sri Lankan mystery spinner has haunted Indian cricket fans since the 1996 World Cup semi finals. Ajantha Mendis added another chapter to the saga during the 2008 India tour of Sri Lanka. Nine years later during another Indian tour, it was Akila Dananjaya's 'turn' to add his name to the list. This time though, India ended up on the winning side despite Dananjaya's heroics.
Put into bat by India, Sri Lanka managed 236/8 in the first innings thanks to knocks played Siriwardana and Kapugedara. In reply Dhawan and Rohit Sharma put India off to a great start with a 109 run 1st wicket partnership. Lankan captain Tharanga then gave the ball to Dananjaya who was playing only his 4th ODI.
What followed next was an all too familiar script for Indian fans. Mystery bowler Dananjaya took 6 wickets in all, including 5 in 13 balls to leave India in dire straits at 131/7. However one of India's best players of spin, MS Dhoni was still at the wicket. He guided Bhuvaneshwar Kumar, who has batting talent, into treating Dananjaya as a googly bowler. The duo soon gained confidence against the spinner and took India home without any further loss. Bhuvi even scored a fifty.
India went on to whitewash Sri Lanka 9-0 in all 3 formats. This particular match was the highlight of the tour.
Also Read: Here are the top 5 highest run-scorers in IPL history