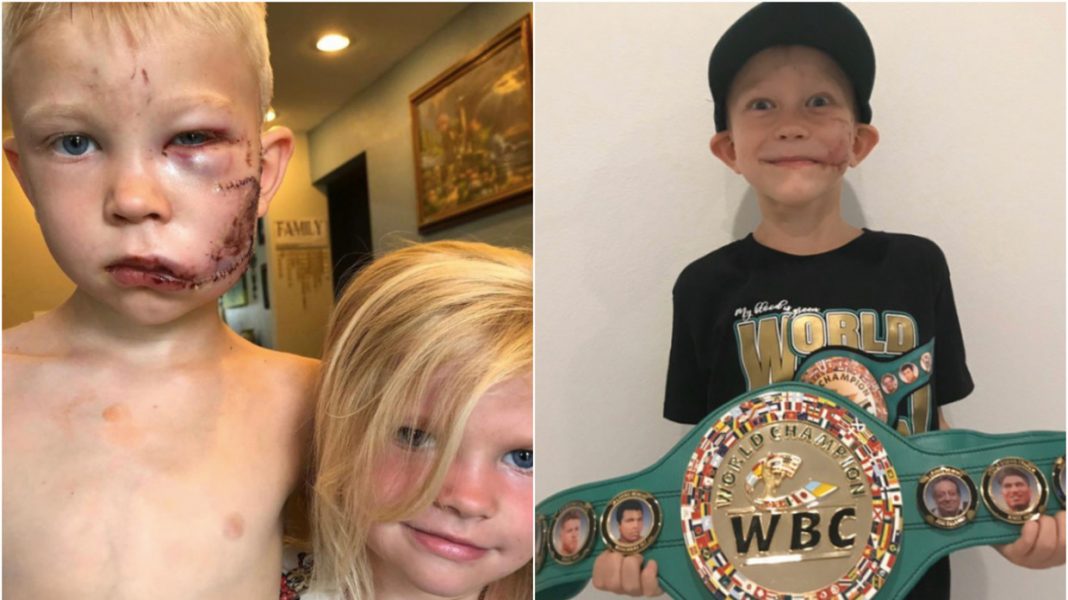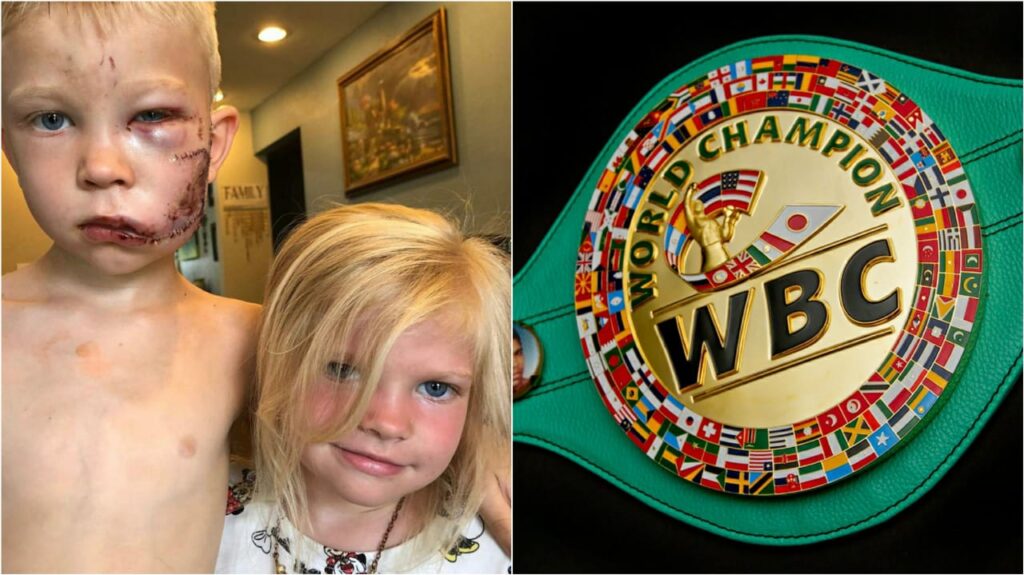 A few days ago, a 6-year-old boy, 'Bridger James' showed heroism as he shielded his sister from the onrushing dog and got bitten himself. He needed 90 stitches to get his face back. For his strength and bravery, the boy was awarded an honorary 'World Champion Belt' from the World Boxing Council, and now he has received it.
When this news went viral, the World Boxing Council (WBC) announced that it would make Bridger who is from Wyoming, an honorary world champion in recognition for his bravery that "represents the best values ​​of humanity."
WBC shared a photo of the Bridger with the BELT on their twitter handle and wrote, "AND THE NEW WBC CHAMPION OF THE WORLD, Bridger "The bravest man on Earth" Walker." In the picture, Bridger was smiling and wearing a WBC cap and t-shirt along with the famous green and gold belt.
Another picture of Bridger went viral wherein he was hugging his sister with his scarred face. The boy's aunt told of the harrowing moment to a German shepherd who then ran at the two children. The boy had pushed his sister to safety and then the dog had latched its jaws onto his face. The bite of the dog made him suffer a two-hour surgery so that the wound is closed.
Bridger is a HERO
When his father asked Bridger why he didn't run to safety, the brave boy replied heartbreakingly, "If someone had to die, I thought it should be me."
The young boy has received appreciation from all over the world for his bravery and heroism. Hollywood actor and Avengers star Chris Pratt called the youngster "A True Hero" on Tuesday in a video that was solely intended to appreciate the boy's effort.
Pratt further said, "This young man exemplifies courage, having done the unthinkable in the face of fear to protect someone he loves. What an inspiring story," Pratt admitted that he felt compelled to make the video.
He said, "Hopefully it will put a smile on his face. His Auntie Nicole reached out to me and I figured the very least I could do was acknowledge him for a moment."
Pratt further asked people to look into themselves and see when was the last time they did something courageous. "And who do we look up to? Who in our lives puts their life on the line in the name of safety? They are the true heroes."
Also Read 6-year-old, Bridger Walker James honorary 'World Champ' for protecting his little sister