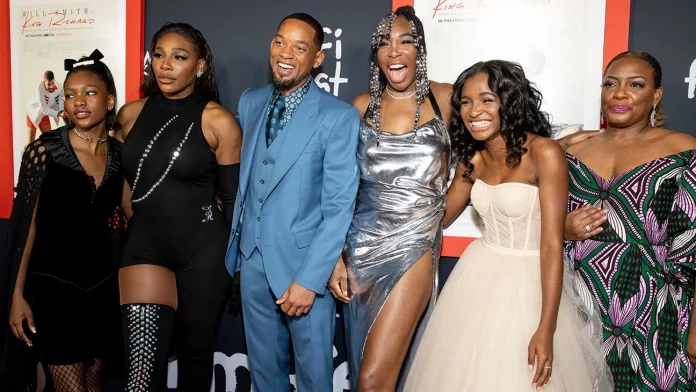 Demi Singleton and Saniyya Sidney had the pleasure to work with Will Smith this early in their careers. They demonstrated their talent by playing Venus and Serena Williams on-screen in the movie 'King Richard'.
Critics and fans have praised King Richard's, and tennis enthusiasts were left enthralled by the story of the Williams household.
Reel Venus and Serena Williams on The Kelly Clarkson Show
Demi and Saniyya had gone through an extensive amount of tennis training in order to make Serena and Venus appear as authentic as possible. The actors recently appeared on The Kelly Clarkson show, where they discussed their experience of working with Will Smith.
Both the young actors had some stuff to say about working with Will Smith. "I was definitely nervous meeting Mr. Will. He is the fresh prince of Bel Air. He is pretty phenomenal. He is so humble and so kind", said Demi Singleton.
On the other hand Saniyya told about a funnier story about the Hollywood star. She said, "He has the best shoe game. The best shoe game I've ever seen. HE doesn't tie his shoes".
However both the actors unanimously agreed that they were much better at playing tennis when compared with Will Smith.
Richard Williams learned Tennis to teach Venus and Serena Williams
In the same interview, the actor Demi Singleton said, "We did some very intense tennis training. But, Mr.Will didn't. That's mostly because Richard didn't play. He didn't know how to play tennis. He kind of taught himself in order to teach Serena and Venus. He had really no experience with the sport until he decided that he thought that would be best for his girls".
This shows the dedication of Richard Williams. The lengths he went to in order to teach his daughters tennis. Richard is the true hero behind the success of both her daughters. Both Venus and Serena have won 30 Grand Slam titles between them, and the credit goes to 'King Richard' for gifting the tennis world with such players.
Also Read: Stefanos Tsitsipas Calls out "King Richard" to be his new coach!