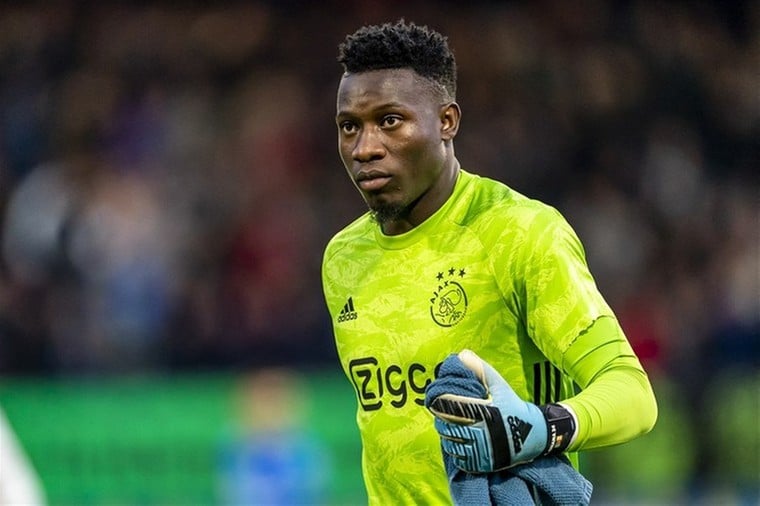 Dutch club goalkeeper Andre Onana has been banned from playing football after failing a doping test.
He was heavily linked with the likes of Chelsea and Borussia Dortmund this summer transfer window. He impressed a lot of critics with hai performance in the 2018/19 UEFA Champions League.
Andre Onana suspended for 12 months
Cameroon international Andre Onana has been suspended for a year announced Dutch club AFC Ajax. However the Dutch giants have said they will appeal against the decision.
They are claiming that Onana unknowingly took a medicine which was prescribed for his wife. The medicine is called Lasimac. They are claiming that he took it one morning after feeling some uneasiness unknowingly.
The UEFA body has handed him a 12 months suspension after he failed their doping test which was conducted in October 2020. While Ajax acknowledged that the body's regulations are understable they are confident of changing the decision.
The test found a banned substance Furosemide in the doping test. The ban is applicable from February 5th and is applicable for all footballing activities.
On the morning of October 30, Onana was feeling unwell. He wanted to take a pill to ease the discomfort. Unknowingly, however, he took Lasimac, a drug that his wife had previously been prescribed.
Onana's confusion resulted in him mistakenly taking his wife's medicine, ultimately causing this measure to be taken by UEFA against the goalkeeper.
"Furthermore, the disciplinary body of the football association has stated that Onana had no intention of cheating. However, the European Football Association believes, on the basis of the applicable anti-doping rules, that an athlete has a duty at all times to ensure that no banned substances enter the body."
Also Read: Jose Mourinho's worthless tactics get exposed and battered by Chelsea's Thomas Tuchel