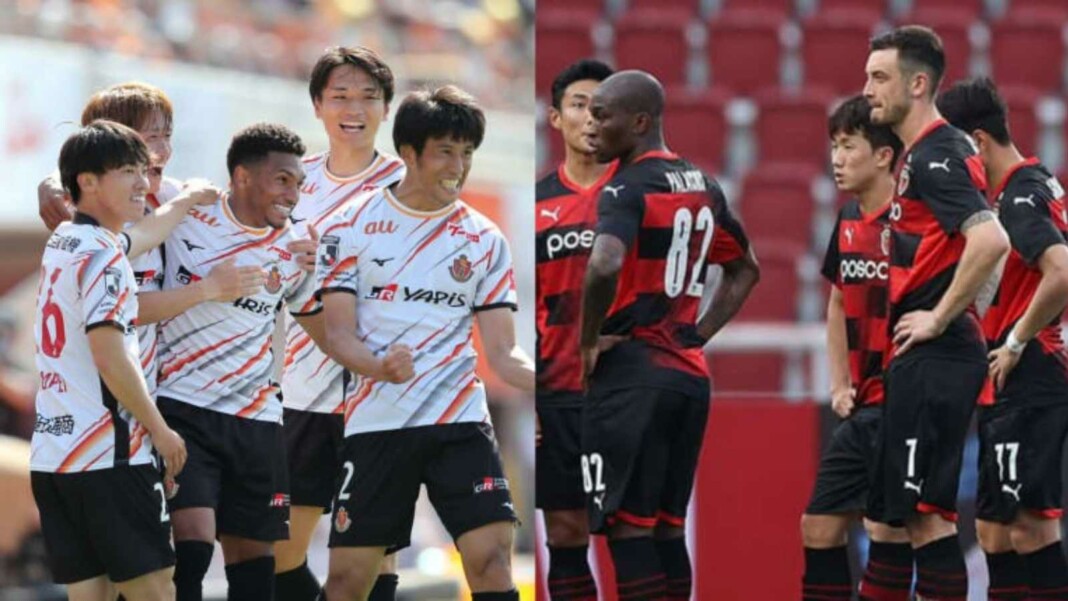 Nagoya Grampus will take on Pohang Steelers in the Group G match of AFC Champions League 2021 on 22nd June at Rajamangala Nationwide Stadium. Both teams won their first two games and will be seeking another three points to maintain their lead at the top of the table.
Nagoya Grampus vs Pohang Steelers Team Preview
Nagoya Grampus
Nagoya defeated Malaysian club Johor DT 1-0, with Hiroyuki Abe scoring the game's only goal on the hour mark. Their goalkeeper Mitchell Langerak maintained a clean sheet in the first game against Johor Darul Ta'zim and is certain that his club will win for the second time in a row.
They are among the favorites to advance to the Round of 16, and a win would solidify their position.
Pohang Steelers
Pohang Steelers defeated Thailand's Ratchaburi 2-0. The Koreans took all three points thanks to goals from Borys Tashchy and Lim Sang-Hyub in each half.
They have a long history in the top-level tournament having won Asian Club Championships in 1997 and 1998, as well as the restructured AFC Champions League in 2009, and head coach Kim Gi-dong will be hoping his team can build on their win against Ratchaburi.
NGY VS PHG: Head to Head
This contest will be the first-ever between both teams.
Recent Form
Nagoya Grampus: WWDLD
Pohang Steelers: WWWLW
Match Details
Match Name: Nagoya Grampus vs Pohang Steelers
Date: 25th June
Timing: 3:30 PM IST
Venue: Rajamangala Nationwide Stadium
Squads to choose from
Nagoya Grampus
Mitch Langerak, Tsubasa Shibuya, Yohei Takeda, Daiki Mitsui, Yuichi Maruyama, Shinnosuke Nakatani, Kazuya Miyahara, Haruya Fujii, Yasuki Kimoto, Ryoya Morishita, Yutaka Yoshida, Shumpei Naruse, Akira Yoshida, Takuji Yonemoto, Kazuki Nagasawa, Hiroyuki Abe, Sho Inagaki, Ryotaro, Ishida, Shunto Kodama, Haruki Yoshida, Yoichiro Kakitani, Ryogo Yamasaki,, Gabriel Xavier, Yuki Soma, Mateus, Manabu Saito, Naoki Maeda, Koki Toyoda
Pohang Steelers
Sang-Woo Kang, Seung-Mo Lee, Sang-Hyeob Im, Lee Hyun-Il, Seong-Ju Kim, Shin Jin-Ho, Cho Sung-Hoon, Mario Kvesic, Kang Hyeon-Mu, An Hae-Seong, Noh Ji-Hun, Lee Seok-Kyu, Lee Kwang-Jun, Lee Ho-Jae, Borys Tashchy, Kim Kyu-Pyo, Oh Beom-Seok, Kwang-Hoon Shin, Park Jae-Woo, Ryun-Seong Kim, Track Min-Kyu, Alex Grant, Kwon Gi-Pyo, Jeon Min-Gwang, Manuel Palacios, Gwon Wan-Gyu, Kim Jin-Hyun, Go Younger-Joon, Lee Soo-Bin
Probable Playing XI
Nagoya Grampus
Mitchell Langerak; Yutaka Yoshida, Shinnosuke Nakatani, Yasuki Kimoto, Shumpei Naruse; Takuji Yonemoto, Sho Inagaki; Yuki Soma, Hiroyuki Abe, Mateus dos Santos; Ryogo Yamasaki
Pohang Steelers
Hyeon-Mu Kang; Sang-Woo Kang, Wan-Kyu Kwon, Min-Kwang Jeon, Kwang-Hoon Shin; Jin-Ho Sin, Beom-Seok Oh; Sang-Hyeob Im, Mario Kvesic, Manuel Palacios; Borys Tashchy
Key Players
Nagoya Grampus: Hiroyuki Abe, Ryogo Yamasaki, Shinnosuke Nakatani
Pohang Steelers: Borys Tashchy, Manuel Palacios, Mario Kvesic
Dream11 Team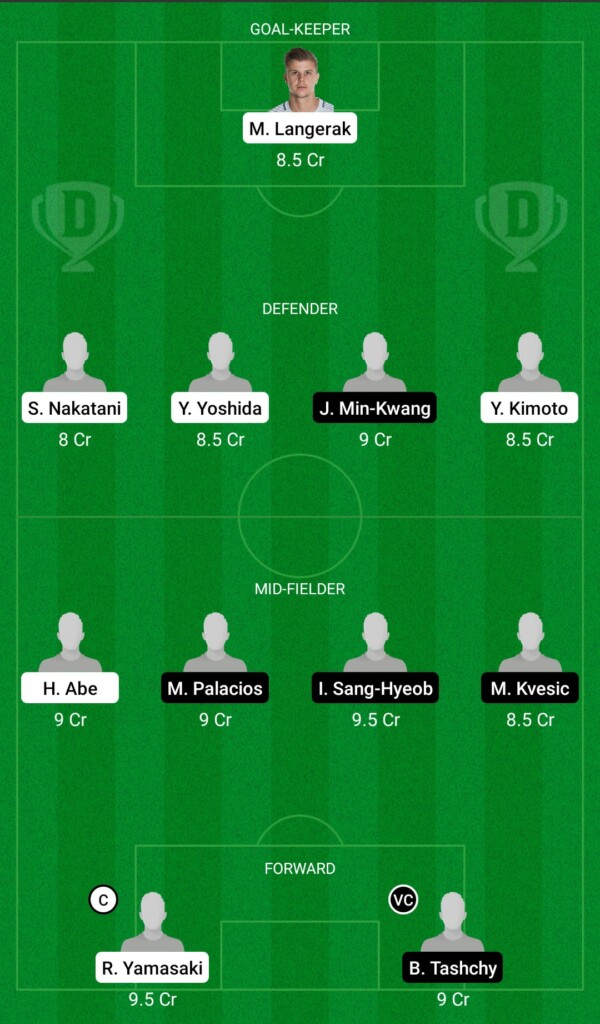 Mitchell Langerak, Shinnosuke Nakatani, Yasuki Kimoto, Yutaka Yoshida, Jeon Min Kwang, Hiroyuki Abe, Im Sang Hyeob, Manuel Palacios, Mario Kvesic, Ryogo Yamasaki (C), Borys Tashchy (VC)
Final Prediction
The match between Nagoya Grampus and Pohang Steelers is expected to be a close one with the game ending in a 1-1 draw. Both the teams have a formidable lineup and are coming off in this game after a victory which will be a huge confidence booster for them.
Please Note
The aforementioned NGY vs PHG AFC Champions League 2021 Dream 11 Prediction, NGY vs PHG AFC Champions League 2021 Final Prediction, NGY vs PHG AFC Champions League 2021 Top Picks are based on our in-house analysis. However, this does not guarantee a positive result.