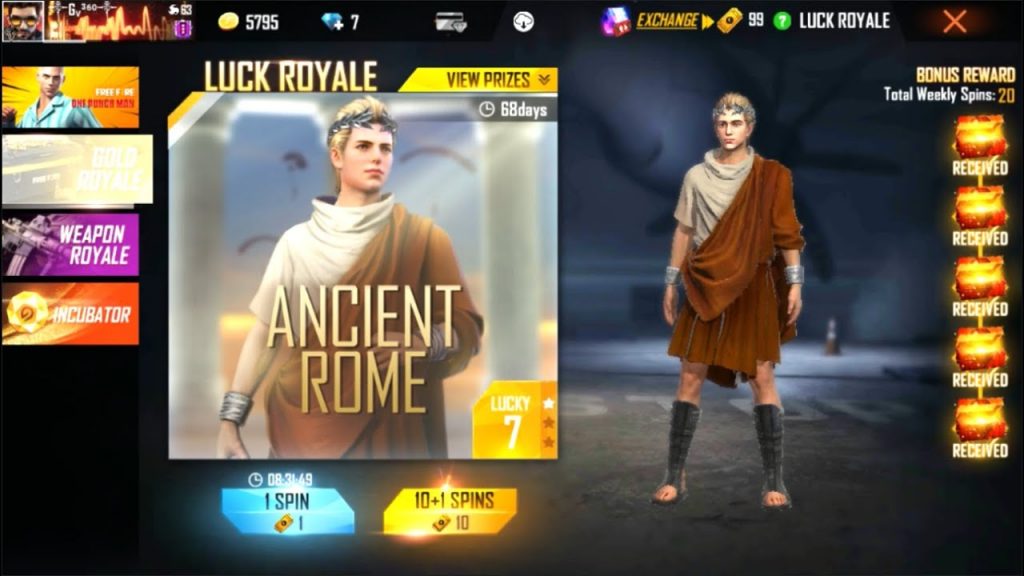 Free Fire is a battle royale game known for its interesting updates every season. The recent OB26 update of Free Fire comes up with updates like UAV Lite, Vending Machine, Gloo Walls, and many more. Another popular update is the ancient Rome bundle in Free Fire that players can avail of using 'Gold Royale'.
The time period of the ancient Rome Bundle in Free Fire is 67 days. The bundle comes with the recent OB26 update and is an amazing feature in the game. The Gold Royale also comes with spins, with one spin costs around 300 gold. The total cost of eleven spins is 3000 gold. The social media post of Free Fire on Gold Royale reads as,
"With his extraordinary knowledge of war and battle strategies and his god-like strength, the mighty Roman warrior is making his way to the battlefield! Try your luck in the gold royale event, stand a chance to win the Ancient Rome Bundle, and become the ruler of the battlefield!"
Gold Royale in Free Fire OB26 Update: Steps
Open Free Fire and click on the 'Lucky Royale' option located at the bottom left of the screen.
Click on the 'Gold Royale' and open the spin.
Choose the number of spins as per your requirements.
The OB26 update is out now. There are a lot of other features like the Vending Machine, UAV-Lite, Revival System, MAG-7 shotgun, and more. The couple dynamic duo system in Free Fire is one of those updates featuring friendship badges and exclusive rewards.
Also Read: Free Fire OB26 Update: How to Download Using Activation Code?