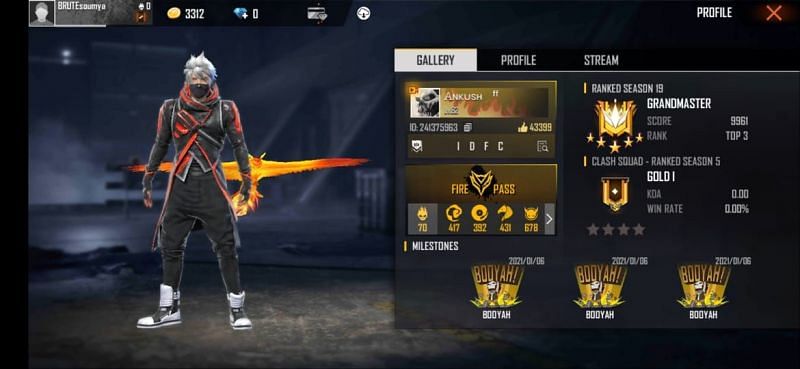 Ankush FREEFIRE is surely one of the most famous Indian Free Fire content creators. He is very popular among the player base of Free Fire for his outstanding skills and gameplay videos he uploads on his Youtube Channel. He is surely one of the topmost players from India. This article checks out his Free Fire ID, Stats and other details as of January 2021.
Ankush Free Fire ID is 241375963
Ankush FREEFIRE's Free Fire ID and Stats for January 2021
Lifetime Stats:
Ankush has played 920 solo games and won 122. Which results in a win rate of 13.26%. He has successfully eliminated 2561 enemies giving him a K/D ratio of 3.21.
In the duo mode, Ankush has completed 3086 games and won 1236 out of them. He has a win rate of 40.05%. He has 11550 kills registered to his name giving him a K/D ratio of 6.24.
Ankush has completed whooping 21952 squad matches and came on top in 9336 of them. His win rate is 42.52% and killing 80271 opponents raised his K/D ratio to 6.36.
Ranked Stats:
In the ongoing ranked season, Ankush FREEFIRE has finished 1053 matches and won 783 of them. It gives him a win ratio of 74.53%, he has executed 4574 opponents. He has a K/D ratio of 16.94.
The famous content creator has won 24 of 47 duo matches, making his win rate of 51.06%. He has killed 239 enemies and has K/D ratio of 10.39
When it comes to solo matches, the streamer has played only six solo games and registered 14 kills at a K/D ratio of 2.33.
Note: The stats of Ankush Free Fire is for the date of January 2021.
To participate in all our giveaways, Subscribe to this channel
Also Read: Raistar vs RUOK FF: Garena Free Fire Stats Comparison