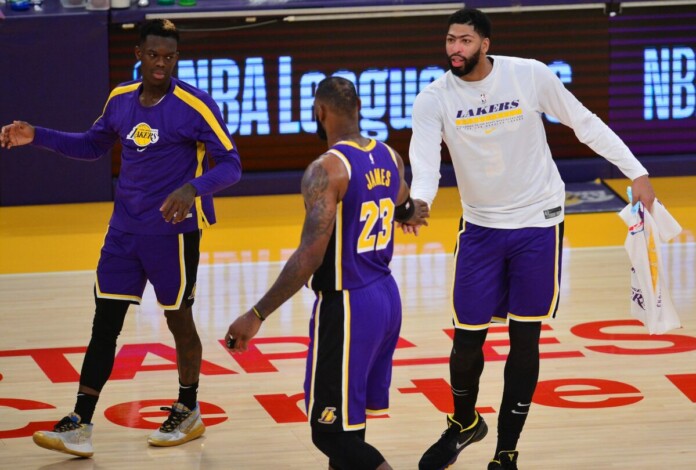 The Los Angeles Lakers face yet another defeat in the absence of LeBron James. The team was in a slump when Anthony Davis made his comeback from injury. He wasn't given much time off the bench following his recent injury scare. But Anthony Davis later was given ample opportunity during Dallas Mavericks second match and two of the recent Los Angeles Lakers games. However, despite his comeback, the team could manage to win 1 out of the last 4 that Anthony Davis has played. After winning against the Orlando Magic, the LA Lakers faced another defeat against the Washington Wizards today. Now the team need LeBron James to be back soon as possible.
Anthony Davis and LeBron James were left out following there injury. Everybody expected the rough patch to end after AD would be back to squad. But the situation has worsened. Although Anthony Davis is back, the team still faces a defeat while Rui Hachimura dunked over Davis. AD who has been the defensive backbone for Lakers was postered on today. Lakers were handed the defeat by 9-points while Wizards came back from a 10-point deficit. Bradley Beal scored 27 points while Russell Westbrook scored a triple double. Russ had 18-points, 14 assists and 18 rebounds to end his crazy night. Robin Lopez bullied his way in the 3rd quarter while swatting away Dennis Schroder twice. Anthony Davis added 26-points while Andre Drummond scored a double-double.
Anthony Davis justifies LeBron James role
LeBron James is the binding force at the team. He keeps the whole team up and running every single time. As he is side lined with high ankle injury, the roster desperately needs him before playoffs arrive. Anthony Davis spoke to the press after the game and highlighted how LeBron James' impact is necessary. He said, "I think Bron is a great ball passer. So the pick-and-roll with him and Drum…I mean Bron is 6'8 so it's an easier pass for him, more so than Dennis. I think that with Bron's ability to come off and put a lob to Drum a lot, or hit him with that final pass, or drawing two to the ball and then the dish off…"
LeBron James has missed a lot of matches now. Anthony Davis expects the full team to be healthy before they enter the playoffs, especially LeBron James. He added, "Having a full lineup where we can actually see what we actually got would be beneficial for us. But until Bron is able to get back and 100% healthy, we have to keep finding ways to make him feel comfortable on both ends of the floor."
Once Bron is back, there will better offence compared to now. It will be easy for him to lob the ball for Drummond and Davis. It is expected that LeBron James would possibly return next week. According to ESPN's Adrian Wojnarowski, it is predicted that his timeline to be back is soon by the first week of May. While Anthony Davis has a lot on shoulder, Los Angeles Lakers need to hang on to their 5th spot in the East before LeBron James is back.
Also Read: "Impactful on both sides": Former NBA Champion BJ Armstrong chooses Giannis Antetokounmpo over LeBron James and Kevin Durant