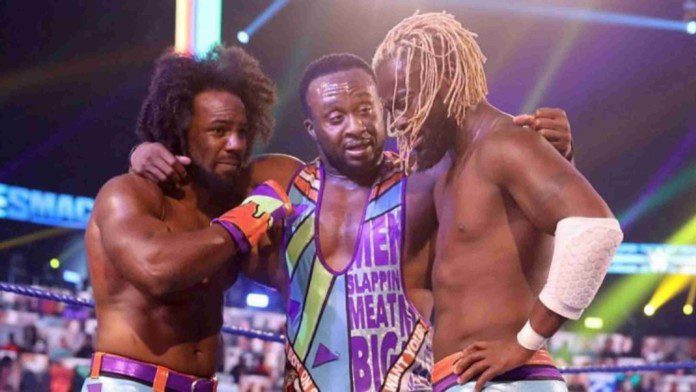 The New Day may be the greatest of friends you'll ever see in WWE, as they stuck to their actions even when it wasn't working and have gone on to become one of the best tag teams in the company's history. Big E, Kofi Kingston, and Xavier Woods have resurrected the Freebirds' dominance in the current era, and their camaraderie is the glue that holds everything together.
Big E on his friendship with the members of The New Day
The New Day, which consists of Big E, Kofi Kingston, and Xavier Woods, is one of the most popular groups in professional wrestling. The three stars' mutual chemistry has been a key factor in the stable's accomplishments. Many supporters are aware that the three men are real-life pals. Big E recently remarked on the strong bonds that bind the band together.
In a recent episode of Oral Sessions with Renée Paquette, Big E made an appearance. The reigning WWE Champion revealed his friendship with Kingston and Woods during his stint on the programme. He remarked on how supportive they are of one another as wrestlers and as people.
He said, "I can't really imagine being in a group with two more unselfish people, which is something I've always valued. It's easy to be selfish in this world and only care about yourself, but I love how we're always so genuinely supportive of each other and our initiatives, whether they're in WWE or outside the company, whatever it is, and they were there for me, which I appreciate."
As Big E points out, many rivals are preoccupied with themselves. Wrestling is a harsh business, and some people only care about themselves. The New Day, on the other hand, is an exception, as these three men genuinely care about one another.
What's next for The New Day?
The New Day's near future in WWE was discussed by Big E in an episode of The Bump which aired immediately following their split was announced. He added that they are attempting to broaden their reach by promoting the New Day brand on RAW and SmackDown. While they are still united, each member of the New Day is now ready for a unique task.

Big E went on to say that they can all carry singles titles. He stated that the WWE Universe will no longer see them in about because they want to pursue other options. Kingston, Woods, and Big E's connection is still as strong as ever.
Also Read: Big E Reveals his favourite boxer