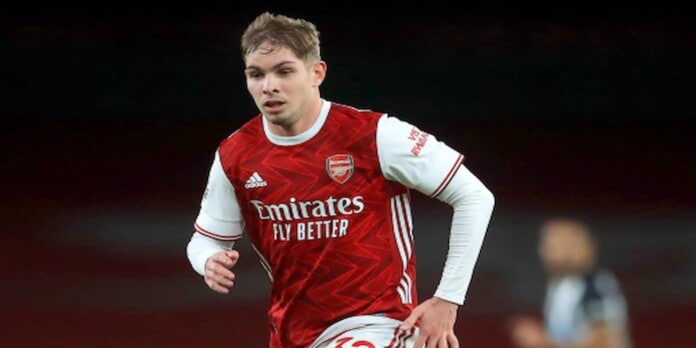 With top clubs targeting some of the young prospects of European football before the pre-transfer season period, Arsenal FC is interested in extending 21-year-old midfielder Emile Smith Rowe's contract. The midfielder isn't a big name due to his relative inexperience but the youngster has produced some satisfactory performances to impress the club bosses as well as the team management.
His performances have impressed the club owners that has made them extend his contract. Centre back David Luiz is about to leave as a free agent at the end of the season while midfielders Lucas Torreira and Matteo Guendouzi are supposed to be sold permanently to Atletico Madrid FC and Hertha Berlin after their loan period expires this season.
The Gunners might bid for Julian Brandt of Borussia Dortmund FC and Hakan Calhanoglu of AC Milan. Players like Hector Bellerin, Reiss Nelson and Eddie Nketiah are also not guaranteed for the next season. With Real Madrid aiming to bid for attacking midfielder Martin Odegaard and Dani Ceballos' loan period about to get over all eyes will be on Smith Rowe of how he manages to adapt against some of the top clubs but on the other hand, it would act as a learning process for the youngster.
Emile Smith Rowe has already become one of Arsenal's most important young players
Emile Smith Rowe possesses brilliant footwork as he can outsmart defensively robust teams with his deceptive speed and skilful distribution. The attacking midfielder can produce wonderful one-touch passes and outwit the opposition's defense with his creative dribbling during open play. Although these are early days to praise his game Smith Rowe has got the potential to be amongst the best midfielders of European football in the future due to his fast-paced game and creative thinking.
Smith Rowe has caught everyone's eye at the club with his smart possession and passing skills during open play. Manager Mikel Arteta earlier employed a 4-2-3-1 formation but later on started to implement a 3-4-3 formation. Tactically it is believed the Gunners would be more comfortable and would be a dominating outfit if Arteta used a 3-4-3 combination and it would give Smith Rowe to play his natural attacking game. One of his major strength is that he can also double up as a defensive midfielder.
His combination with centre forwards Pierre Emerick Aubameyang and Alexandre Lacazette would allow both forwards to work with an attacking mindset from the centre as well as at the wings. The 21-year old's collusion with midfielders Granit Xhaka and Thomas Partey will hold the key if Martin Odegaard makes a transfer to Real Madrid. Although Smith Rowe hasn't scored any goals this season but has contributed with 4 assists in 16 Premier League games this season. Smith Rowe has scored 1 goal in 9 Europa League games this season with 3 assists to his name.
Manager Arteta needs to give the youngster enough game time which will enhance his tactical as well as his technical understanding and make him more adaptable to different situations while playing against different opposition's. Smith Rowe holds a bright future at Arsenal FC and his stay at the club could aid the side in the long run.
Also Read: Tammy Abraham could make way for Romelu Lukaku to come into the Chelsea team