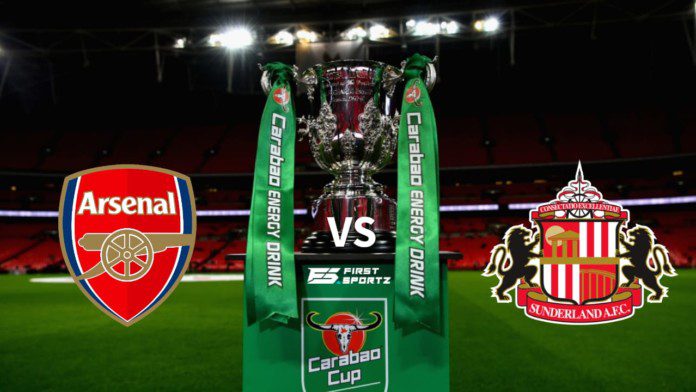 Arsenal vs Sunderland: Arsenal squared off against Sunderland at the Emirates Stadium in the ongoing edition of the League Cup
Eddie Nketiah's hat-trick and goals from Pepe and Patino secured a comfortable win for Arsenal. The Gunners will not wait for the winner of Brentford – Chelsea in the semi-final of the Carabao Cup. 
Let's take a look at the player ratings for Arsenal vs Sunderland match:-
Arsenal vs Sunderland Player Ratings
Arsenal 
Bernd Leno (8/10): Leno made some decent saves in the first half. However, he could have done better for the goal. 
Cedric (7/10): Looked all over the place defensively. However, racked up an assist for Pepe.
Rob Holding (9/10): a well-deserved start for Holding. Did his job well, would be disappointed with not getting a clean sheet. 
White (7/10): Was vocal and never allowed his teammates to get incompetent. Did get caught up in a weird position for Sunderland' opener.  
Tavares (8/10): Tavares was rash throughout the game. It helped sometimes while getting him in trouble positionally.
Mo Elneny (7/10): Arteta wanted him to hold the line alone. However, Xhaka's presence was certainly required.
Odegaard (9/10): The Norwegian continues to impress. Played a beautiful line-breaking pass to Pepe which was turned into a goal. 
Pepe (8/10):. Got his goal in the first half. Turned it up a notch in the second.   
Emile Smith-Rowe (0/10): made his return to the starting eleven. Looked good in patches, not his best.
Nketiah (8/10): Scored a typical Nketiah goal to open the scoring. Got his second early in the second half.   
Balogun (6/10): Underwhelming night for Balogun. The highly-rated youngster did look lively on the left but couldn't produce anything in front of the goal.
Substitutes:
Xhaka (8/10): Added a level of calmness that the Arsenal midfield needed at times. Stabled the game for the Gunners.
Gabriel: NA
Charlie Patino (8/10): Didn't have much to do in the middle. However, announced himself to the Emirates faithful with a goal. 
Martinelli (7/10): Made an instant impact coming from the bench in the Arsenal vs Sunderland game. Got their captain booked after drawing him into a rash tackle.  
Sunderland 
Lee Burge (3/10): Not much to write after conceding 5 goals. Could have done better with Arsenal's opener.
Bailey Wright (3/10): Defended well in the first half. However, got found out later. 
Tom Flanagan (2/10): Struggled to deal with Nketiah's movement. Should have tracked him better for the third goal.
Callum Doyle (3/10): Didn't let Pepe get past him in the first half. Was decent with his feet.  
Elliot Embleton (4/10): Was at fault for Arsenal's third goal. Lost a 50/50 to Nuno Tavares which allowed him to whip an assist for Nketiah.
Carl Winchester (6/10): Got into some good positions left by Tavares. Whipped in some decent balls too.
Daniel Neil (8/10): Played that pin-point ball which was finished off by broadhead. Was a constant threat in the first half. 
Lynden Gooch (5/10): Grew into the first half strongly and found it ideal to play against Arsenal's midfield. 
Alex Pritchard (8/10): Ended his night with 3 shots on target. Couldn't convert any shot in a goal in the Arsenal vs Sunderland contest. 
Ross Stewart (8/10): Picked up smart positions in the half-spaces on the right side. Even nearly managed a screamer but was denied by the post.
Nathan Broadhead (9/10): Bittersweet night for Broadhead. He finished off a brilliant team move before getting subbed off minutes before the first half. 
Substitutes:
Hume (2/10): Nicolas Pepe absolutely humiliated him on a couple of occasions in the second half. One of which was converted into a goal.
O'Brien (0/10): NA
Evans (0/10): NA 
Also Read:- "Players are upset all the time"- Roy Keane on how he would deal with Harry Maguire and David De Gea if he was appointed as the manager