American track and field legend Allyson Felix won a bronze medal in her farewell race at the World Championships after the United States finished behind the Dominican Republic and the Netherlands in a spectacular 4x400m mixed relay in Eugene, Oregon on Friday, 15 July. For 15 memorable seconds Friday night at the world championships, Allyson Felix was sprinting alone in the sunshine, cruising past the stands and far ahead of the field down the backstretch.
A few minutes later, she was taking her newly won prize and hanging it around her 3-year-old daughter's neck. "I felt the love," Felix said of her final run on the big stage. "And I felt joy running tonight." The third-place finish still gave Felix her 19th medal at the world championships, extending a record she already held. Adding it to the 11 she's taken at the Olympics, she'll end her career with an even 30 at her sport's biggest events.
Also Read: "One last honour": Allyson Felix makes US roster for 2022 World Championships, Sha'Carri Richardson left out after disappointing performance
"Can't think of a better way to go" – Allyson Felix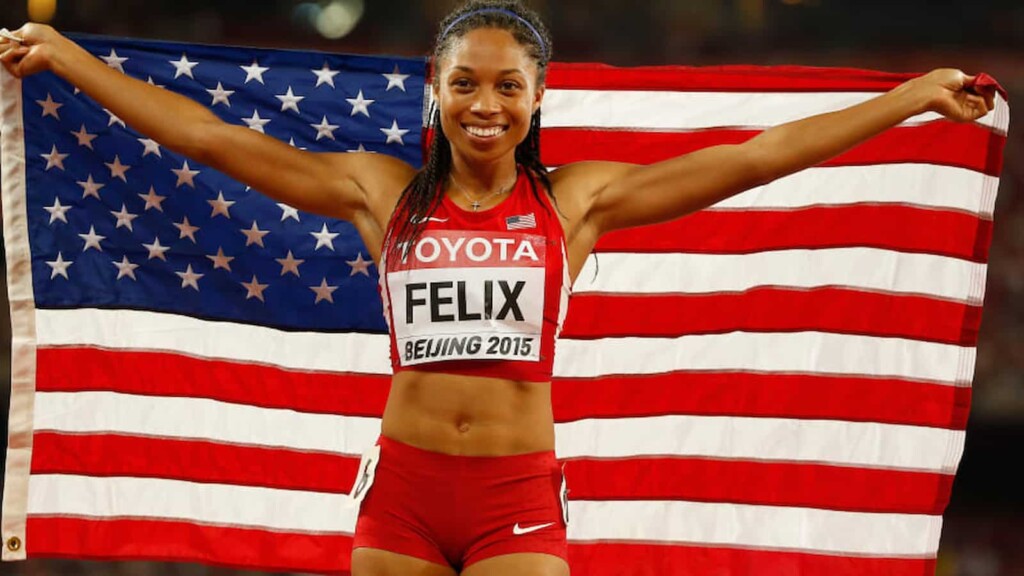 "It's a similar emotion," Felix said. "The last couple of years, I've stepped outside of just the clock and the medals, and I never would have imagined that would have been a place where I would come to." The once-shy teenager is now an outspoken advocate for women and moms both in and out of sports.
Also Read: "I have given everything I have to running": Track legend Allyson Felix announces retirement after spectacular career
Felix, who was handed the chance for a golden farewell in the US mixed relay squad after failing to qualify for any of the individual events in Oregon, dug deep on her second leg but was unable to preserve the narrow lead handed to her by the first leg runner Elija Godwin. But Friday's bronze cements her status as the most decorated athlete – male or female – in the history of the World Championships. Her 19 medals include seven from individual events and 12 from relays.
"It's been an incredible journey," she said. "I've really enjoyed my time over the years. There have been a lot of ups and downs. I love the sport so much, it's broken my heart many times but I've also had many really joyous moments. "It's completely full circle to be able to come here and end at home, it's going to be very, very special," Felix said. "I'm going to miss it so much but I can't think of a better way to go out than just with a heart full of gratitude and thanks for all the people who've supported me and the teams I've been on over the years."
Also Read: Tokyo Olympics: Elaine Thompson to Allyson Felix, Who has the most medals in athletics?