Letsile Tebogo broke the 100-meter record at the World Athletics U20 Championships by finishing in 9.91 seconds, which drew the eye of renowned sprinter Usain Bolt. Letsile defeated Jamaican sprinter Bouwahjgie Nkrumie in the final who finished second.
Fans have sought similarities with the best athletes to ever lace up a pair of spikes after the 19-year-old, Letsile Tebogo stunned the globe as the youthful sprinter recorded an outstanding time and broke his own record. The Botswana international has been labeled "the next Usain Bolt" for both his mid-race antics and, of course, his mesmerizing athleticism.
After a lightning-quick start, Tebogo left his competitors in the dust with his long, flowing stride, devouring the blue track in front of him at a speed that no U20 athlete has ever run—not even Bolt himself. The Jamaican Bouwahjgie Nkrumie, who was smiling across from him, was Tebogo's closest competitor with about 30 meters left in the race.
As Tebogo crossed the finish line, he continued to point at Nkrumie with his right hand as he celebrated. Considerably better than the renowned Jamaican sprinter Usain Bolt, doesn't the child appear to have the photo finished down?
Also Read| "Heads up and onto the next one": Alica Schmidt, 'World's Sexiest Athlete' suffers heartbreak in 2022 World Athletics Championships
Letsile Tebogo reminds fans about Usain Bolt in his confident celebration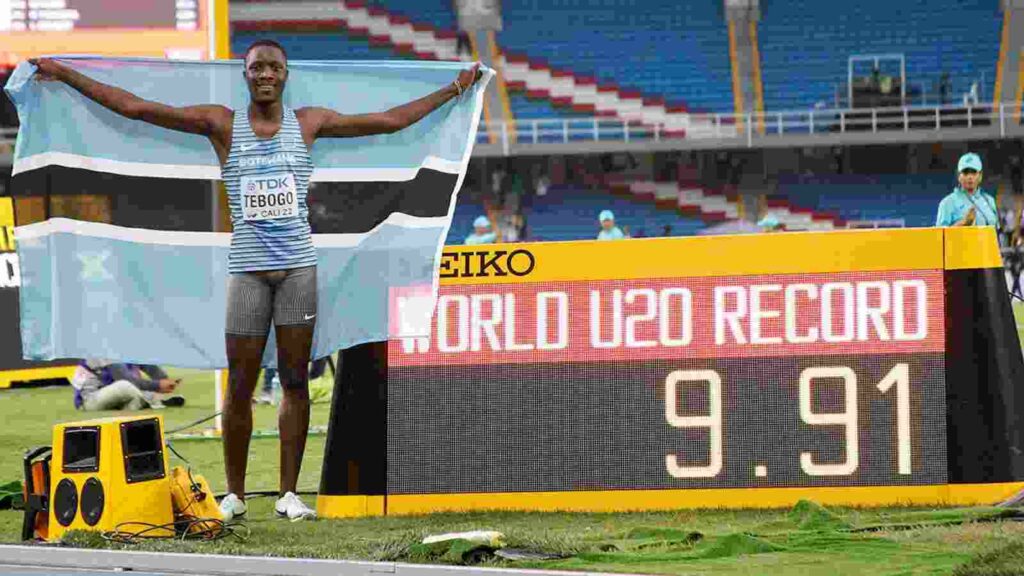 It might be argued that it would have been nearly impossible for him to break his own record of 9.94 at the last World Championships in Oregon, yet he did so elegantly despite the mid-race theatrics. He crossed the finish line much in front of Nkrumie, who came in second (10.02), and Benjamin Richardson of South Africa (10.12), while Thailand's Puripol Bonsoon (10.12) came in fourth and narrowly missed out on a medal by a thousandth of a second.
After the race was over, Tebogo was questioned about the celebration. "The statement was to come out and enjoy the race," he said. "If somebody took it as disrespect, I'm really sorry." "I saw the fans and (it was so) everybody watching at home can enjoy the race – to remind them a little bit about what Usain Bolt did back in the days."
"He's my idol – the person I look up to," said Tebogo. After the race, Bolt praised the young athlete on Twitter and gave him his blessing for a video of the record-breaking moment put on the team's Instagram account. His comment to imply such a recommendation? Three lightning-bolt emojis are sent from one speedster to the next.
The comment area was swamped with praise, so he wasn't the only one who was pleased with the sprint! While Bolt's career is over, Tebogo's is just getting begun. He is one of many brilliant young sprinters to come out of Botswana in recent years. Just Remember the name
Also Read| WATCH- "Pushing until the last stride": Indian mixed relay team bags stunning silver at U20 World Athletics Championships
Also Read| "Would have won World Championship gold": Katie Ledecky wins 200m freestyle national title at blistering pace
Do follow us on: Google News | Facebook | Instagram | Twitter