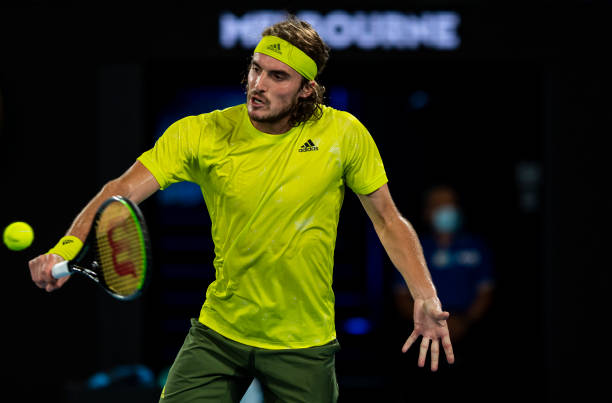 A clash between generations took place as Rafael Nadal took on Stefanos Tsitsipas in the quarterfinals of the Australian Open 2021. The players are two of the best players in the world in terms of form at the moment and their match was bound to be magnificent. In the end, it proved to be with the Greek coming up trumps.
The match was won by Stefanos Tsitsipas with a score of 6-3,6-2,6(4)-7,4-6,5-7 .
Rafael Nadal and Stefanos Tsitsipas fight it out
The first set began with Nadal on the serve. After taking a lead Nadal was soon locked in a tie with Tsitsipas at 2-2. Tsitsipas trying his best to become the aggressor in the game than the defender. The game was locked in a tie for quite a while until Nadal won three games in succession to take the Set with 6-3.
The second set started after a long break compared to usual breaks. It started with Tsitsipas on the serve, he used his good service game to put Nadal on the backfoot yet Rafa managed to take the first game. Then, Tsitspas was back to defending and Nadal's forehands were poking holes in that defense. The set score at the time of the break said 5-2. If the commentators were to be heard then the change of balls could affect Nadal's standing. However Nadal took the set 6-2.
The third set again saw another tie between the players at 2-2. The tie got extended to 3-3 and it was a tight contest with the second break coming win when the set score stood 5-4 with Tsitsipas in the lead. But Rafa made it a 5-5 and by now it was clearly a battle of attrition. It was then won by Tsitsipas with a score of 7-6(4).
The match was pushed to the fourth set and this was a battle of attrition as well. With both the players holding a tie for the majority of the set. The match went to the third hour during this set. Tsitsipas pushed it to the fifth set with a score of 6-4.
The fifth set both the players ready to put everything in the can out there. Another set of these two bulls just locking their horns in and struggling against each other. It was then that Tsitsipas took the lead and won the set and match with 7-5.
In the post match interview, when asked about the match Tsitsipas said that he focused a lot on holding his nerve and credited his consistent mood for the win. He said that he will take an ice bath to recover and said that his next opponent Daniil Medvedev will not be easy.
Also Read: Australian Open 2021: Daniil Medvedev marches on to the Semi-finals after defeating Andrey Rublev in straight-sets