Did you know that one of the fastest sports in the world, Badminton made its debut in the Summer Olympic Games only in 1992?
Prior to that, at the Munich Olympics 1972, badminton featured as a demonstration sport. Back in 1873 it was called Poona- named after a place where it was popular. The sport derived its name from Badminton House – home of the Duke of Beaufort. The Duke is credited with bringing the version of the game from Poona to Britain. The sport quickly became popular. Initially it was more of a garden or backyard leisure sport. However, with changes in the way it was played and advancement of technology, badminton is now one of the fastest and physically demanding sports in the world.
Inclusion into Olympics- Badminton's journey to being an Olympic sport
Only since the mid-1960s, efforts were made to include badminton in the Olympics. About 25 players from 11 member countries including legends like Rudy Hartono of Indonesia, Gillian Gilks of England, participated in demonstration event in Munich Olympics. Women's doubles was not a part of the event then.
At a time when IBF was already the apex governing body, in 1978 World Badminton Federation was formed. This issue stirred roadblocks in badminton's pathway to being an Olympic sport. With reconciliation efforts made by both bodies they signed a 'Deed of Unification' in Tokyo in 1981.
Badminton was unanimously included for the 1992 Barcelona Olympics at the 90th IOC session in June 1985. Also, in 1988 Seoul Olympics, badminton featured as an exhibition sport. Thirty players from eight member associations participated in the quadrennial sports extravaganza. The event was held in the Seoul National University Gymnasium. About 5000 spectators attended the event.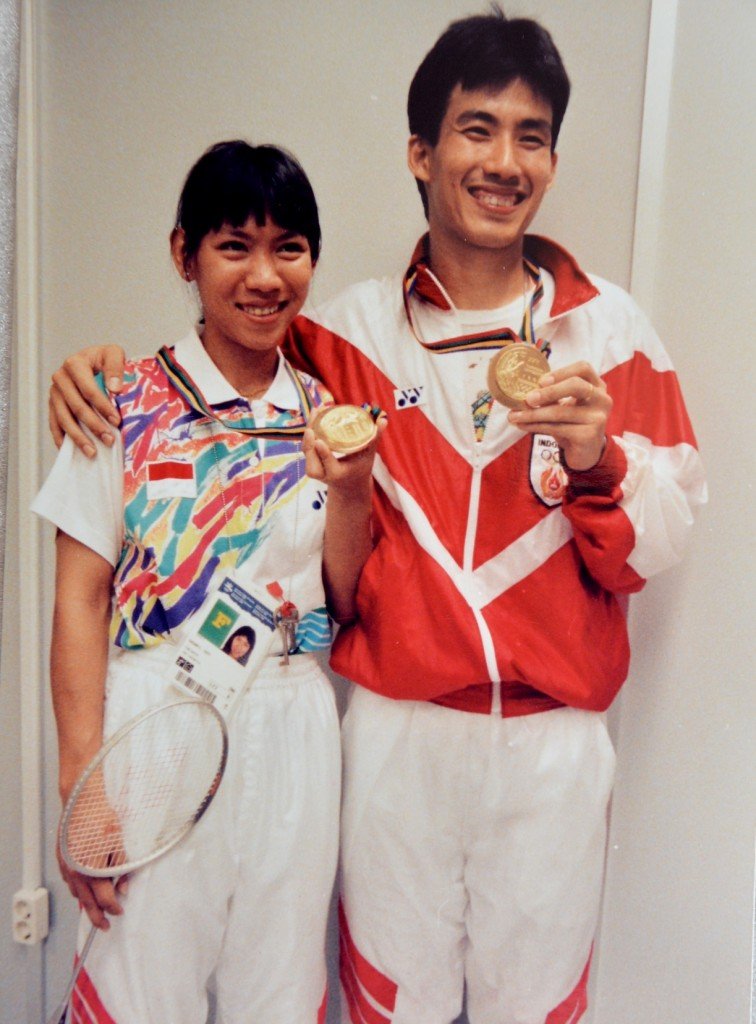 The long drawn efforts of badminton federations and hopes of fans finally materialised on 28 July 1992 as the first shuttlecock was struck in the history of badminton at the Olympics. 178 players from 37 different countries paid visit to Barcelona to compete at the prestigious sporting event. Men's singles, women's singles, men's doubles, and women's doubles were held in the first edition. Mixed doubles category was added in the Atlanta Games, 1996.
Also Read: Badminton: Singles players who have won both Olympics and World Championships
Further Developments
Many changes were made to the format of the game at Olympics during London Olympics 2012. Group stage, followed by knockout stage was introduced.
In singles the number of groups depends on number of participants. The top ranked player of each group qualifies to the knockouts. In doubles, the 16 qualified pairs are divided into four groups. The top two pairs from each group qualify for the knock-out stages.
The total number of players allocated to badminton cannot exceed 172. The exact number of singles and doubles players between Olympics varies as some players may qualify for more than one event. A player cannot participate in more than two events in a single edition.
Badminton has come a long way since Barcelona 1992. The sport has gained much popularity and grown leaps and bounds. The competition is quite high where one can find it difficult to predict the winner. The pace, intensity, speed, power, strength, length of rallies are all much higher than even what it was about even about a decade ago. Olympic Games have also given memorable and heart warming glimpses of human emotions and true sportsman spirit.
Here's a link to a quick guide on Olympic Badminton. Click here.
Also Read: Top 7 moments in history of Indian Badminton
Watch out for this space for more exciting content on Badminton at the Olympics!!