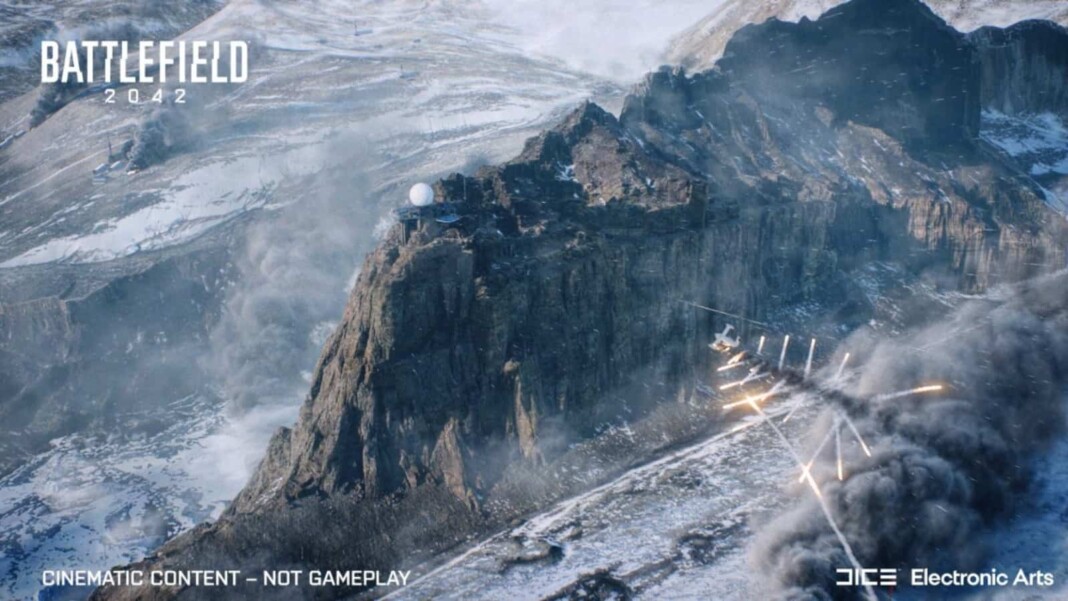 Battlefield 2042 has been one of the most-awaited games this year and the game is making headlines ever since it is announced. The first game in the Battlefield series was released in 2002 which is developed by Swedish company EA DICE and is published by American company Electronic Arts.
Battlefield fans have had a glimpse of this upcoming futuristic game with the help of the official trailer and gameplay reveals. The trailer was released 3 months ago and players were so hyped up for the game as it comes with super graphics and futuristic game modes. Battlefield 6 was earlier scaled to release on October 22 2021 but recently the release date is pushed further and it is scheduled to release on November 19 2021.
Several features, game modes have been teased officially by the developers, nonetheless, there are tons of details that haven't been revealed. There are many data miners who were bringing up various news related to this epic FPS game and Temproyal is one of the reliable and trusted personalities in the community. He has been teasing various details and info regarding this upcoming game and we look at some of his work here in this article.
Note: All things that are datamined are not guaranteed to be seen in the game after the official release.
Hazard Zone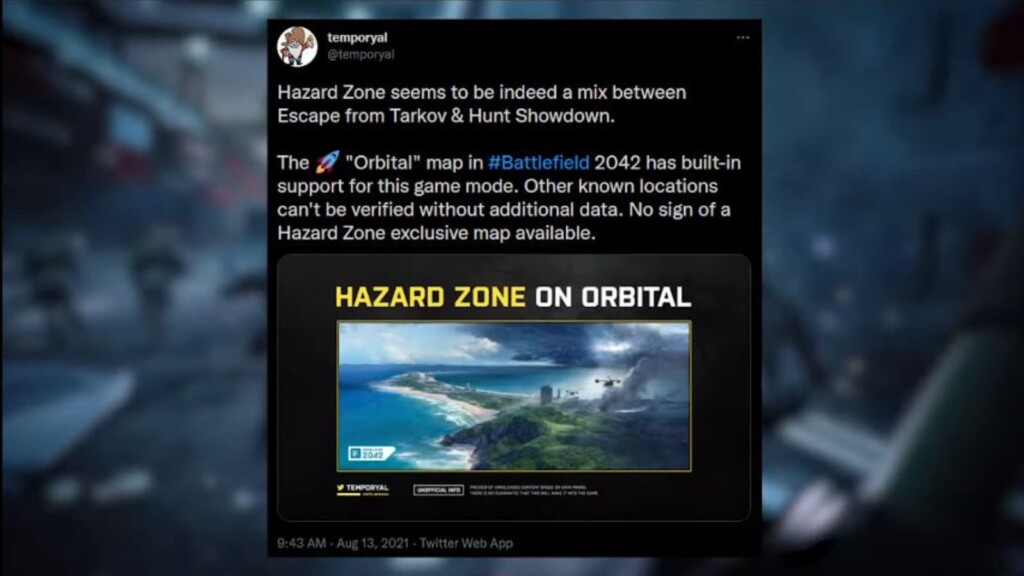 Hazard Zone is one of the game modes of BF 2042 and as per sources, it is not a battle royale mode. DICE has not revealed much information regarding this game mode, except it has hinted that this being a modern interpretation of the battle royale experience. According to Temproyal, this mode resembles games like Escape from Torkov and Hunt Showdown. The basic overview of this mode is a squad of yours and opponents are spawned in one of 2042's standard maps. Temproyal has confirmed that Orbital and Discarded are two of the compatible maps of the Hazard zone.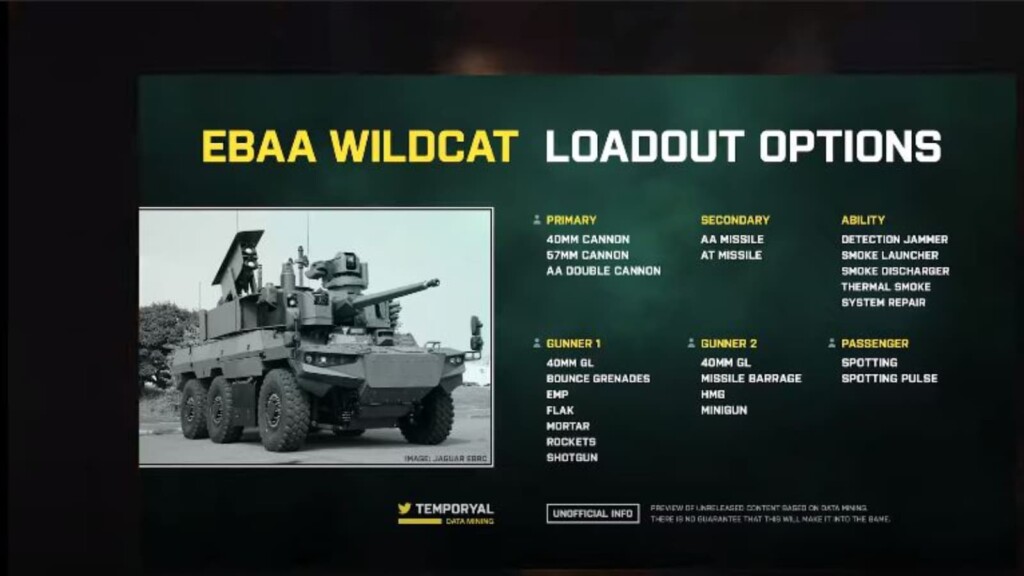 The exodus short film also hints that the Hourglass map set in Doha, Qatar has a hazard zone location. The goal of this mode is to secure intel from crashed satellites on the map where you will be opposed by AI-based soldiers and other players. Some AI opponents can be minibosses and players can get rewards & bonuses by killing them where some of them are seen to be driving vehicles like Jaguar EBRC & HDT Storm. To boost your gameplay experience the Hazard zone provides a variety of tactics that include:
Spotting Duration
Starting Armor
Loadout Insurance
Satellite Info
Deploy Speed
Extra Respawn Beacon
Extra Intel Storage
Throwable Ammo
Faster Healing
Ammo Increase
Bonus Al Reward
Bonus Intel Reward
Once you have collected the intel and decided to leave the match, you need to head to the extraction site to call a helicopter and defend yourself until it arrives. Successful extractions will build an extraction streak bonus, which can bring various perks.
Read More: League of Legends Worlds 2021 group stage draws: PSG Talons in Pool A!
---
Tier Progression in Battlefield 2042
According to temproyal, here is how progression is made in the game:
Player ranks (unknown limit)
Mastery ranks for individual specialists, weapons, gadgets & vehicles.
Veterancy badges for game modes, most valuable squads and more…
Ribbons for things like kills, revives or spotting during a match.
This upcoming game is expected to bring in several significant elements from Battlefield 5.
The game will feature a battle pass that contains weekly missions. These missions have a certain "BattlepassValue". Completing them might help you to increase your Battle Pass level. The End of Round screen allows you to view your progress.
Check the official website of the game for future updates.
---
Weapons
Temproyal has enlisted a ton of weapons included in the game along with attachments and we have seen most of them in the trailer. Some of the weapons are shown below: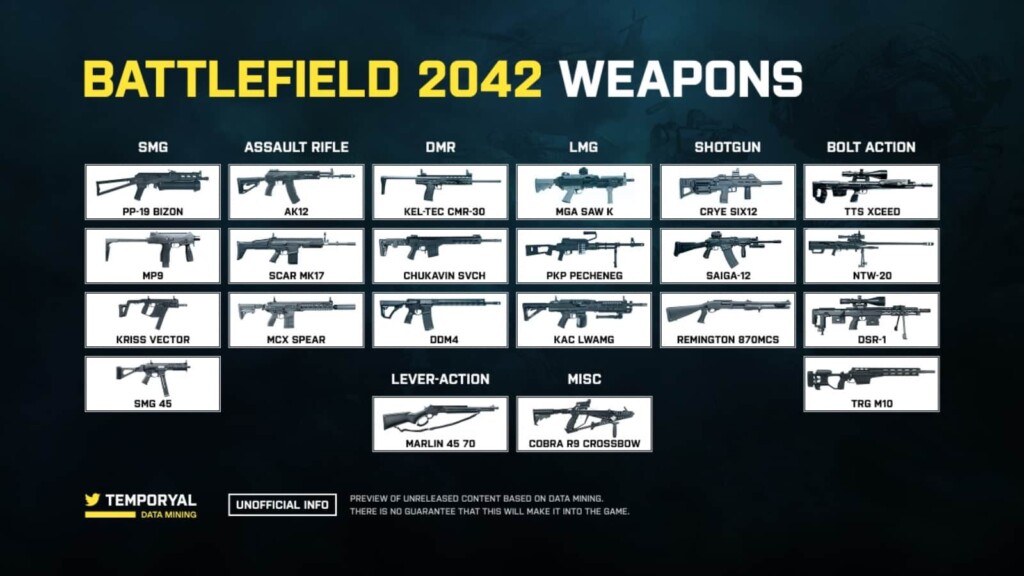 ---
Specialists
The developers have teased 5 of the specialists and temproyal has found 5 more specialists and here are their specifications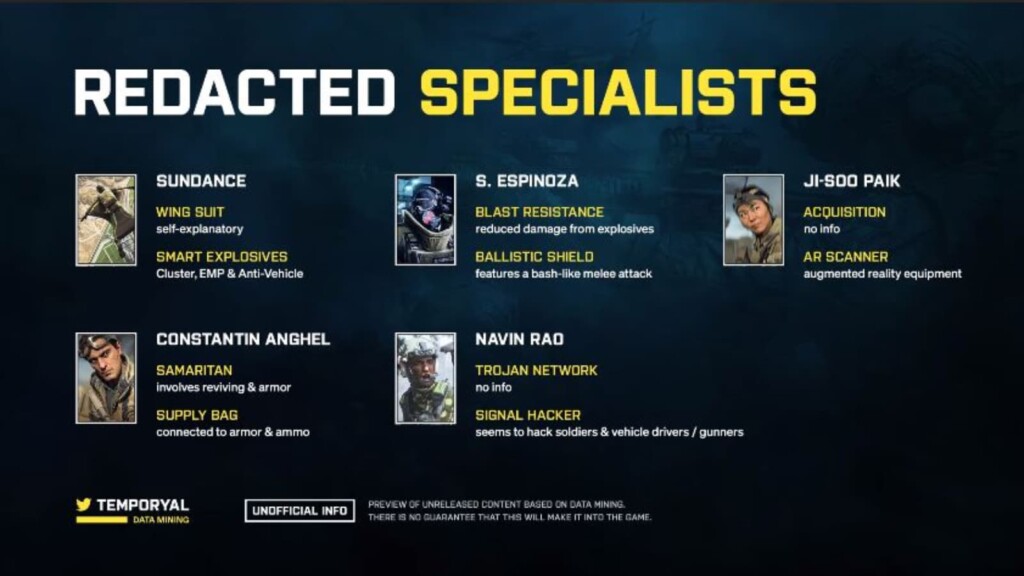 You can check more info that is datamined by Temproyal in the below video which is uploaded by LevelCapGaming on YT.
Follow Temproyal on Twitter for more details and leaks!
Also Read: League of Legends Worlds 2021 group stage draws: PSG Talons in Pool A!