There are various features in Battlegrounds Mobile India which sets it apart from other games. One of the feature is titles given by BGMI as a gift for their hardwork. Some titles in the game are very rare while some can be obtained with minimal efforts. Here in this article we're going to discuss about the easiest titles in BGMI.
Battlegrounds Mobile India, a BR game having quite similar features to that of PUBG Mobile was released for the players on 2nd July,2021. Several PUBGM lovers shifted towards this game and haven't looked back since. Due to the game's competitive nature, players are grinding hard to achieve a remarkable feat in the game. This includes different titles in the game, medals etc. and this can be only achieved if the players are dedicated enough towards the game. Titles are the result of a player's hardwork so consequently, they cherish it.
Some titles can be achieved in the game without any trouble. Down below, we take a look at some of the easiest titles in Battlegrounds Mobile India
Titles in Battlegrounds Mobile India (BGMI)
Titles provided in the game can be temporary or permanent. BGMI runs varied events at regular intervals which provides the players with temporary as well as permanent titles. Players also got 'Celebration Expert' title after they pre-registered for the game. There are a total of 20 permanent titles in BGMI which have been mentioned below:
Weapon Master
Well-liked
Moved Out
Pacifist
Collector
Overachiever
Chicken Master
Deadeye
Glass Cannon
BATTLEGROUNDSM Dominator
BATTLEGROUNDSM Warlord
BATTLEGROUNDSM Warrior
Perseverance
Perfectionist
Unique Destiny
Warhorse
Veteran
On a mission
Mythic Fashion
Lifelong Learner
Other than these titles, players will also be provided with Season titles after they reach Ace, Ace Dominator or Conqueror Tier.
Top 5 easiest titles in BGMI
Well-liked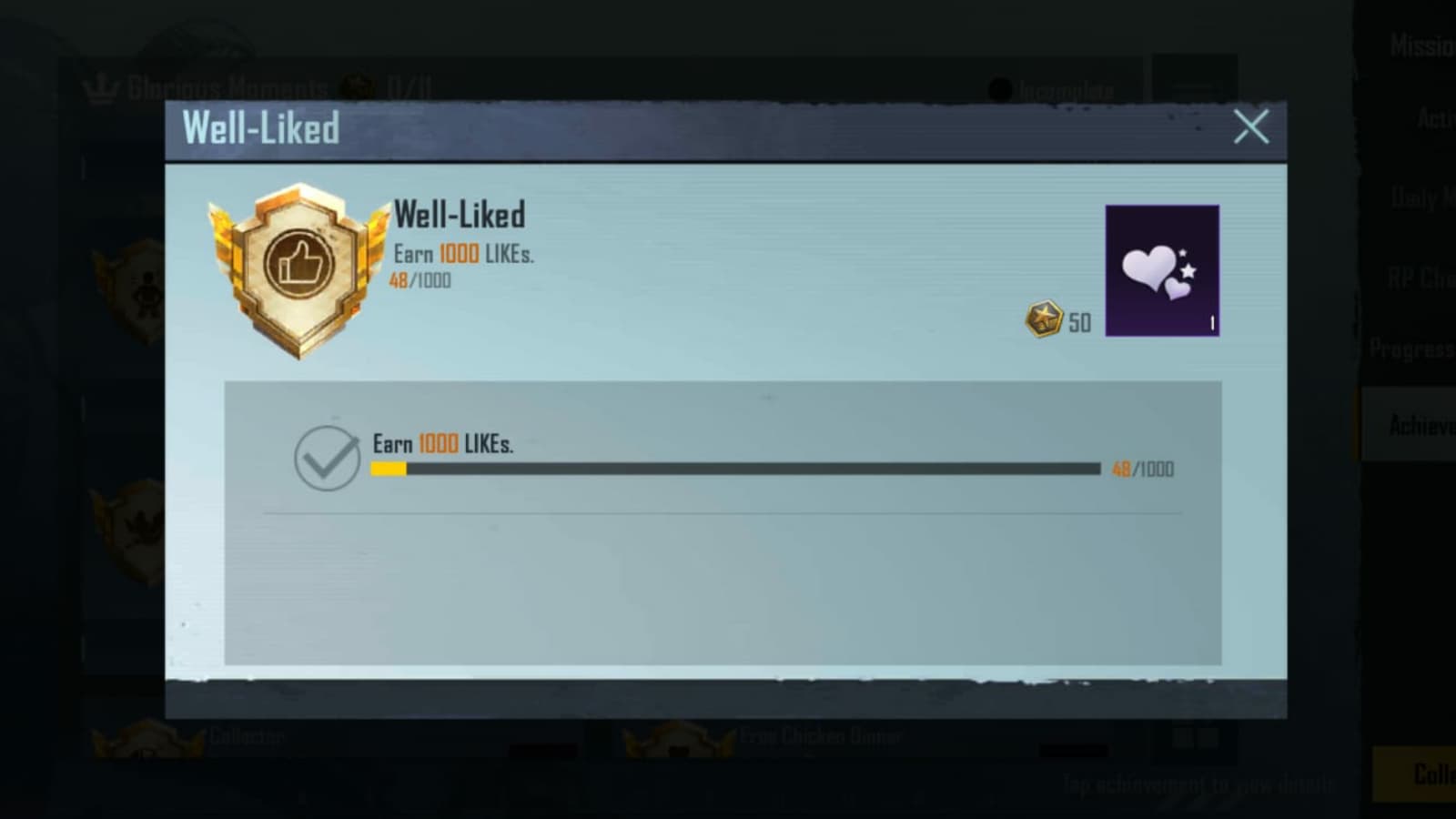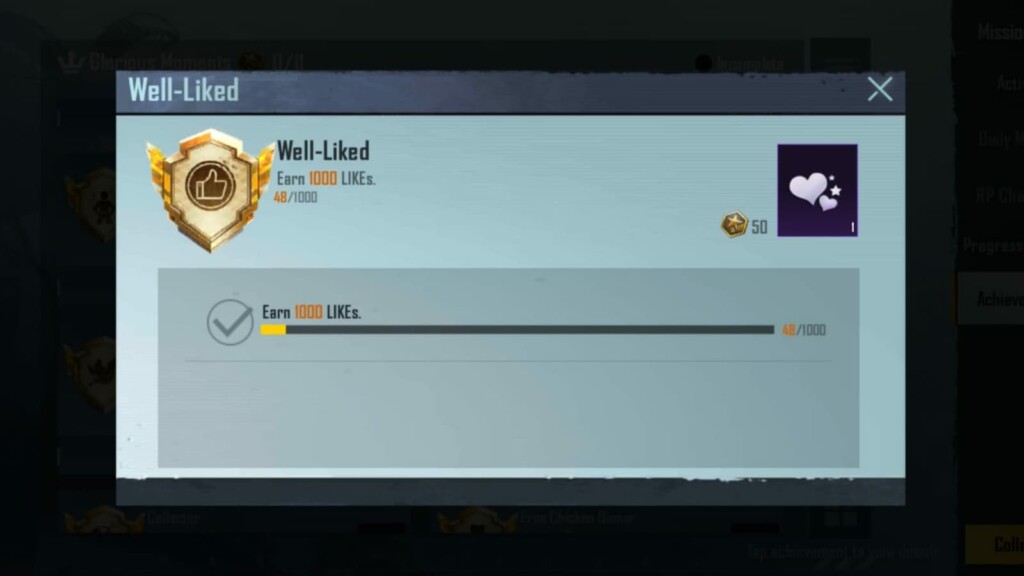 One of the easiest title in BGMI is the well-liked title which can be achieved even by the beginners. Players need to obtain 1000 likes from their teammates or friends. While it is important to note that like & popularity are different, though your popularity can increase by 10 or 20 if you receive likes from your teammates. You can ask your friends to give you likes at the end of each match.
Related: Battlegrounds Mobile India: Best weapon skins to obtain without UC in BGMI
Season Ace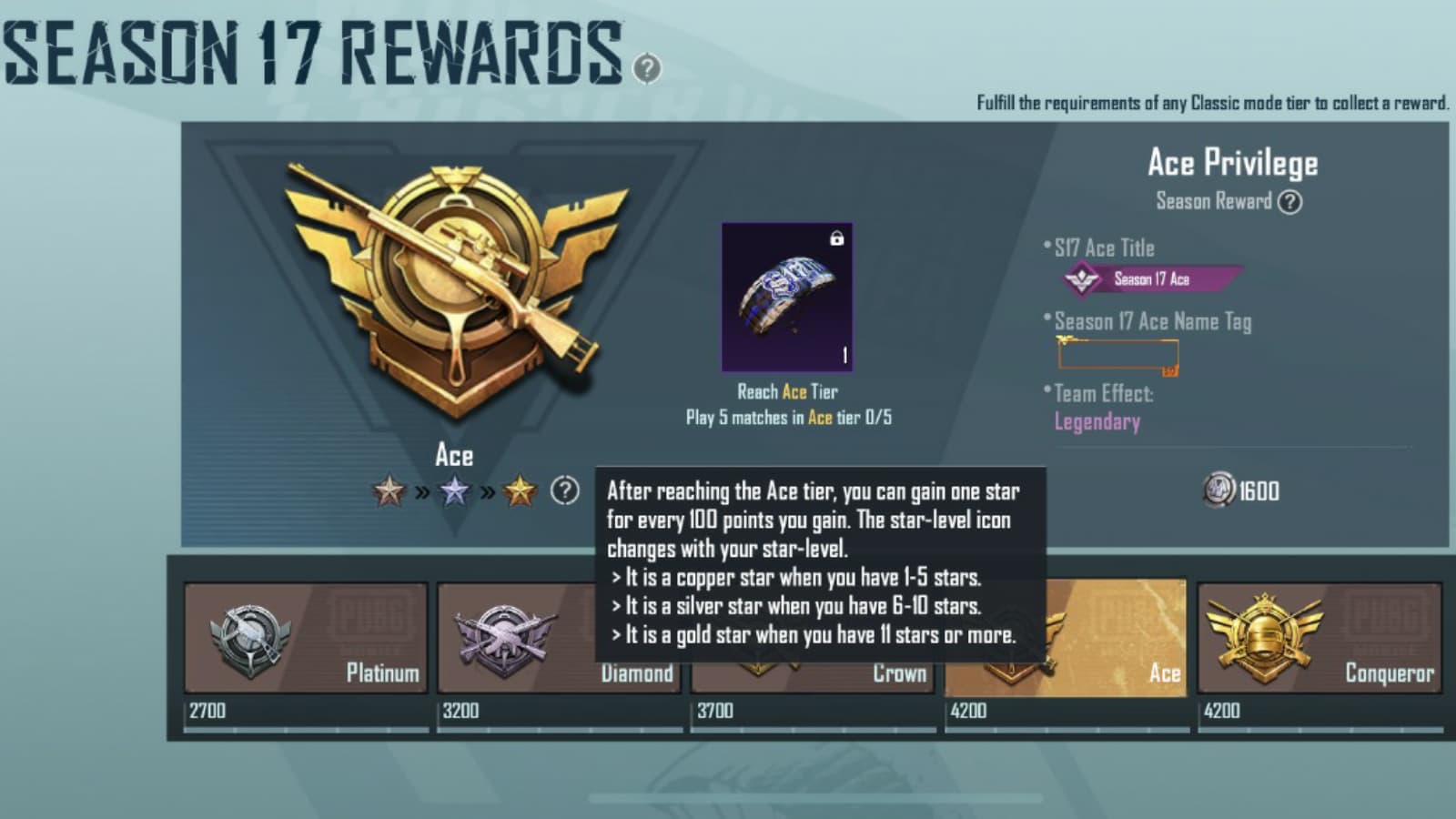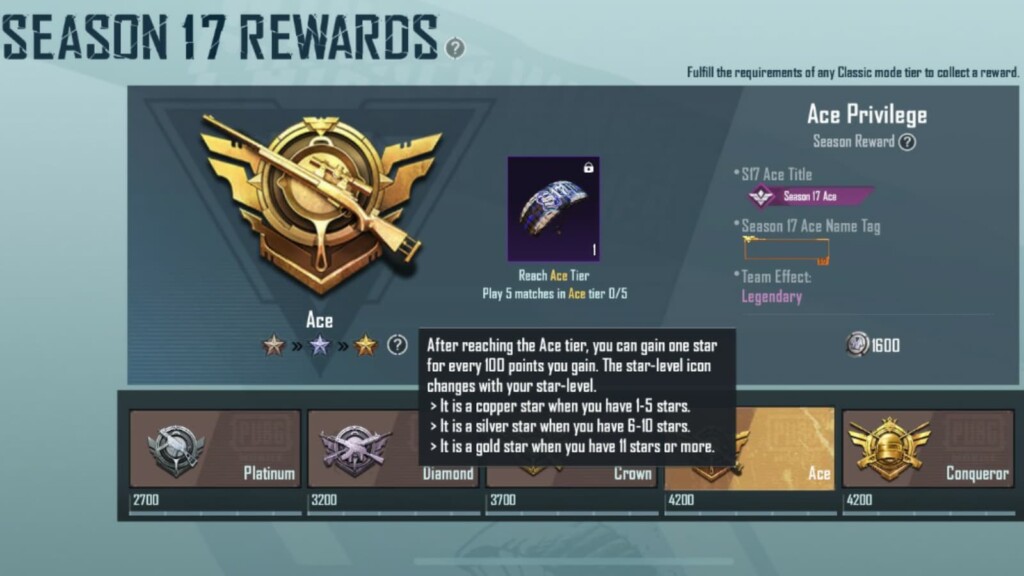 As mentioned earlier, players are also rewarded with permanent titles after they climb up to the Ace Tier of the ongoing season. Players can reach the ace tier by using some simple tactics in the game such as avoiding hot drops, carrying lot of healing weapons etc. At present, several players are able to reach the ace tier so achieving this title will be a child's play. Players are also provided with a free parachute in the Season Ace Tier.
Weapon Master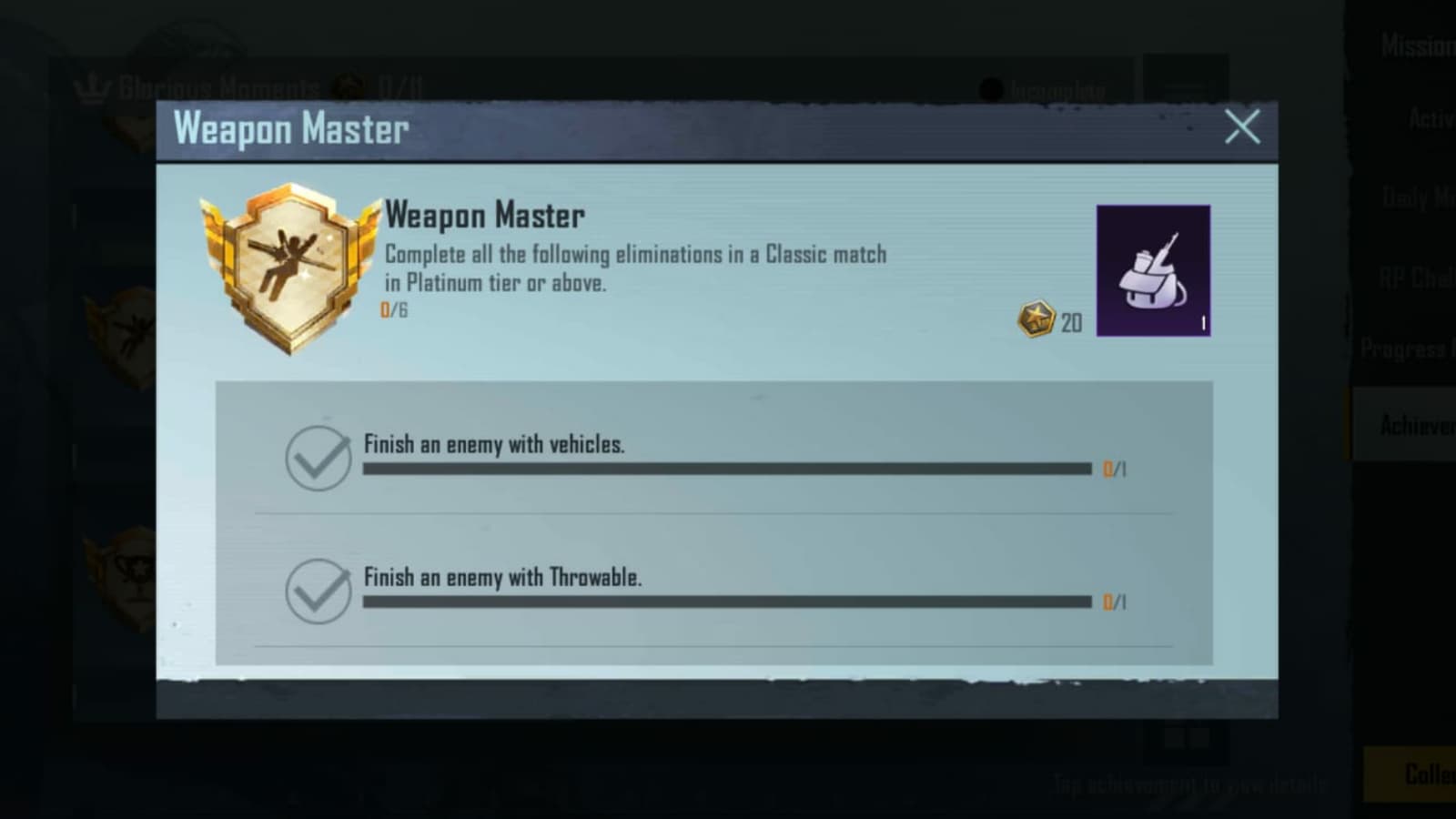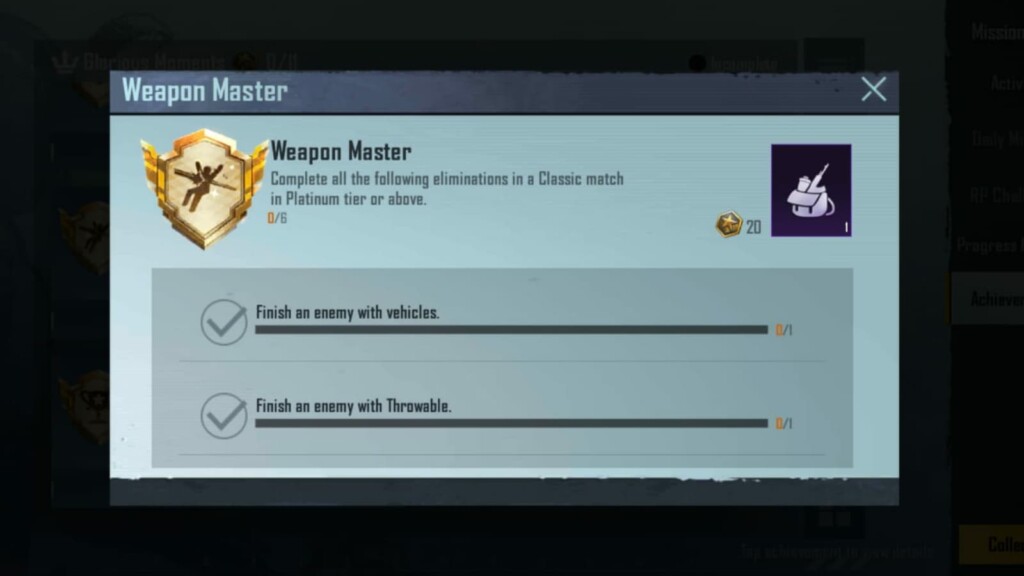 This title might sound difficult to obtain but players can obtain this title just be completing some basic missions. As the name suggests, players have to master different weapons in the game. Players have to use weapons like AR, SMG, Shotgun, Sniper, Throwables as well as a vehicle to eliminate their enemies in a single match after they've reached Platinum V Tier or above.
Perseverance
Another easiest title in BGMI is the Perseverance title which can be obtained by the players if they purchase the Royal Pass for 4 consecutive seasons and maxing their RP to the 50th Rank. The Royal Pass can be bought by spending 360 UC (Rs 460). Players also get several other benefits such as exclusive outfits, UC, mythic emotes and weapon skins after they purchase the Royal Pass.
Warhorse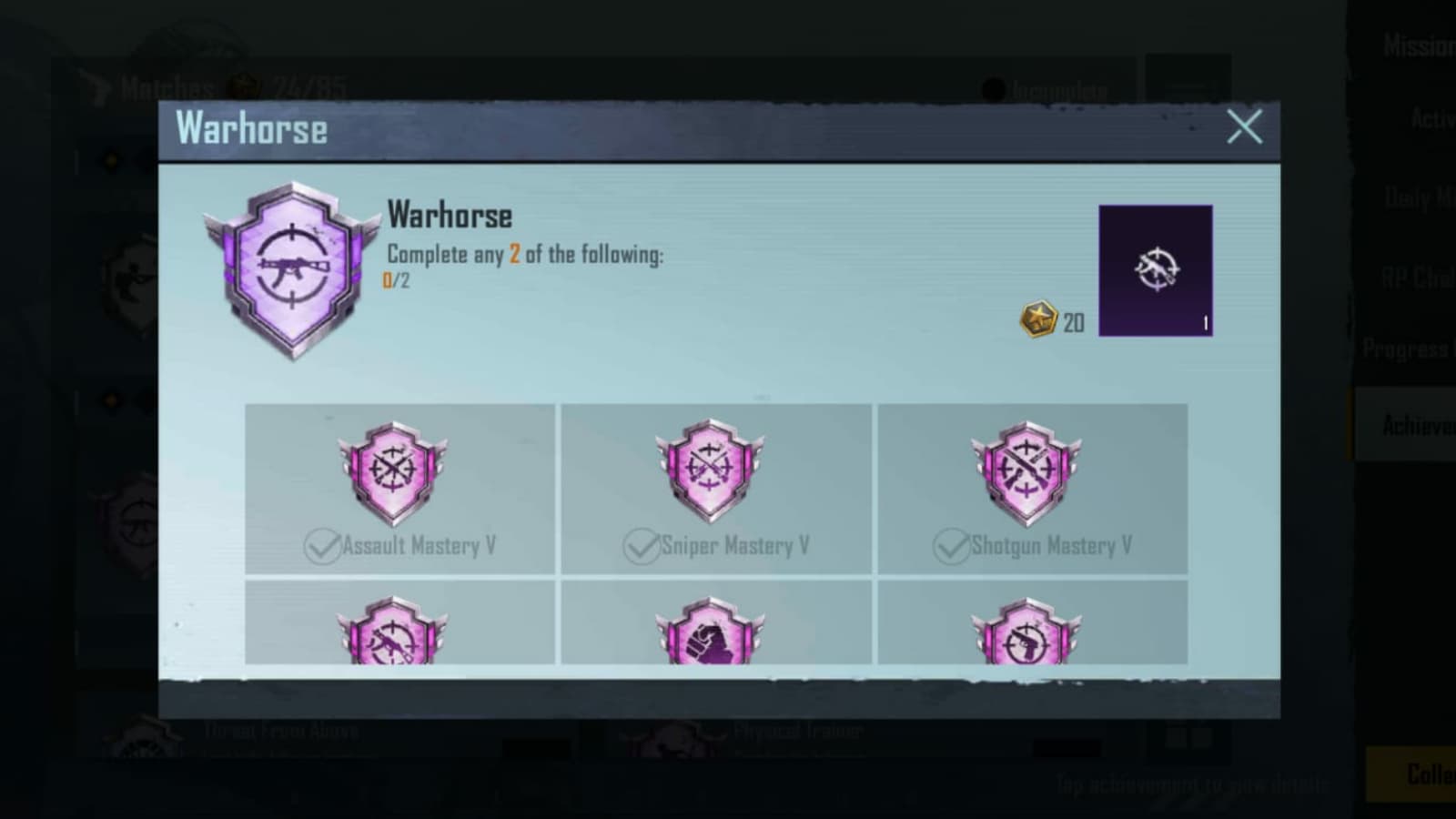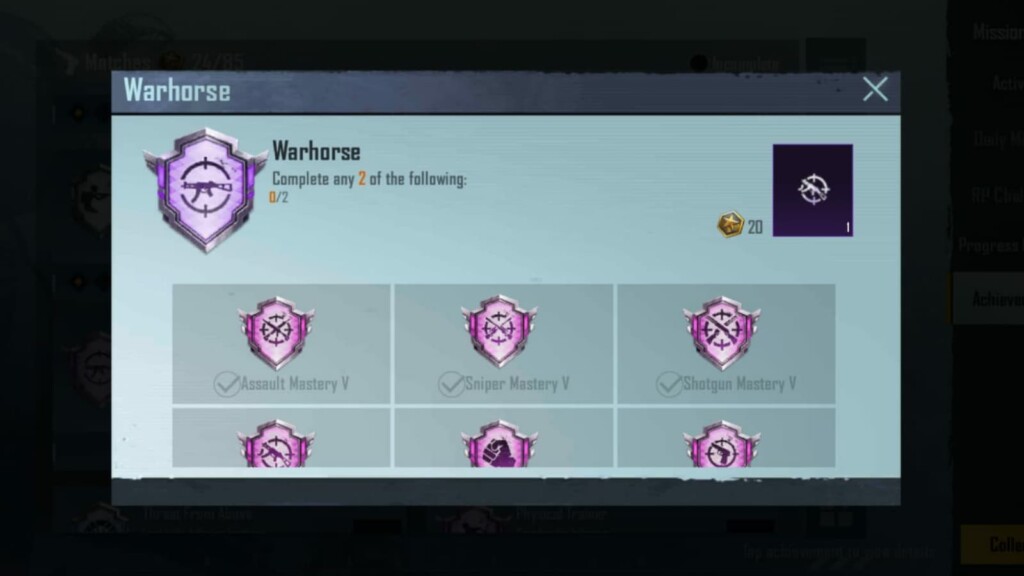 Though this title isn't that challenging, players need a huge amount of patience to achieve this title. Players need to complete any 2 missions from the following:
Assault Mastery V
SMG Mastery V
Melee Mastery V
Shotgun Mastery V
Sniper Mastery V
Pistol Mastery V
Players need to defeat 2000 enemies with any of the 2 mentioned weapons to achieve the title.
These are some of the easiest titles to achieve in BGMI. Do you own any of them? Let us know in the comment section below.
Also Read: Soul Viper BGMI ID, stats, control settings, achievements, sensitivity and more