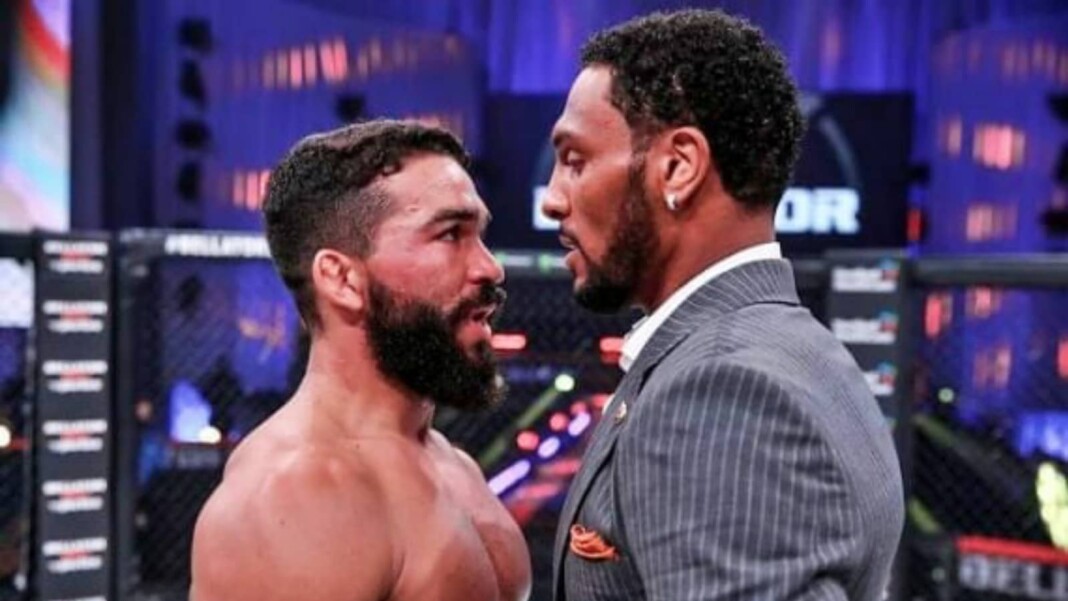 AJ McKee is the face of Bellator MMA right now. At Bellator 263 he demolished the indomitable Patricio Pitbull to win the Bellator World Featherweight Grand Prix and eventually the Bellator Featherweight title. McKee also went home with a million-dollar in his bank. However, Pitbull has another title as well. Having lost his 145 title, Pitbull now holds the 155 – lightweight title. McKee wants that as well.
In a recent interview with Ariel Helwani in his MMA Hour, AJ McKee revealed that a rematch against Pitbull would be the only fight that would make sense. However, he did say that he wanted to finish Patricio's brother Patricky Freire (number 1 ranked Bellator Lightweight Contender), since Pitbull had been saying that he wanted a break.
McKee also seemed determined to prove that his victory against Pitbull at Bellator 263 was no fluke. Wanting to put the icing on the cake, 'The Mercenary' was more than ready to fight it out against arguably the greatest Bellator fighter of all time.
"I'm sure a lot of people think it was a fluke, the first time" – AJ McKee
AJ McKee was quoted as saying, "That's the only fight that makes sense. But, Pitbull don't want it. He needs a break…I want both the belts…This is what I've said throughout the tournament. I would like that. I think that should happen. It's the fight everybody wants to see. I'm sure a lot of people think it was a fluke, the first time. So, let's put the icing on the cake. [h/t firstsportz.com]
There have also been talks of McKee switching to a different promotion. But, the featherweight champion feels that the Bellator is his home, and wouldn't be moving anywhere in the near future. McKee also revealed that he usually walks around 170 to 180, and it would be more than easy to cut weight for the lightweight division.
We all know what happened when a certain Conor McGregor tested the welterweight division, back in 2016. The previously undefeated Irishman (UFC), suffered his first-ever UFC defeat against Nate Diaz. However, McKee's exuberating confidence alone would get him past uncharted territories.
What are your thoughts on McKee trying to become the 'champ-champ'?
Also Read: I liked how Cristiano Ronaldo looked more" – Khabib Nurmagomedov unhappy with the way Mike Tyson presented himself in his podcast recently
Also Read: UFC Vegas 35: Edson Barboza vs Giga Chikadze Prediction and Fight Preview