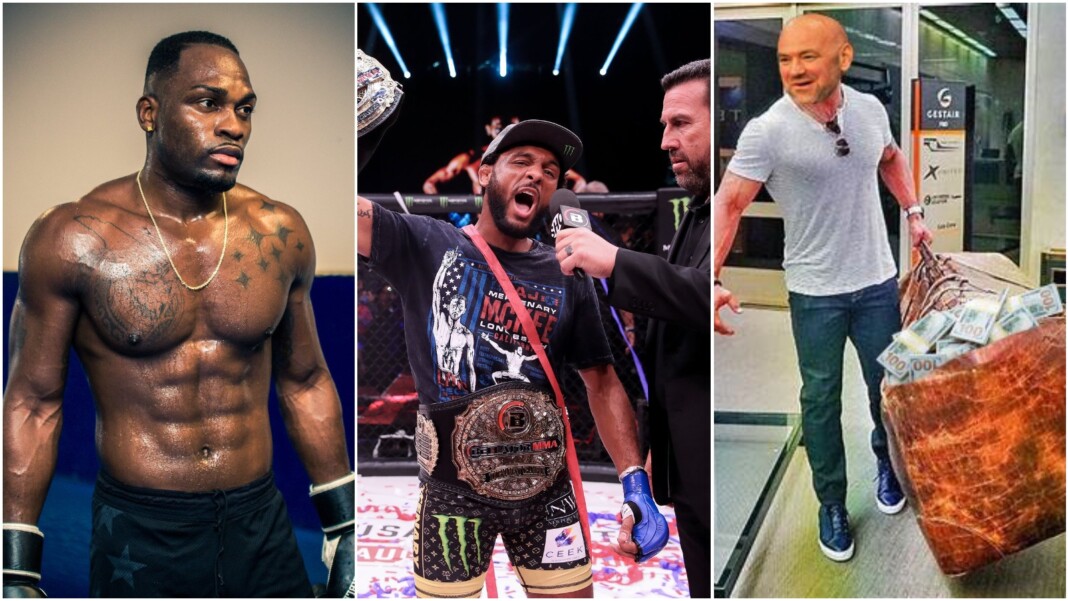 AJ McKee is all the rage in the MMA world right now. 'The Mercenary' earned a staggering victory over the arguably the best Bellator fighter of all time. The 26-year old beat Patricio Pitbull in the final of the Bellator Featherweight World Grand Prix at Bellator 263 in the Forum, Inglewood.
AJ McKee executed a standing guillotine choke to submit Pitbull in the very first round to get his hands on the featherweight title. This was Pitbull's first defeat in seven fights, while McKee continued his winning streak (currently on 18). The win earned McKee numerous fans across the globe. Several MMA stars were in awe of the American's victory.
"Dana White headed to meet with AJ McKee" – Derek Brunson
UFC middleweight Derek Brunson was keenly watching the fights. Following McKee's victory, he posted a doctored image of UFC President Dana White carrying a boatload of cash heading to meet McKee to sign 'The Mercenary.' There is no chance that the bossman would allow a cross-promotional fight. The only way to see McKee on the big screen is if McKee joins the UFC.
Brunson tweeted, "Dana White headed to meet with AJ McKee moments after his fight tonight!"
McKee is currently 18-0 in his MMA career. He is right up there among the best featherweights in the world. Having plied his trade entirely in the Bellator, the 26-year old might be considering a move to the UFC provided he is interested in stepping up his brand value.
As for Brunson, he is expected to face Darren Till sometime soon. The fight has not got a proper card as of now. A win for Brunson might put him a couple of wins away from the MW title.
Also Read: "I go out there and I get it" – Kamaru Usman feels he could beat Boxing great Canelo Alvarez
Also Read: "Stop with the excuses" – Leon Edwards ready to fight Jorge Masvidal