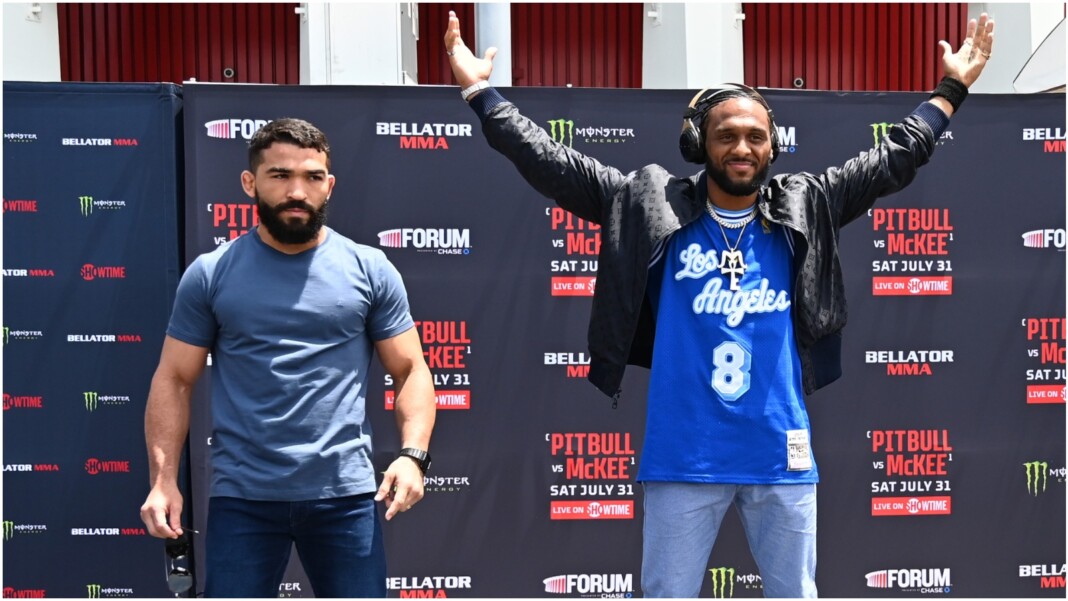 AJ McKee is just a couple of days away from the biggest fight in his Bellator career. The 17-0 unbeaten fighter will be taking on Patricio Pitbull Freire in the Bellator Featherweight World Grand Prix Finals at Bellator 263 on the 31st of July. Prize money of $1 million awaits the winner, and not to forget the coveted featherweight belt. McKee is currently ranked number 1 in the featherweight rankings, while Patricio Freire is the champion and is arguably the greatest fighter in Bellator history.
With the fight inching closer, AJ McKee spoke to Damon Martin of MMA Fighting and presented his case to be considered the Floyd Mayweather of MMA. He sounded pretty confident about getting the job done, come the 31st of July. It is worth noting that, McKee has hardly been troubled in his previous 17 fights.
'I feel like that's just going to put that stamp on' – AJ McKee
McKee was quoted as saying, "I feel like that's just going to put that stamp on. OK, this kid really is the future of the sport. He is potentially and going to accomplish big things in his career like he said. Going undefeated his entire career. Being the Floyd Mayweather of MMA. Being well spoken, being able to be myself but in a sport that hasn't really developed like the boxing world has yet. I'm just looking forward to being the first one to do it and just be the people's champ."
McKee is coming off a submission victory over Darrion Caldwell in the Bellator Featherweight World Grand Prix Semi-finals at Bellator 253. He needed just 71 seconds to submit Caldwell via. a neck crank. 'The Mercenary' will also be backing his immense Bellator experience – he has entirely fought in the promotion right from his debut, when he takes on the 'Pitbull'.
Patricio Pitbull, on the other hand, is coming off a win over Emmanuel Sanchez at Bellator 255, wherein he won via. technical submission due to a guillotine choke in the very first round. Pitbull has been on a seven-fight winning streak, and hasn't lost in almost 5 years.
Who have you got, in arguably one of the greatest Bellator fights of all time?
Also Read: Tai Tuivasa vs Walt Harris set for UFC 267 in Abu Dhabi
Also Read: "It's a monopoly that the UFC is running" – Jake Paul tears into the UFC in the wake of the raging fighter pay issue