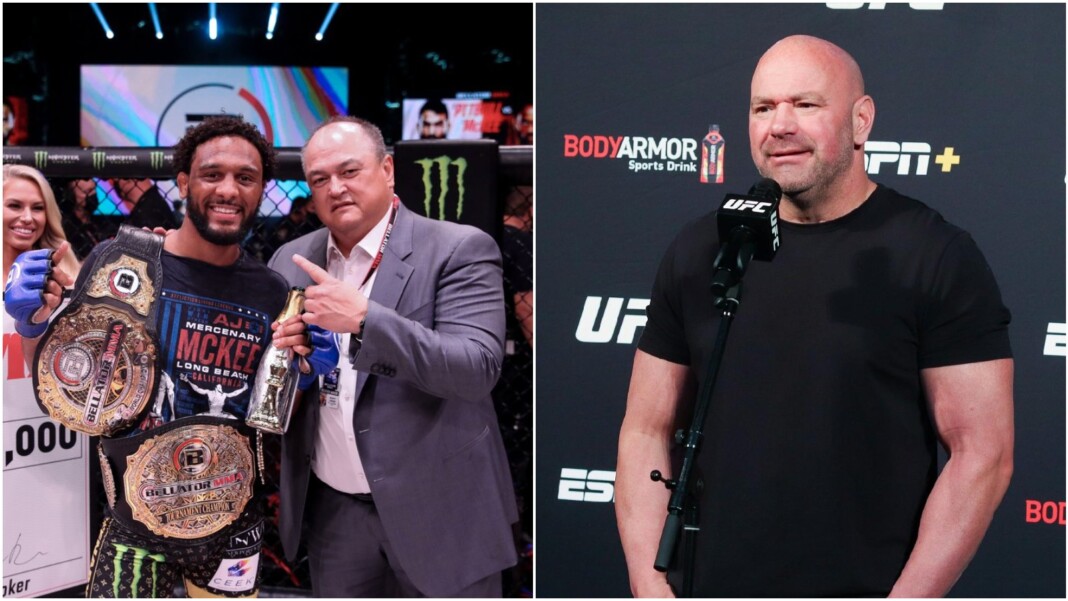 AJ McKee earned a staggering victory over Patricio Pitbull Freire at the Bellator Featherweight World Grand Prix Final – Bellator 263 in The Forum, Inglewood. All the 26-year old needed was just a few minutes in the first round, as he executed a standing guillotine choke to submit the Brazilian, and eventually win the featherweight title and $1 million as prize money.
Following his victory, an ecstatic McKee claimed that he was right up there with the best featherweights in the world. Bellator CEO Scott Coker resonated the same idea as well. Acknowledging the fact that UFC President Dana White doesn't encourage cross-promotional fights, Coker claimed that they were ready any time, if the UFC decided to change their minds.
"I would love to see McKee fight against other people as well" – Scott Coker
Speaking at the Bellator 263 post-fight scrum, Coker said, "Yeah, I mean I would love to see (McKee) fight against other people as well, as you guys would also, but it's not going to happen because it's not the UFC's business model to do it. But you tell me this kid couldn't go in there and fight anybody right now. Everybody knows that he can do it. So if they want to get it on, we'd do it in a second."
The UFC's top 3 featherweights are in a league of their own. Champion Alexander Volkanovski, Brian Ortega, Max Holloway have fought the best of the best. However, AJ McKee is no slouch, he has beaten the best fighter in the history of Bellator. But, has he fought five-rounders? Does he have the gas tank to go the distance? It remains to be seen.
McKee also told the Schmo following his victory over Pitbull, that he would like to face Max Holloway from the UFC, since he has idolized the Hawaiian while growing up.
AJ McKee's father, Antonio McKee wasn't a fan of UFC President Dana White. Following his son's victory, Antonio called Dana White a piece of sh*t. He said, "I don't wanna jeopardize my son's career, but I personally think he (Dana) is a piece of sh*t."
Who do you think AJ McKee will fight next?
Also Read: "I go out there and I get it" – Kamaru Usman feels he could beat Boxing great Canelo Alvarez
Also Read: "Stop with the excuses" – Leon Edwards ready to fight Jorge Masvidal