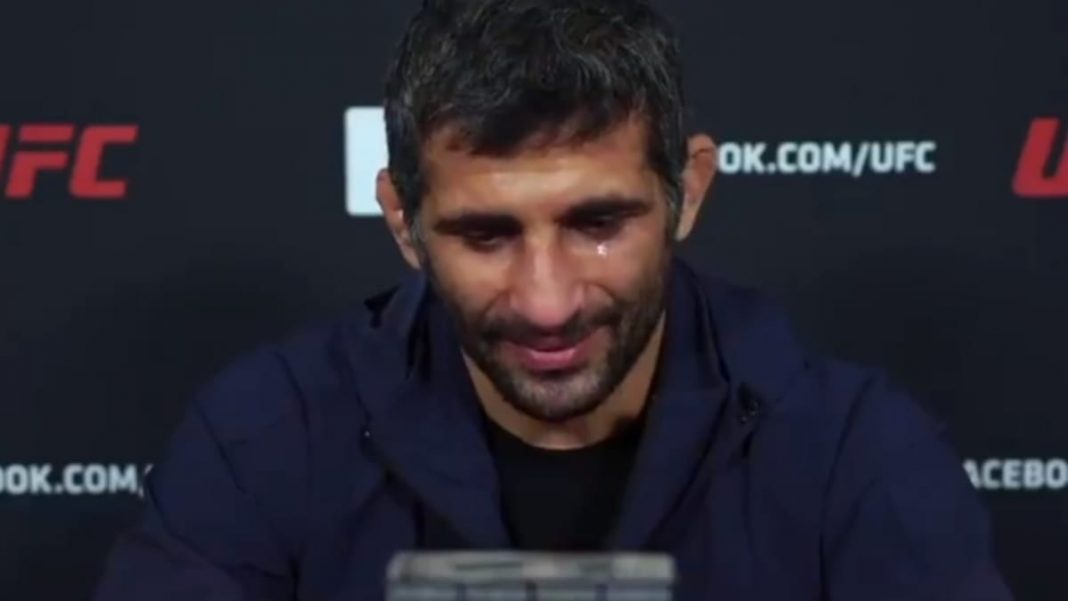 The emerging UFC Lightweight fighter Beneil Dariush is on a dream run in UFC during his recent fights. He is on a five-fight win streak and in which three of them he won performance of the night bonuses.
In his fight against Drakkar Klose at UFC 248, he produced an absolutely delightful comeback by which he won the hearts of the UFC fans. In the second round of the fight, Klose was raining some heavy shots on him and he seems to knock out Dariush soon.
But he took these shots and knocked out Klose with his punches and produced a spectacular comeback due to which he won Toyo Tires comeback of the year award 2020. Now, he is going to face Carlos Ferreira in his next match.
Dariush gets tears filled in his eyes while receiving this award in the pre-match press conference. He says, "Comeback of the year for 2020… So… I'm gonna need a second. For this fight… We thought we were pregnant, and I hurt my knee. I had a torn MCL."
"It was two weeks before the fight. Everybody was telling me, 'Hey, just think about it, be smart. Maybe it's not meant to be this time.' And all I could think about was my baby. That's why this came the way it did."
"The gameplan for the fight was a takedown, control, and just go like that. But somewhere along the way, I had to change gameplans when I started getting hit and got hurt. I think the thing that carried me through was knowing I could provide for my baby so I'm gonna think of that every time I see this."
Beneil Dariush believes he is being overlooked
The Iranian-born fighter Beneil Dariush is on a five-fight win streak in which two victories came via submission and two via TKO. But he still thinks he is being overlooked. Talking to MMA Junkie Radio, Dariush says,
"I think I'm being overlooked, which isn't something new for me, which is fine, but after this fight, how can you overlook me? If I go in there and I can do what I've done, if I can dominate in this fight, for how long are they going to look over me?"
"Like, who are they going to try and give me to say 'No, no, no, you've got to beat this guy now'? I just don't see it anymore, and unfortunately, that fight with Oliveira didn't happen – he pulled out then he got a fight with Tony Ferguson"
"That would have been pretty much all I needed, but now I have another fight. Honestly, I'm just excited to fight. I don't want to think about the drama of it because there's always lots of drama. That's the fun part about the UFC: Before the fight, all the drama."
Also Read: "It looks to be cowboy for my UFC finale, Sanchez versus McGregor will always be in the ether" Diego Sanchez weights down facing Conor for a final fight