BGMI sensitivity settings: If you're an avid player of Battlegrounds Mobile India, you might have found that hitting headshots is not an easy task. Even though, hitting directly at the head of the enemy gives a vital damage, players need to learn some basic tricks to master hitting headshots. This article will present best BGMI sensitivity settings for players to hit perfect headshots.
When you play to win, you must remember to follow some strategies in the Battlegrounds as the competition in each game is increasing day by day and BGMI is no exception, considering the fact that the game boasts of millions of active users. For mastering headshots, players need to know which scope to use when engaged in close or long range combat, where to put the cross mark and lastly tweaking the sensitivity settings so that hitting headshots feels like an easy task. Let us now look at the perfect BGMI sensitivity settings for headshot.
BGMI sensitivity settings for headshots
Camera sensitivity
The camera free look settings can be altered if you wish to increase the quickness of your movement. Most of the players like to keep this settings as default. If you keep the correct BGMI sensitivity settings of camera , you can master close range combats and hit headshots easily.
TPP No Scope: 115-120%.
FPP No Scope: 120-130%.
Red Dot, Holographic: 50%
2x Scope: 30%
3x Scope: 30%.
4x Scope: 14%.
6x Scope: 12%.
8x Scope: 10%
FPP Aim: 40%
TPP Aim: 40%
Related: Top 30 nicknames in BGMI for November 2021
ADS sensitivity settings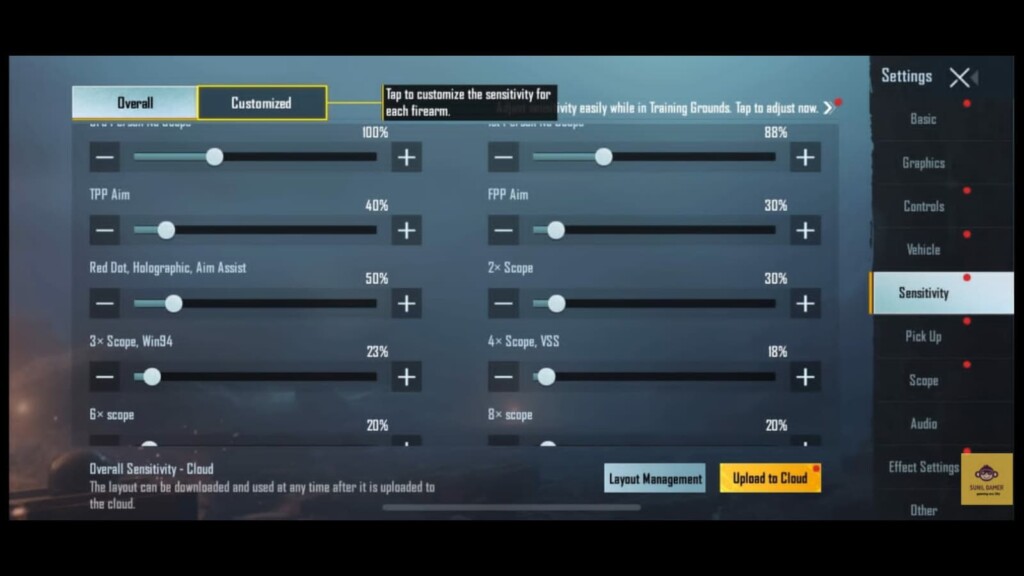 If you are non gyro player, then you need to be careful regarding your ADS sensitivty settings. ADS means aim down sight and will help to keep the barrel down while you're shooting towards the enemy. Here is the recommended sensitivity setting
TPP No scope: 90-100%
FPP No scope: 80-90%
Red Dot, Holographic, Aim Assist: 50-60%
2x Scope: 30%
3x Scope: 18-25%
4x Scope: 23-30%
6x Scope: 15-20%
8x Scope: 10%
FPP Aim: 30%
TPP Aim: 30%
Gyroscope sensitivity settings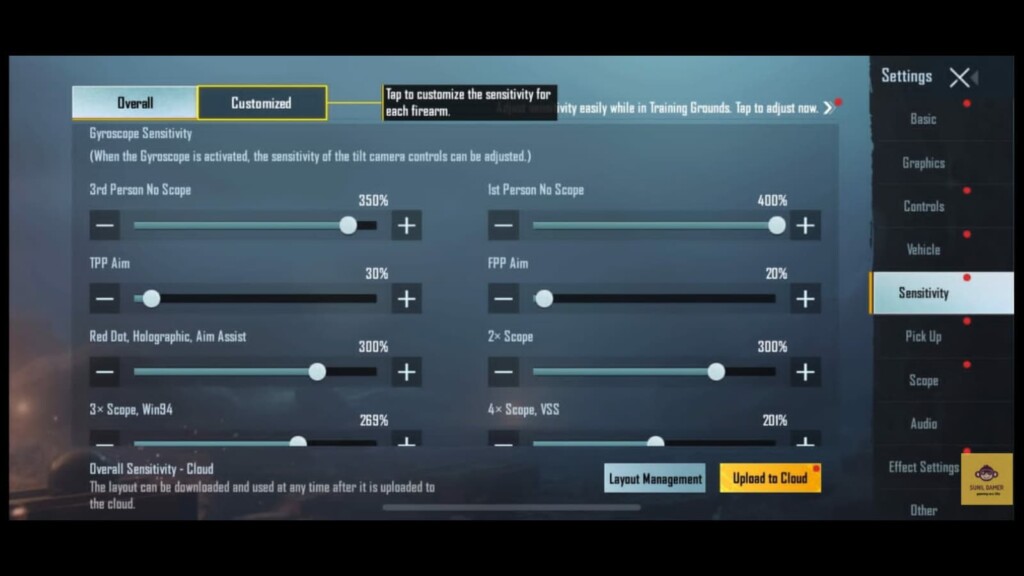 Gyroscope works best in both close and long range combats, therefore, if you have trouble aiminng towards the enemy's head manually, then use the following sensitivity settings in BGMI.
TPP No scope: 300%
FPP No scope: 400%
Red Dot, Holographic, Aim Assist: 300%
2x Scope: 300%
3x Scope: 250-300%
4x Scope: 200%
6x Scope: 6-12%
8x Scope: 10%
FPP Aim: 30%
TPP Aim: 20%
ADS Gyroscope Sensitivity
The latest setting that was added to the game in the 1.5 update is the ADS Gyroscope setting. After opening the gyroscope, the sensitivity of the tilted camera may be changed using this sensitivity settings in BGMI.
TPP No scope: 120%
FPP No scope: 114%
Red Dot, Holographic, Aim Assist: 108%
2x Scope: 80-90%
3x Scope: 75-80%
4x Scope: 50-60%
6x Scope: 50-60%
8x Scope: 40-50%
FPP Aim: 120%
TPP Aim: 120%
Also Read: Top 30 clan names in BGMI for November 2021