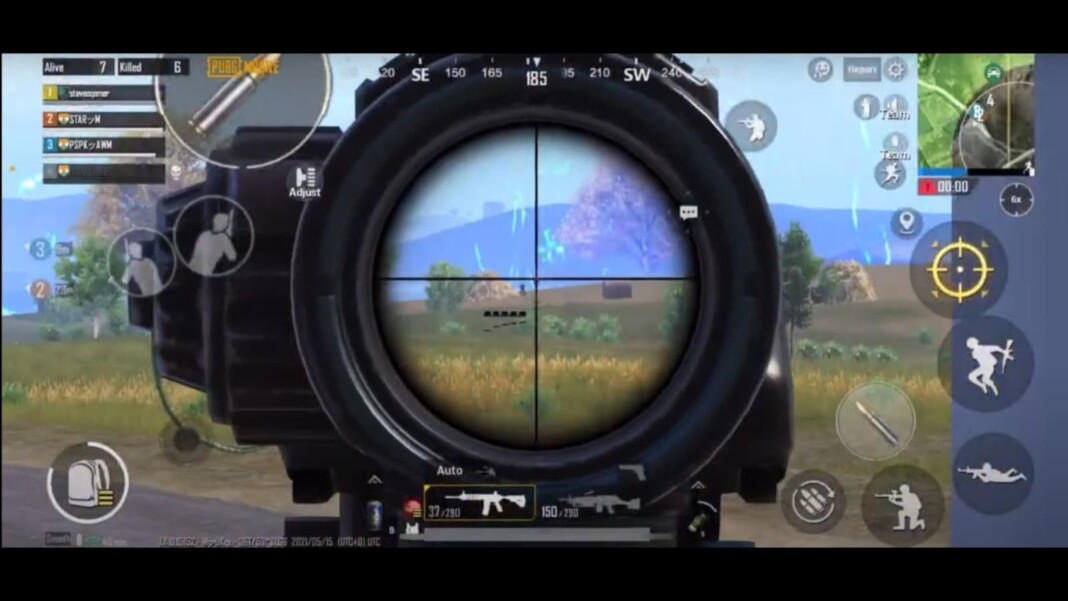 Players will take a lot of time to settle in as some guns have a greater recoil in BGMI. This article will present the Best BGMI sensitivity settings for Mobile to get zero recoil in Competitive matches.
BGMI, aka Battlegrounds Mobile India, is believed to be the Indian rebrand version of PUBG Mobile that was released by Krafton Inc, earlier this year in July. The game was received well by the Indian fans as they have longed for the game ever since PUBG was banned in 2020. But lately, the game has been a hub of cheaters and hackers as players will face them in every 2 out of 5 matches. Even though Krafton has improvised the anti-cheat measures, it seems hackers still have some way to enter the game.
But players still need to ace in the game especially in competitive matches, and recoil is one of the main problems for many players. For competitive matches, you need tactics, strategies, reflexes, game sense and in-game controls & sensi.
Best BGMI sensitivity settings for Zero recoil
Camera Sensitivity Settings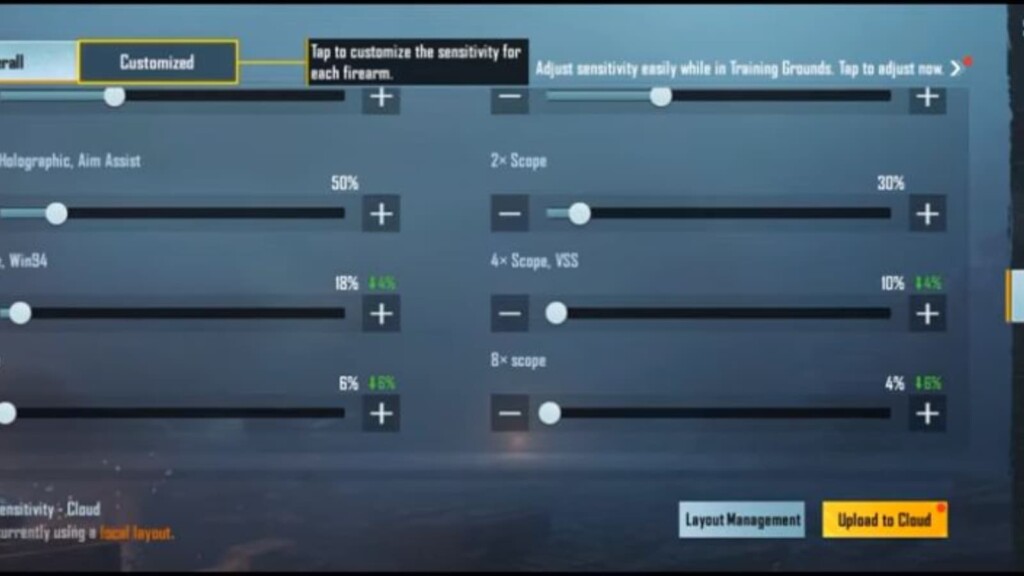 This setting will help you rotate your camera while you are moving with your character. It plays an important role in close-range as many players will make fast movements like Jiggle in close-range.
TPP No Scope: 110-120%.
FPP No Scope: 100-120%.
Red Dot, Holographic: 40%
2x Scope: 36%
3x Scope: 30%.
4x Scope: 30%.
6x Scope: 150%.
8x Scope: 15%
FPP Aim: 30%
TPP Aim: 30%
Read More: How to get the Desert Prince Outfit in Dussehra Event BGMI?
---
ADS sensitivity settings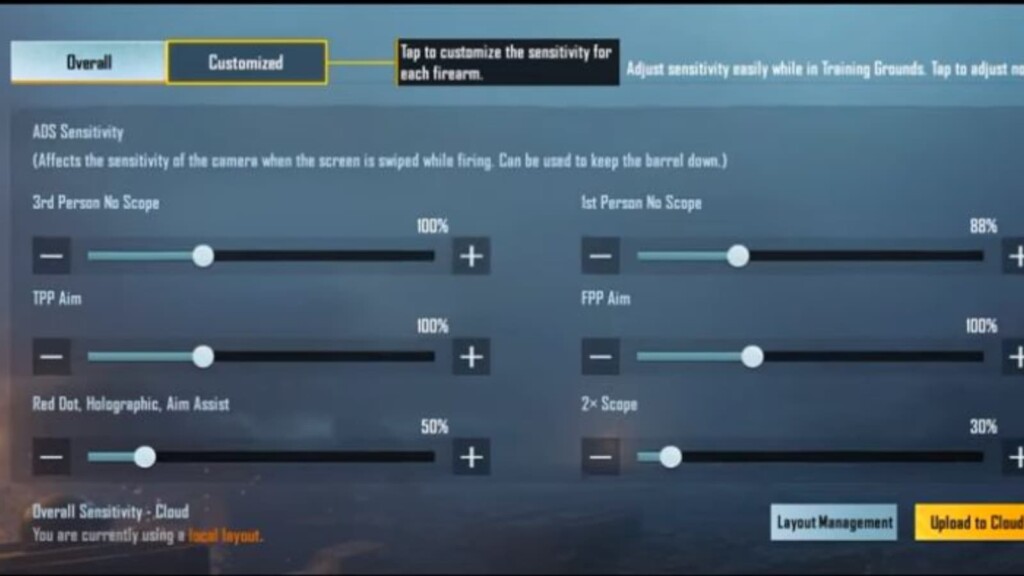 This sensitivity setting is for non-gyro players. It is the basic setting that one would play with before going for Gyro. ADS will work when you open the scope and fire at the target. Players need to swipe down the screen to reduce the recoil and increase stability.
TPP No scope: 90-100%
FPP No scope: 100-130%
Red Dot, Holographic, Aim Assist: 50-60%
2x Scope: 30%
3x Scope: 18-25%
4x Scope: 10-20%
6x Scope: 6-12%
8x Scope: 10%
FPP Aim: 40%
TPP Aim: 40%
---
Gyroscope sensitivity settings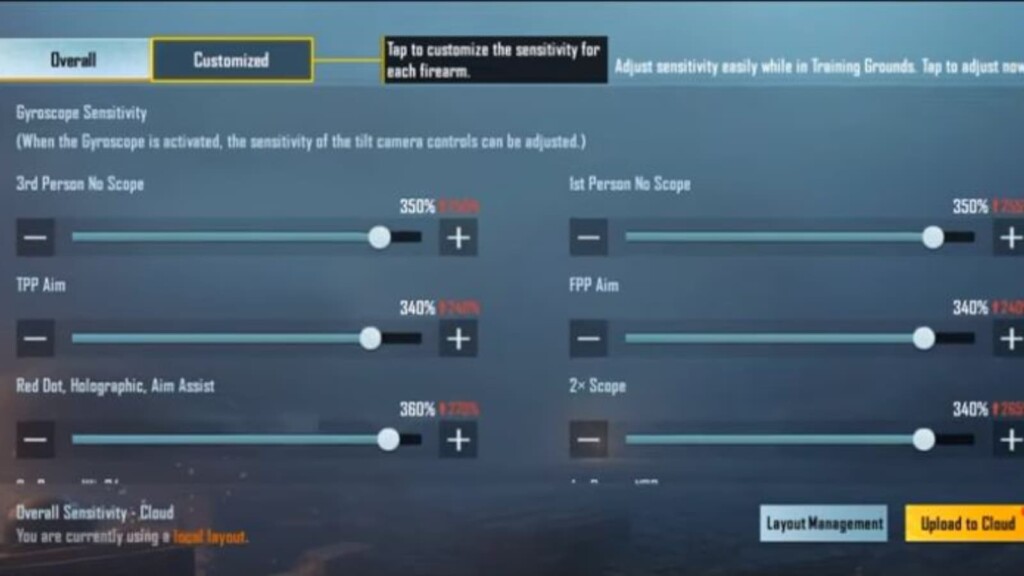 Gyroscope makes use of your smartphone's sensor to assist you with the movement of your scope and also your character without the need for your finger. This setting is used by many professional players and others.
3rd Person(TPP) No Scope: 300-400%
1st Person(FPP) No Scope: 300-400%
Red Dot, Holographic: 340-360%
2x Scope: 340%
3x Scope: 240-300%
4x Scope: 200-250%
6x Scope: 80-150%
8x Scope: 40-80%
TPP Aim: 260%
FPP Aim: 250%
---
ADS Gyroscope sensitivity settings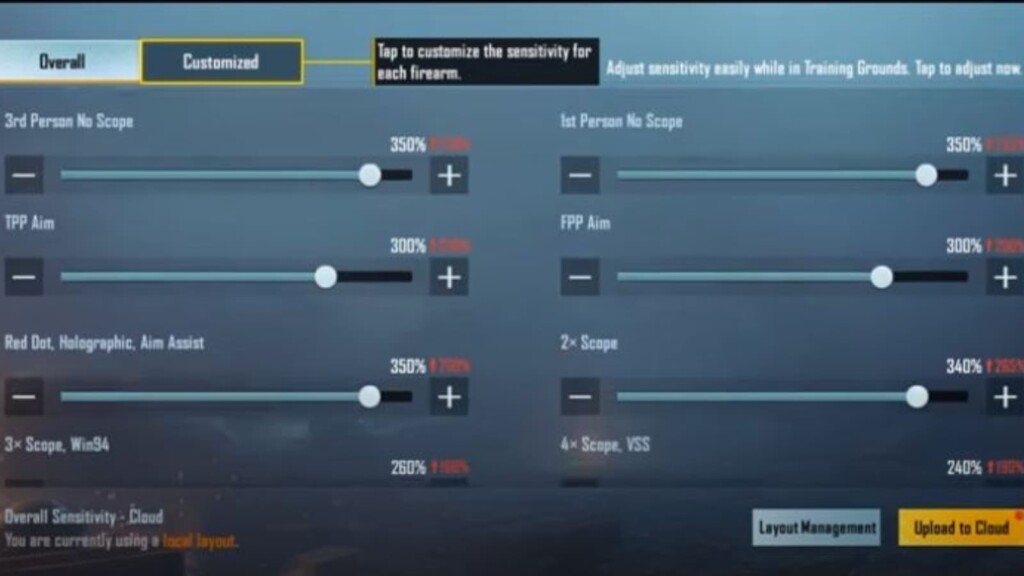 This is the latest sitting that was added to the game in the 1.5 update. When a player engages the gyroscope, the sensitivity of the tilted camera may be changed using the sensitivity settings.
3rd Person(TPP) No Scope: 250-300%
1st Person(FPP) No Scope: 250-300%
Red Dot, Holographic: 200-250%
2x Scope: 200-250%
3x Scope: 240-300%
4x Scope: 210-300%
6x Scope: 70-120%
8x Scope: 50-80%
TPP Aim: 250%
FPP Aim: 250%
Players are suggested not to copy any settings and we have given a specific scope of settings which players can adjust according to their preference. Moreover, they have to practice and grind in the training mode to master the new settings or controls.
Also Read: BGMI War Of Glory: Orangutan Gaming wins League Play Week 1