Garena's Free Fire has a big year in 2020. The game has made it's mark on the eSports scene and is attracting players worldwide. Free Fire is all about shooting and using your abilities wisely in order to win the game. One way you can give yourself an edge in Free Fire is by customising the sensitivity settings. This will make it easier for you to aim and shoot straight. In this article we will see the best sensitivity settings for Free Fire in 2021.
Changing Sensitivity in Free Fire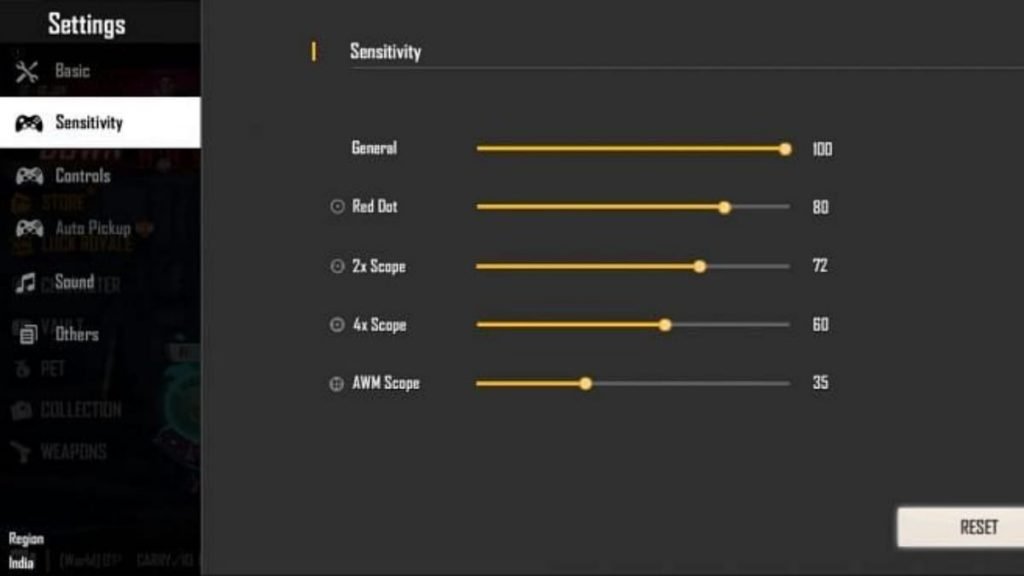 You can use the mentioned settings in order to reduce the weapon's recoil and make your shots hit right on the mark.
AWM Sniper Scope – 35
4x Scope – 60
2x Scope – 72
Red Dot Sights – 80
General aiming – 100
Changing these settings is super easy. Just navigate to the settings icon from the main menu of Free Fire. Next find sensitivity on the left side. Now you can adjust the sliders to the desired values.
Another tip to shoot better in Free Fire is to quickly swipe upwards after aiming at the enemy. This will lock your cursor onto the head of the enemy. Shooting at heads deals much more damage and can help you finish off enemies really quickly. You might need to get used to the new settings so give it some time. Soon enough you will be performing auto headshots and racking up kills with ease.
That was our article regarding the Best Sensitivity Settings for Free Fire in 2021.
Also Read: 50 best stylish pet names for Free Fire in January 2021