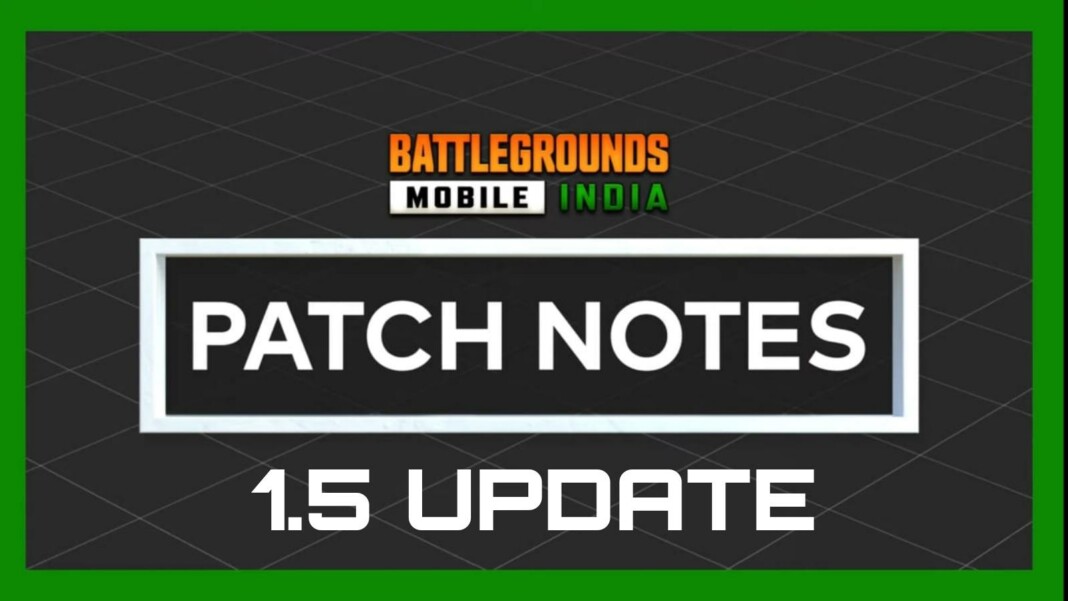 BGMI 1.5.0 update is likely to be released soon as Krafton has already released the patch notes in the official youtube channel of Battlegrounds Mobile India. This update will bring a new mode i.e the Mission Ignition Mode for the players as well as new weapons.
Battlegrounds Mobile India was officially released by Krafton on 2nd July,2021 for Android devices and has already crossed 10 million downloads from Google Play Store. Krafton also hosted the first tournament of BGMI titled as BGMI Launch Party which was a huge success as the live stream garnered over 90K views. It was also claimed by Krafton that more updates on BGMI ESports will be given on 15th July,2021. As of now, Krafton has brought an update to the game i.e the BGMI 1.5.0 update. The release of Patch Notes comest shortly after PUBG Mobile 1.5 update was released for the players.
BGMI 1.5.0 update Patch Notes
Mission Ignition Mode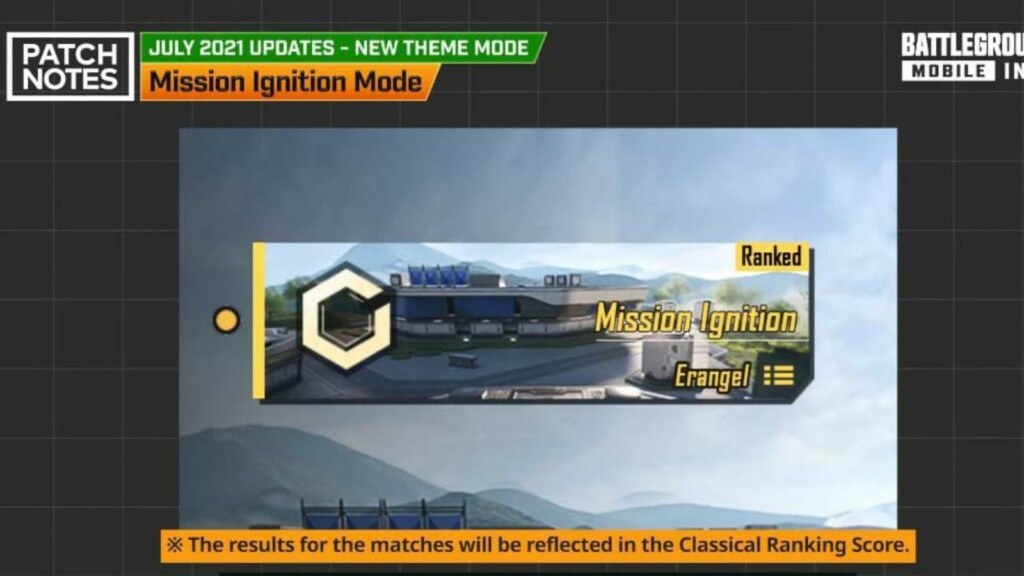 Mission Ignition Mode will be added to the Erangel map and can be played through the payload modeThe points scored in this mode will be added to tier points of classic ranking score
Includes six-high tech regions of Erangel namely the Transit Centre (previously Pochinki), Georgopol, Tech Centre (previously School), Sosnovka Security Centre (previously Sosnovka Military Base), Logistics Agency (previously Yasnaya Polyana) and Energy Centre (previously Mylta Power)
The names of new gen cities and the exisiting cities will be displayed in a hologram after entering the lobby, you can also see the 3D names after boarding the aeroplane. Players can also automatically drop into the area pinned in the map
Hyperlines: Hyperlines are the high-tech levitational lines for trans-island travel across the map. They run on pre-set routes at specific times and the trains can be boarded from stations marked at the map. These hyperlines will make transportation around Erangel more efficient and will save a lot of time.
Semi-Truck: The semi-trucks are autonomous driving vehicles that come with supplies, players can destroy these trucks through their guns and get advanced supplies from these trucks
G-38 Gravity Free Motorcycle: This motorcycle hovers above the ground and can be used in both land and water. A maximum of 2 people can use this vehicle at a single time
Air Conveyor: The air conveyor catapults 2 players at a single time into the air. This can be used as an alternative method of transport
New Weapon: A new AR weapon named ASM Abakan has been added to the Mission Ignition Mode which uses 5.56 mm bullets and can fire up to 30 bullets at a single reload. Players can equip any attachments as per their preference.
Patrol Dog: Players can find this newly added Patrol Dog by following the puppy icon in the minimap. This robotic dog will help you find advanced supplies.
Tactical Marking Device: This feature is one of the best features of Ignition Mode as players can check the direction of their teammate's firings, enemy's location as well as the street information which will be displayed in the minimap. It will also alert the players if any grenade is detected nearby
Riot Shield: Players can use this big and sturdy shield while stuck in the open. This shield cannot penetrate bullets and once fixed, cannot be moved elsewhere
Related: Battlegrounds Mobile India: BGMI full trailer leaked
New weapons and in-game improvements
M249 changes
The M249 LMG can be found as a field drop which was earlier available in air drops. The weapon can be found in every map of classic mode except Karakin
MG3 weapon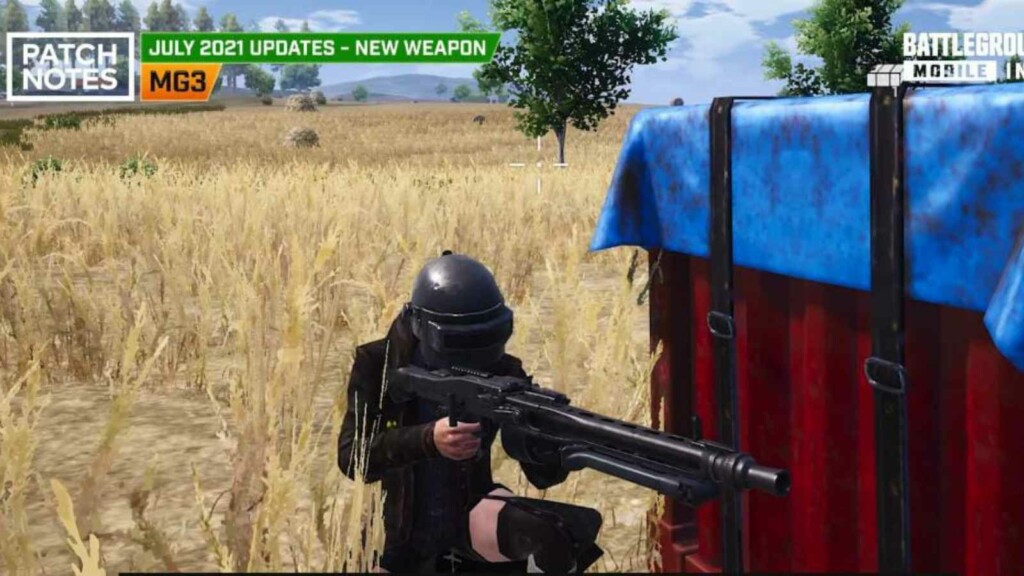 A new LMG weapon MG3 has been added which can be found in air drops only.It uses 7.62mm ammo and can hold up to 75 bullets with each reload and its rate of fire can be adjusted to 660 or 990 rounds per minute
A bipod will automatically deploy when you prone while shooting which will help you to keep the firing stabilised. Players can attach up to 6x scope with this weapon
Throwing Healing Consumables
Players can now throw healing consumables like Bandages, First Aid Kit, Med Kit etc to their teammates. The healing consumables have been added to the trajectory slot and players can throw them just like they threw grenades
Setting improvements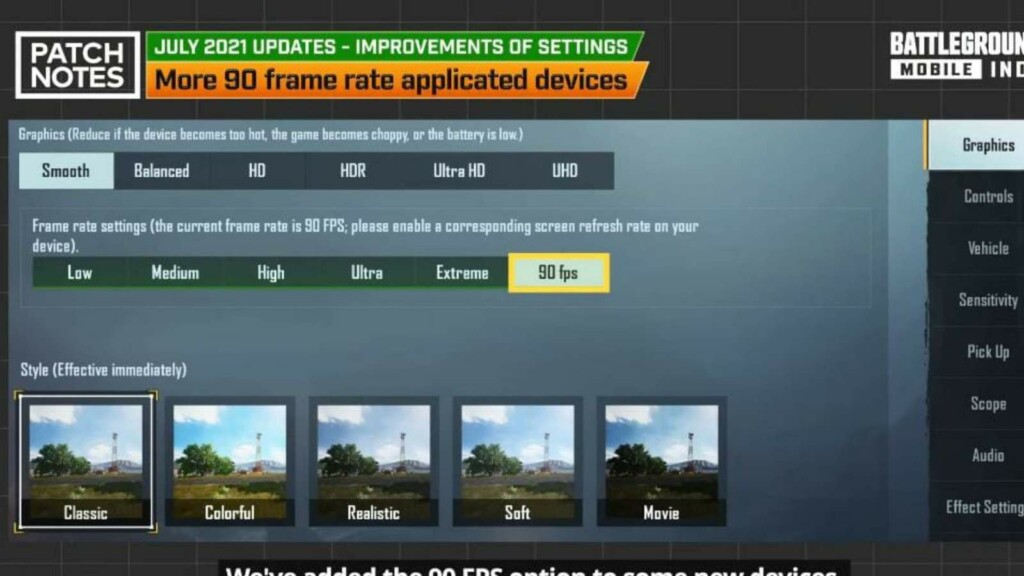 Players can now adjust the sensitivity of each gun individually and store the preferred settings in the cloud
For players who have low-spec devices, a graphic option lower than smooth has been added. Players can also increase the frame rate up to 90 FPS in many new devices
Gyroscope Settings: A new setting has been added in the gyroscope when it's activated i.e. the Gyroscope Reverse which reverses the up and down effect of gyroscope
TPP Camera view: Players can also adjust the TPP view, it is set to 80% by default and be increased up to 90%
Season Improvements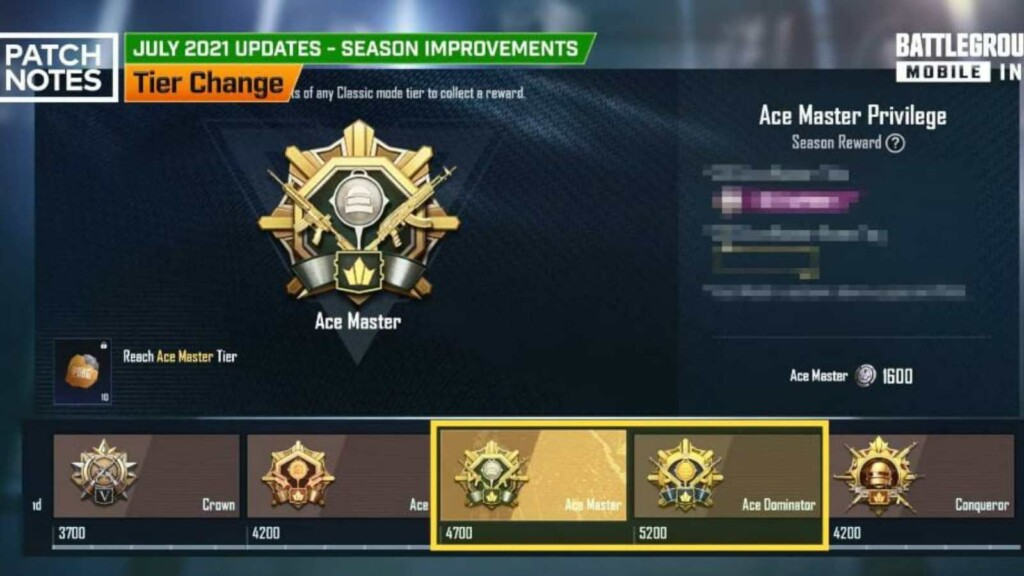 The Ranking season has been updated and will be different this season
A new tier has been added between the Ace and the Conqueror tier i.e the Ace Master Tier
Challenge Point System: Challenge Points can be earned after completing the game without neglecting the teammates, leaving the game mid-way or attacking your own teammates
Seasonal Tier rewards will be given to the players who reach a higher tier (Diamond, Crown etc.)
Royal Pass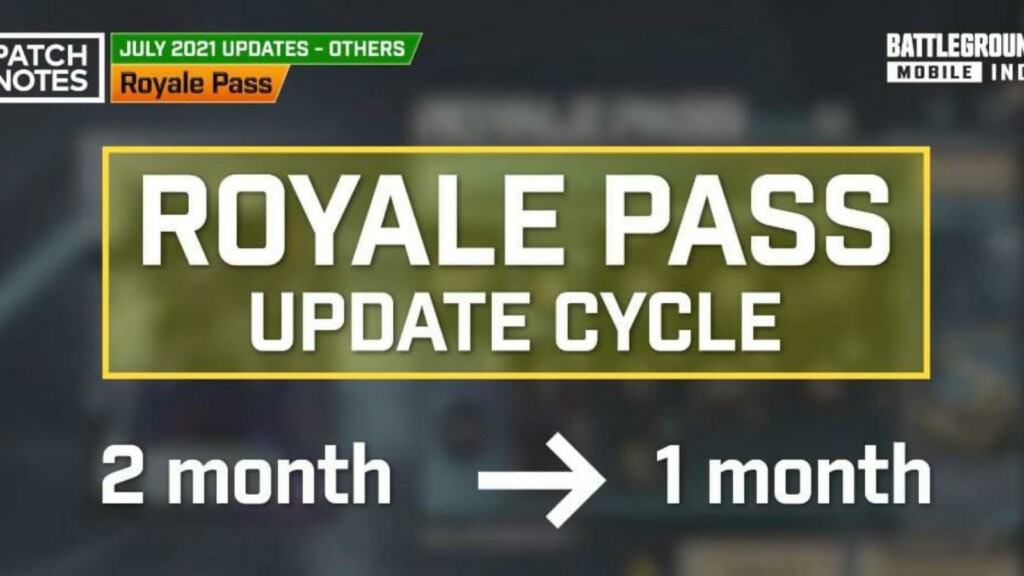 The updated cycle for the Royal Pass has been changed from 2 months to 1 month
The price of the ordinary RP has been adjusted to 360 UC and the price of the Elite RP to 960 UC (1,200 extra points)
Other Features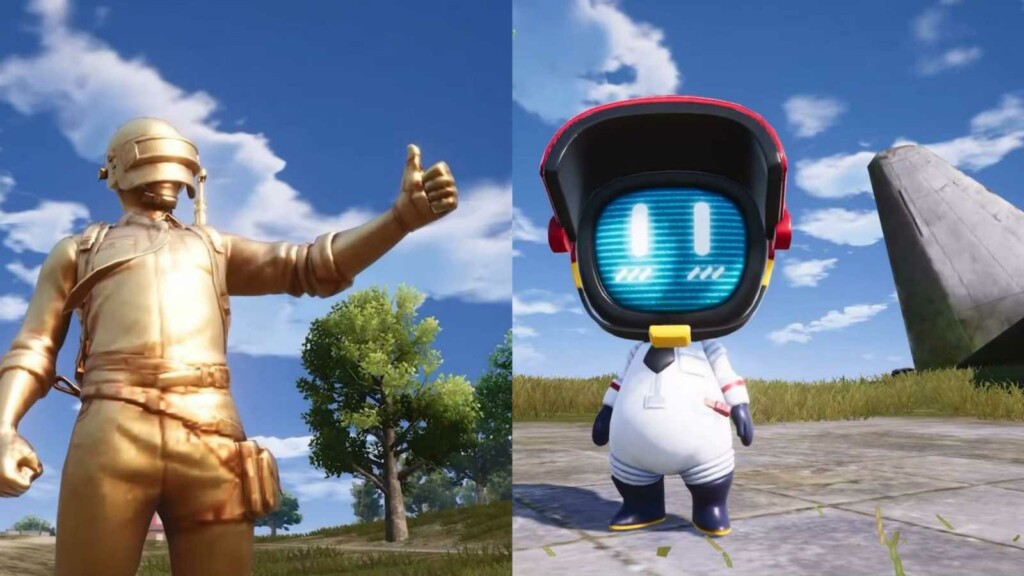 Pick Up
Automatic pick up of discarded scopes can be turned off from the settings
The advanced pick up option will allow the players to pick up and set their favorite attachments for weapons. Once the attachments are picked up, it will automatically replace the previous attachments
Flare Gun with no ammo won't be picked up automatically
The auto pickup feature will automatically turned off when the player is healing
Ammunition Colouring
Different colors will be displayed to showcase the remaining mag. If the ammo is 25% or below, it turns yellow whereas if the ammo is 10% or below, it turns red
Team Member Engagement Status
Players can now view the status of their teammate if they are engaging with the enemies or getting shot by them, it will be displayed in status bar
Glass Windows
Glass Windows have been added to the buildings in Miramar and Erangel which can be destroyed with the help of your weapons or throwables
Victory Statue
Players can now add a victory bronze statue after they win a match and display their skills to other players
Mini TV Ray
NPC Mini TV Ray has been added. Ray will notify the players of different message alerts and announcements in the lobby and help them navigate there easily
Ray is designed like a cute emoticon which appears when you start the game and informs you about various updates
BGMI 1.5.0 update is certainly one of the biggest updates with so many new features. The new Mission Ignition Mode in BGMI 1.5.0 update gives a never-seen before high tech look to the game and players are eagerly waiting for the update to be released in the game. Which update did you like the most? Let us know in the comment section here.
Also Read: Battleground Mobile India: Best Tips and tricks to hit accurate headshots in BGMI