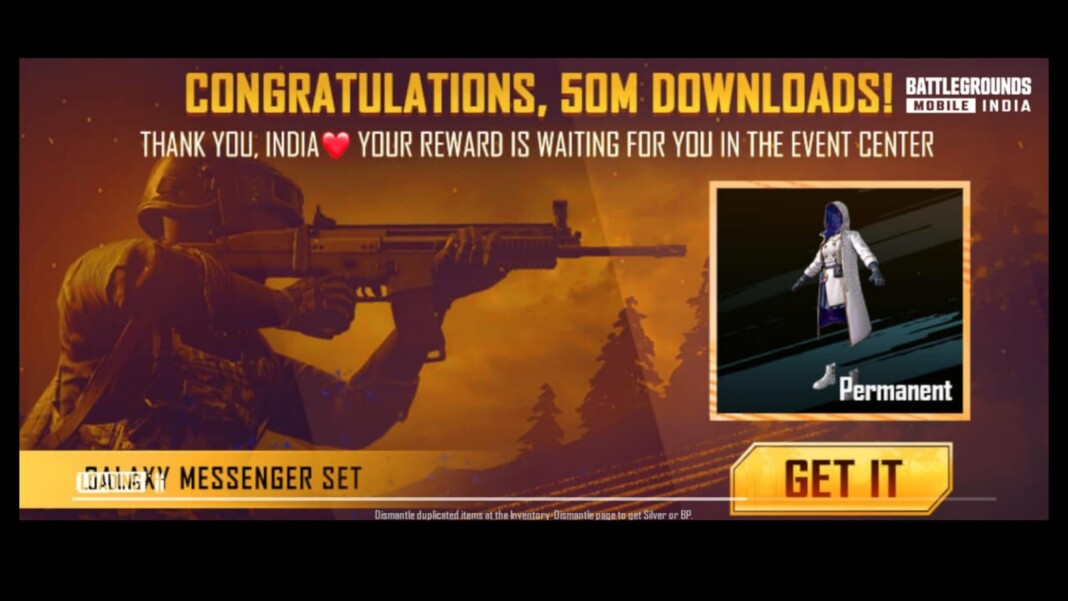 Battlegrounds Mobile India or BGMI is breaking records ever since it was released officially on 2nd July,2021. It has created another milestone as today BGMI crosses 50 million downloads! Players can now claim their in-game reward which Krafton promised, will be available once BGMI crosses 50 million downloads.
Battlegrounds Mobile India is a BR game that is exclusively made for the Indian users. The game is considered a replica of PUBG Mobile but there are several features which makes it distinguishable from PUBG Mobile. The pre-registrations alone had crossed 20 million. It has come a long way ever since its early access was available for the players. With Krafton hosting 2 major events such as BGMI Launch Party & BGMI Freedom Face-Off, the popularity of BGMI has surpassed all expectations.
BGMI has achieved this feat in Android devices only, considering that BGMI is yet to be released for iOS devices. Players can now collect the amazing outfit which was announced in BGMI 50 million downloads rewards event.
Battlegrounds Mobile India (BGMI) crosses 50 million downloads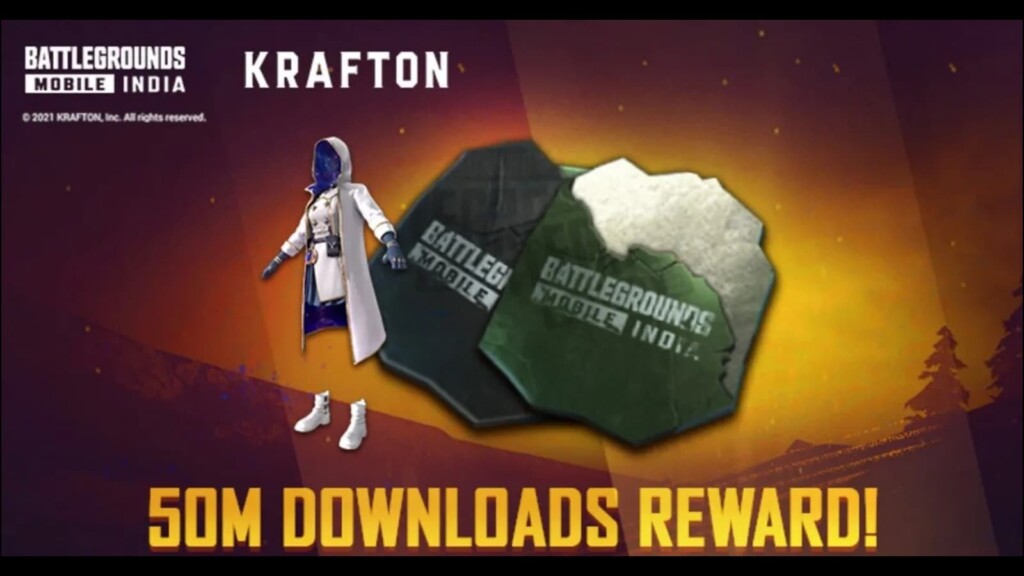 Krafton had earlier announced BGMI 50 million downloads rewards event to celebrate the milestone when BGMI crosses 50 million downloads. Today it has achieved the feat and players can collect the reward that was promised by Krafton. Players were given 3 different rewards at different phases. The rewards have been mentioned below:
48M downloads: Supply Coupon Crate Scrap X3
49M downloads: Classic Coupon Crate Scrap X3
50M downloads: Permanent Galaxy Messenger Set X1
Related: BGMI Freedom Face-Off: Team Encore crowned as the winner of the tournament
Players can redeem these rewards by heading over to the Events section and clicking on 50 million downloads Final phase and collect Galaxy Messenger Set. Players should also collect the rewards of previous phases if they haven't collected it. It is also important to note that these rewards will be available for a month so players should collect the rewards as soon as possible.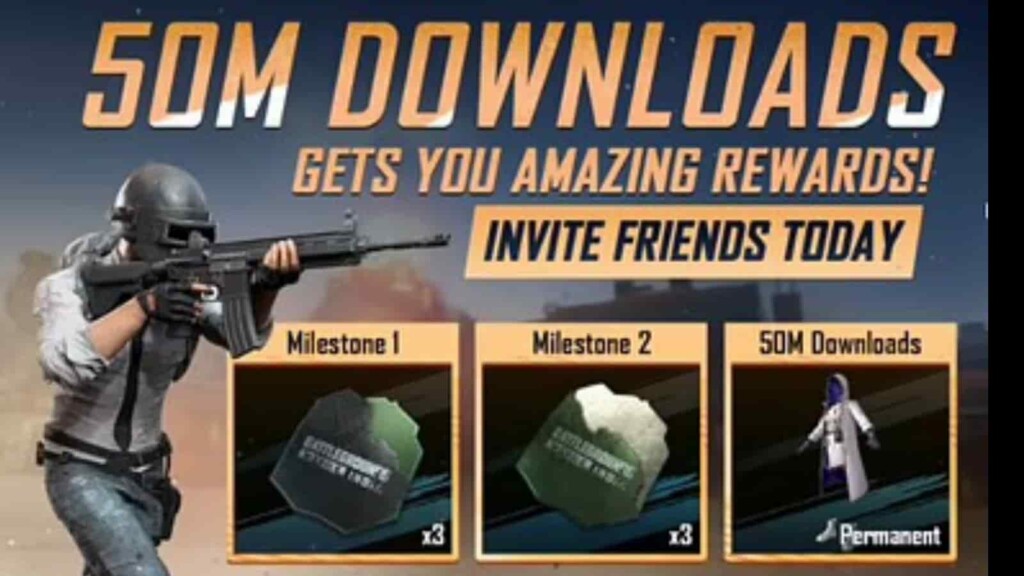 One of the primary reason of BGMI's popularity is that Krafton is giving away a lot of rewards for the players. For players who had pre-registered for the game, Krafton had given them a Recon Outfit and a Celebration Expert title. Not only that, players were also given 2 supply crate coupons & 1 classic crate coupon after BGMI had crossed 1 and 5 million downloads respectively. A permanent constable set was rewarded to the players one the game crossed 10 million downloads.
With so many rewards in line, along with unique events such as BGMI Independence Day Mahotsav Event where players were given a time-limited AWM skin, every gaming enthusiast is willing to try out this game. The fact that BGMI has crossed 50 million downloads in Android devices only came as a surprise as the game is still unavailable for iOS devices. iOS users were also exempted from pre-registrations of BGMI.
However, iOS users can heave a sigh of relief as Krafton is teasing on the game's iOS release recently therefore it is expected that the game will be available soon for iOS devices. Krafton had also hinted on the release when they claimed that any player regardless of their OS, can register for BGMI India Series 2021. The registrations for the tournament are still running. We recommend the interested players to register as soon as they can.
Also Read: Thug BGMI Invitational Event: Team 8bit wins the tournament with 3 chicken dinners