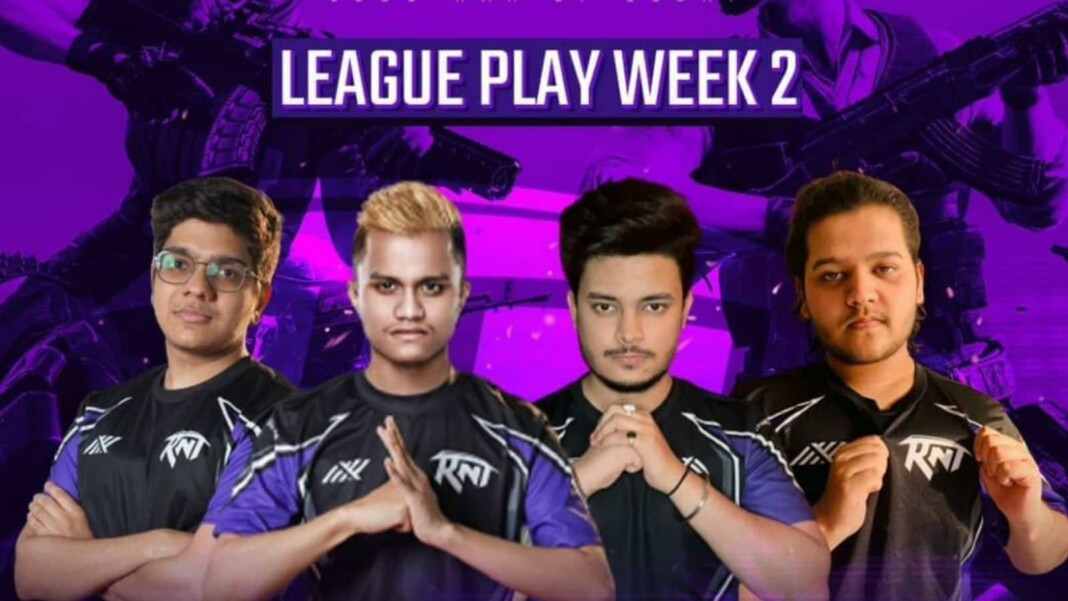 BGMI War Of Glory: The second week of the much talked about tournament came to an end yesterday and surprisingly Revenant Esports has bounced back claiming the first position. The team's performance excelled from the third day as they grabbed 2 chicken dinners dethroning Team Insane Esports to climb up to the top of the leaderboard.
Team XO, a rising team of Battlegrounds Mobile India didn't have a satisfying start to the tournament, however, they improved their performance gradually to secure the second position with 264 total points and 119 elimination points. Team Insane Esports caught up to the third position with 247 total points. Both these teams were awarded with the cash prize of 1,00,000 INR and 50,000 INR. 7Sea eSports and Enigma Gaming were placed on the 4th and 5th position respectively.
BGMI War of Glory: Week 2 overall standings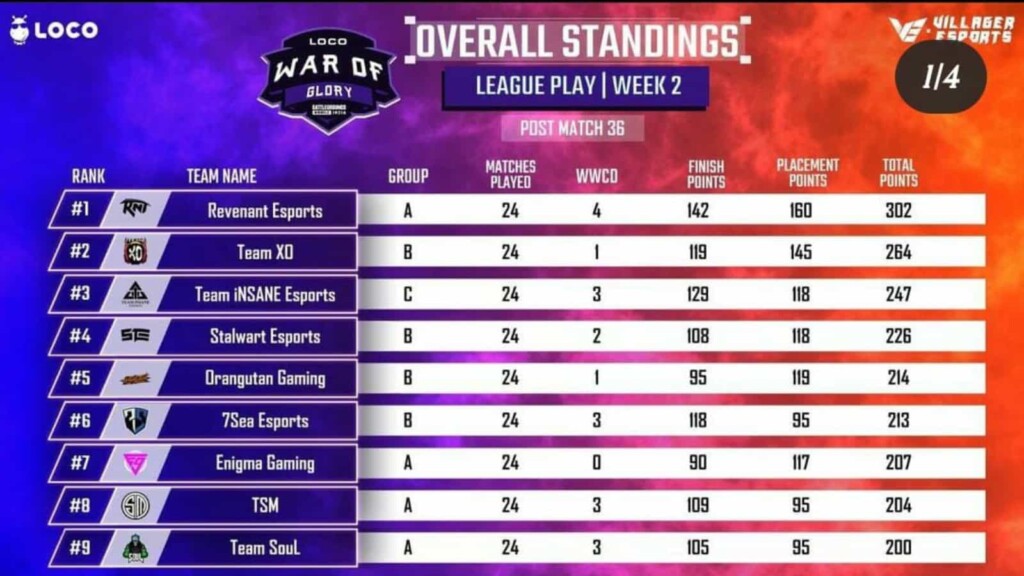 The sixth and final day of Week 2 of BGMI War of Glory came to an end yesterday, Revenant Esports retained their top position for three days consecutively. They were also awarded with the winner's prize of 2,50,000 INR. The team also stands at the first position at the qualifying board for the finals. RNTAustinBotX was named as the Top fragger of Week 2 as he helped his team to lift the winning trophy of League Play Week 2.
Related: BGMI 1.6.5 update probable APK file size for Android devices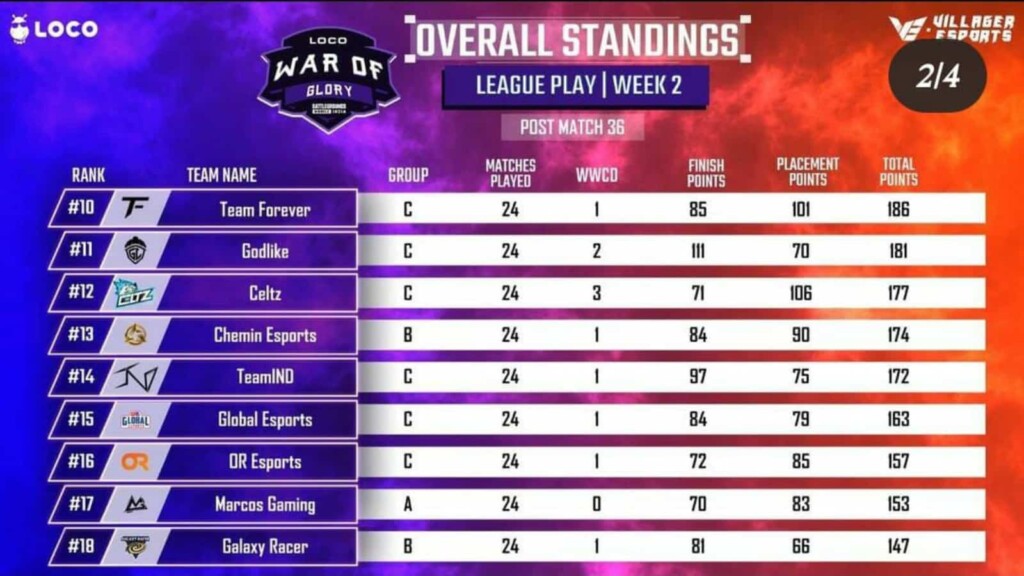 Team iNSANE Esports surprised everyone with their phenomenal performance. They had a great start to the second week winning 3 chicken dinners in total, however, they failed to keep up the same performance at the final days of Week 2. Stalwart Esports who recently announced their Battlegrounds Mobile India roster were able to finish at the fourth position. Orangutan Gaming failed to leave an impression this week as they were placed at the fifth position with 214 points.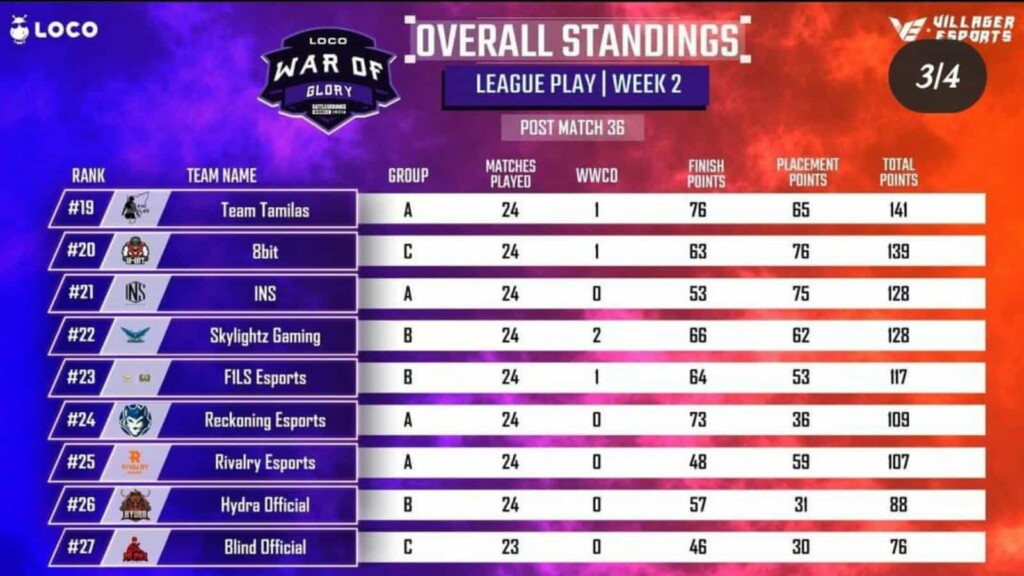 Other well known teams such as GodLike, Team SouL and Team IND had a hard time performing well this week. It seems surprising that many underdog teams are surpassing professional teams at this tournament. Fans are waiting to see whether their favourite teams are able to bounce back and gain the leading position at this tournament.
Top 5 fraggers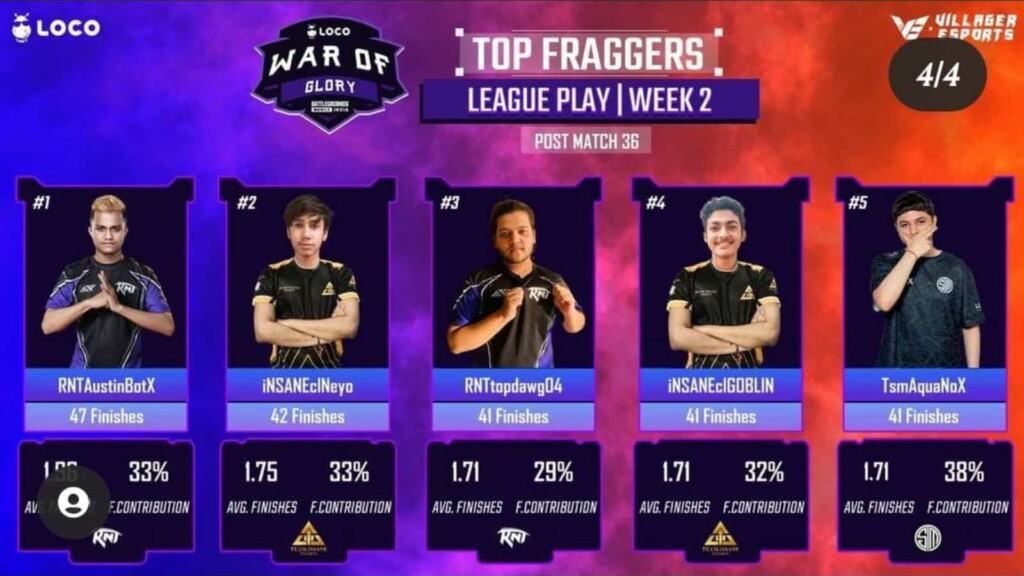 RNTAustinBotX – 47 finishes
iNSANEc1Neyo – 42 finishes
RNTtopdawg04– 41 finishes
iNSANEc1GOBLIN– 41 finishes
TsmAquaNoX– 41 finishes
Also Read: Battlegrounds Mobile India: OR Esports bids farewell to Gill