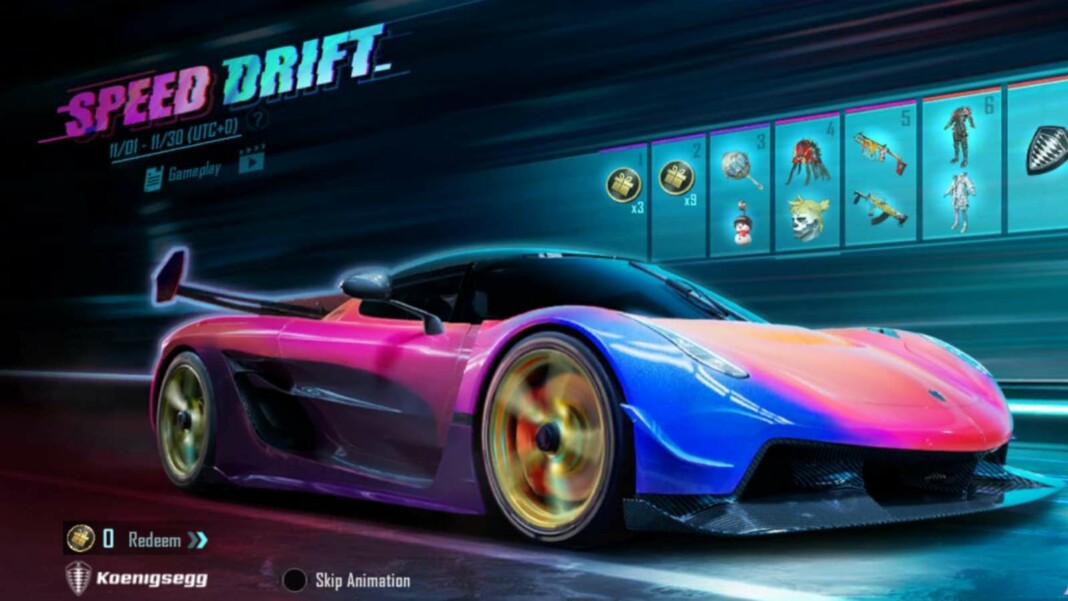 BGMI x Koenigsegg collaboration: PUBG Mobile had recently announced that they are going to collaborate with the famous sports car manufacturer Koenigsegg. The collaboration went live today and the exclusive vehicle skins are available in Battlegrounds Mobile India as well.
Battlegrounds Mobile India is the Indian rebrand of PUBG Mobile, as a result, all the events and collaborations taking place in PUBG Mobile can be seen in BGMI with some few exceptions. Apart from events based on Indian festivals, BGMI releases all the events and collaboration items of PUBG Mobile in the game and the Koenigsegg collaboration, being a major event is released for the BGMI players as well. The BGMI x Koenigsegg collaboration has brought some exclusive vehicle skins and this article shall discuss of the ways to obtain them.
BGMI x Koenigsegg collaboration: Speed Drift event explained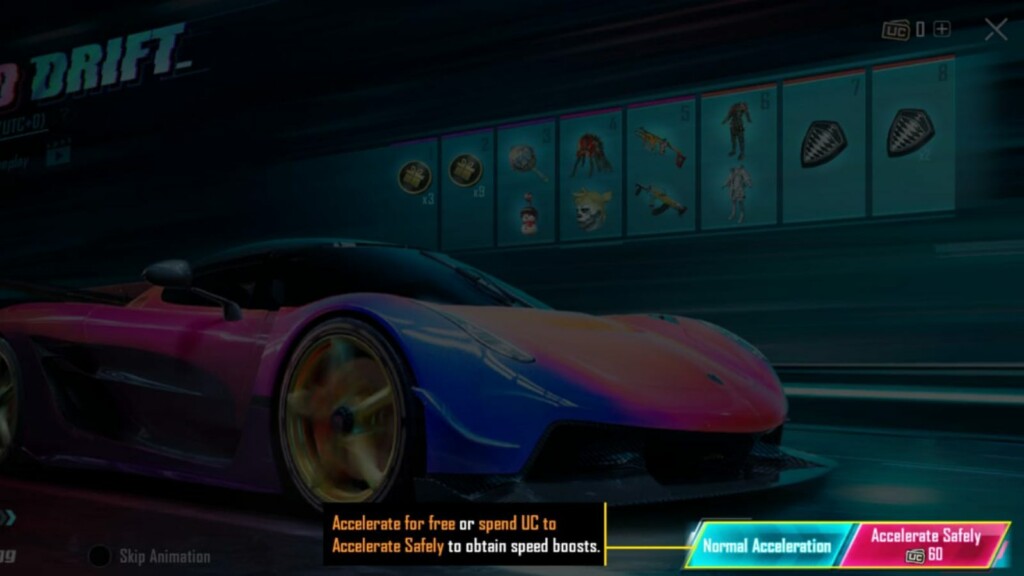 The exclusive Koenigsegg skins are available for Dacia and Coupe RB. If players are able to obtain the collaboration skin, they can avail of unique features such as vehicle music, Born Island's Air drop, Parachuting display and more. There are two varieties of Koenigsegg cars available in the game named Jesko and Gemera.
Here is a guide to get the new Koenigsegg vehicle skins in BGMI:
Navigate to the Speed Drift Event in BGMI.
Tap on start accelerating with the help of UC to begin with the process of obtaining the skin.
After acceleration, you can get a speed boost. If the acceleration is successful, players can speed up and obtain different rewards.
NOTE: The amount of UC increases with each acceleration
Related: Krafton announces BGMI Save Now Contest, get official BGMI merchandise
---
The total list of rewards under the Speed Drift Event in BGMI is listed below: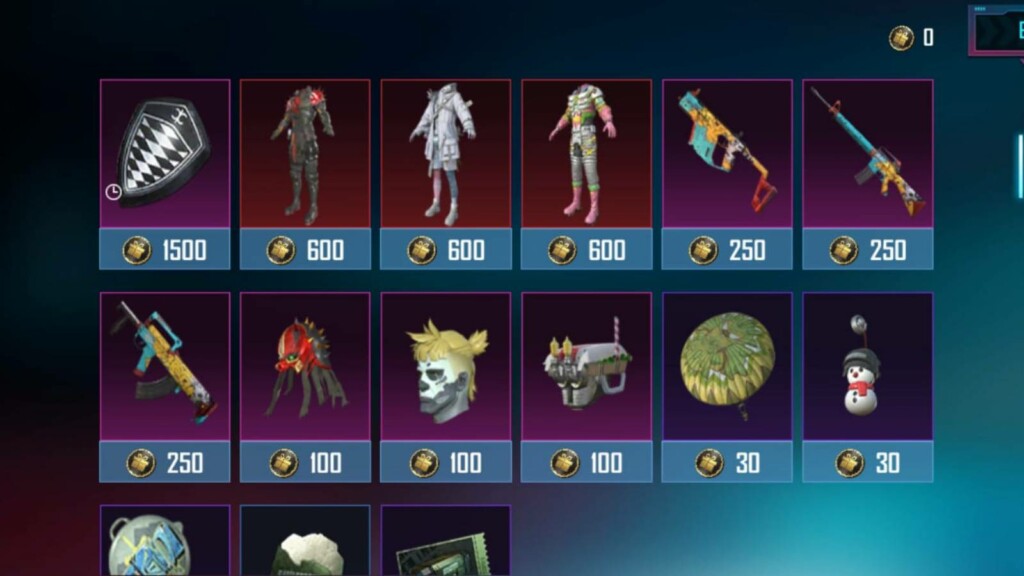 Koenigsegg coin (used to obtain vehicle finishes)
Scarlet Rogue Set
Graffiti- Vector
Pale Fanatic Set
Graffiti- Groza
Scarlet Rogue Cover
Pale Fanatic Cover
Snowperson Ornament
Vikendi Tag – Pan
Lucky Voucher (used in the event shop to redeem more rewards)
---
The Jesko and Gemera skins of Koenigsegg under BGMI x Koenigsegg collaboration are available in three colors. The Jesko skins are applicable for Coupe RB and the Gemera skins are available for Dacia.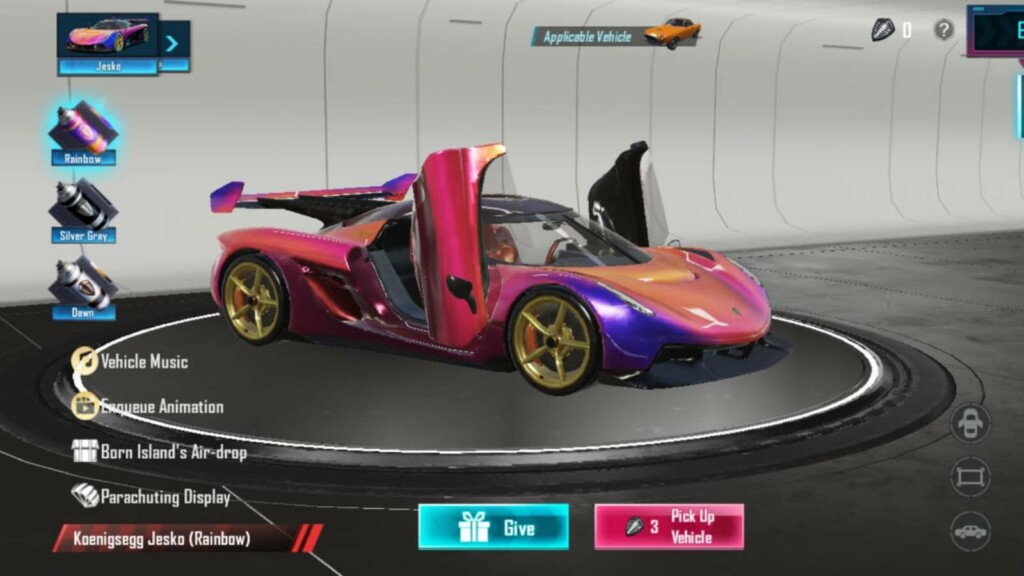 Rainbow: It gives a rainbow finish to your vehicles and comes with a unique feature of born island's air drop and parachute display. Players need 3 Koenigsegg coins to obtain this finish
Silver Grey: It gives a metallic silver finish to your vehicles and also changes the backside apearance of the vehicle. For obtaining this skin, players need 1 Koenigsegg coin.
Dawn: The dawn finish is one of the most stylish vehicle skin as it gives a white color to your vehicle with a touch of orange. One Koenigsegg coin is needed to obtain the skin.
The BGMI x Koenigsegg collaboration will be available till 30th November, therefore, remember to obtain the skins before the event ends.
Also Read: BGMI War Of Glory: GodLike Esports walks away with the winner's prize