Talented prospect Emile Smith Rowe has signed a new long-term contract with Arsenal, the club has confirmed.
Smith Rowe has been with Arsenal since his childhood when he joined them at the age of nine progressed through the ranks of Hale End academy, regularly featuring for all their youth sides during his development with the club.
Emile Smith Rowe signs a long term contract extension with Arsenal, and is handed with a bigger responsibility at the club with the no 10 jersey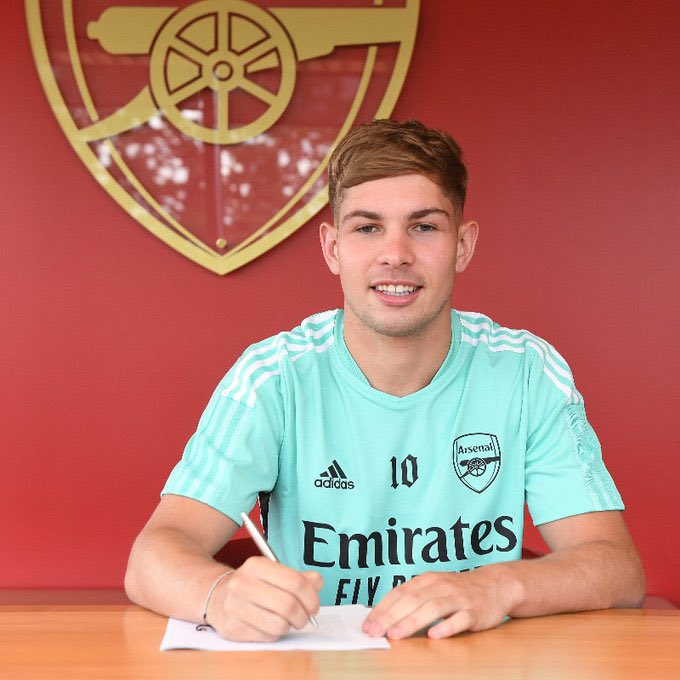 Smith Rowe's development and hard work at the academy reaped fruit as he made a big impact in the first team last season, making 33 appearances across all competitions in his breakout season.
Smith Rowe's rapid progression to the first team was very notable, catching eyes with a man-of-the-match performance against Paris Saint-Germain in a pre-season friendly in Singapore on his 18th birthday.
Smith Rowe scored his first senior goal during Arsenal's 3-0 away win against Qarabag FK in the Europa League back in October 2018, and had his Premier League debut at the young age of 19 against Manchester City in December 2019. 
Emile had his first Premier League goal at home to West Brom in May this year in 2020-21 season, following up with a winner against Chelsea a few days later. Emile has also garnered valuable experience during his loan spells in the Bundesliga with RB Leipzig and in the Championship with Huddersfield Town.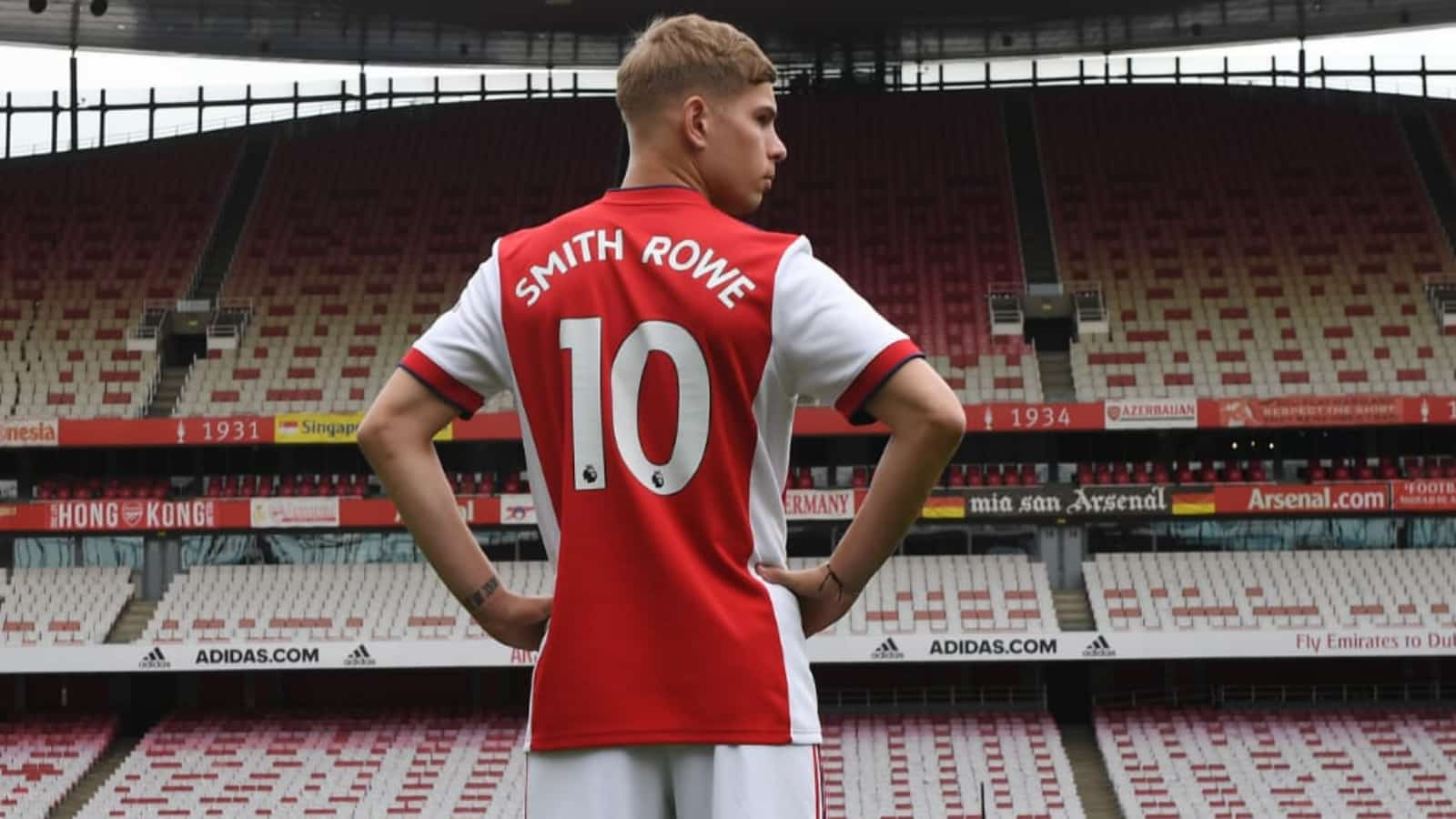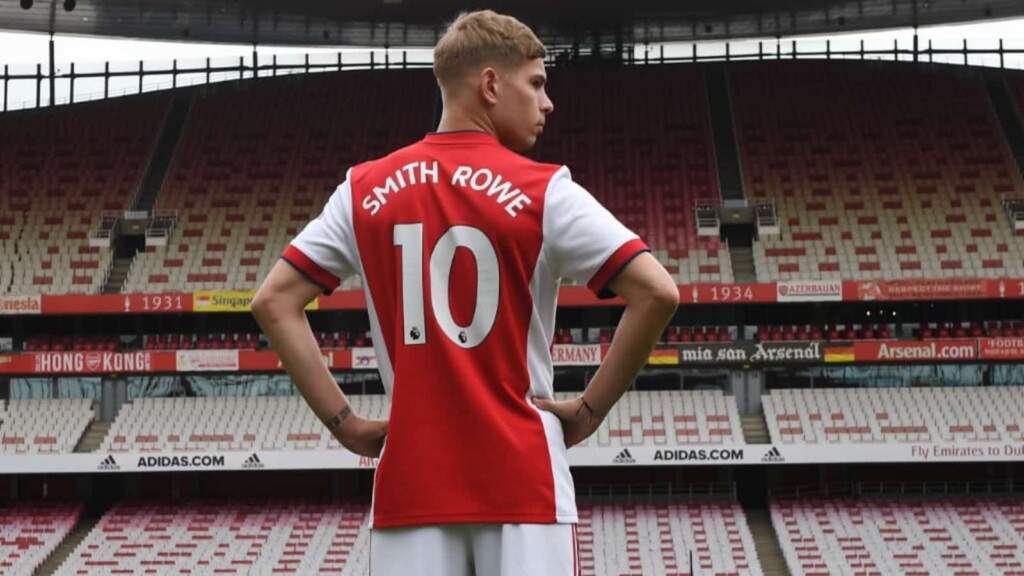 And now, with a first team spot guaranteed regularly, Smith Rowe has signed a long term contract with Arsenal, and is handed one of the key roles with a no 10 Jersey.
"It's been a crazy journey, like I said, being here since I was 10 years old, coming through the ranks with loads of team-mates and stuff along the way. So finally putting pen to paper on a long-term deal is something that I've been waiting to do." Smith Rowe told in his interview to Arsenal.com.
"I feel like it's definitely been an up and down journey, there have been a lot of downs with injuries and so on, and I feel like I've had a lot of experience, going out on loan and stuff. So it's definitely been a hard one, but I'm really happy to commit my future to Arsenal." added Emile, who deems that the no 10 Jersey is a huge responsibility at Arsenal, formerly worn by the likes of Bergkamp, who is his idol.
"This is another important step forward for us and we're all delighted that Emile has signed a new long-term contract. It's great to see another young player develop through our academy system to become a key part of our first team. Emile is a player who represents the future of the club and this is why we have given him the No 10 shirt. We have trust in Emile and we know he has the potential to be a beautiful player for many years to come." technical director Edu spoke about Emil's importance at the club.
"As we all saw last season, Emile is an intelligent player with excellent ability. His sharpness on the turn and exceptional vision have already made him a key player for us. His attitude and willingness to learn have also been very impressive. Huge credit to our team in our academy who have given Emile a great education and have worked superbly to help with his development through the age groups." said Gunner's manager Mikel Arteta, largely impressed by Emile's show of form last season.
"Along with the first-team staff, huge credit also goes to our senior players, who have played such an important role to help Emile develop, gain confidence and perform the way he did last season. I know the fans will join us in being delighted that Emile has committed his future to the club. We're now looking forward to helping him develop further and seeing him become even more important to the strong young team we're building." added the former Arsenal midfielder, as he heaped loads of praise on the youngster.
Also Read: OFFICIAL: Norwich City head coach Daniel Farke signs a four year contract extension with club