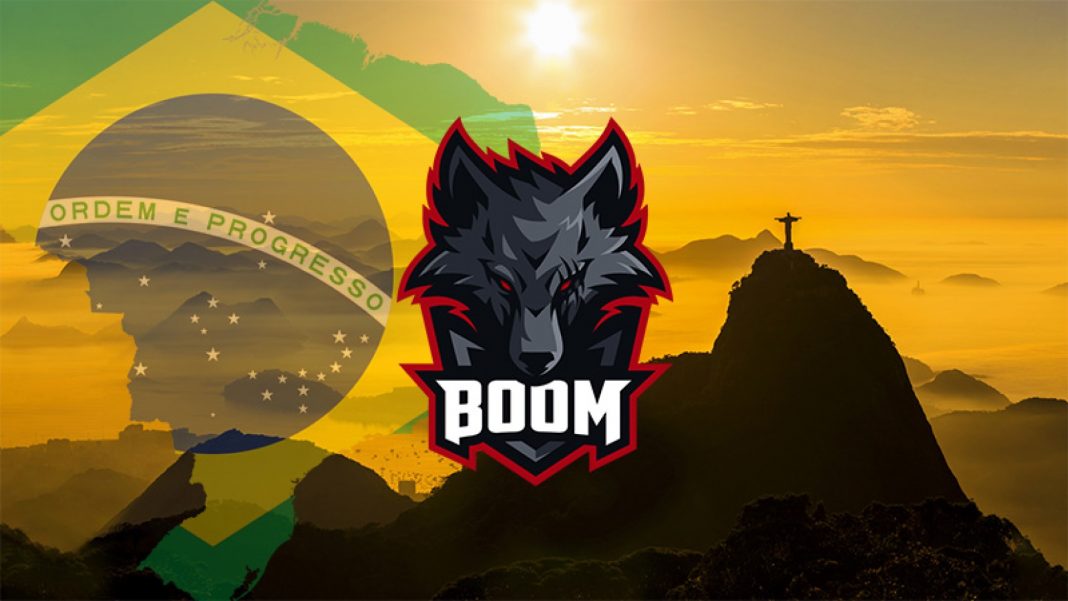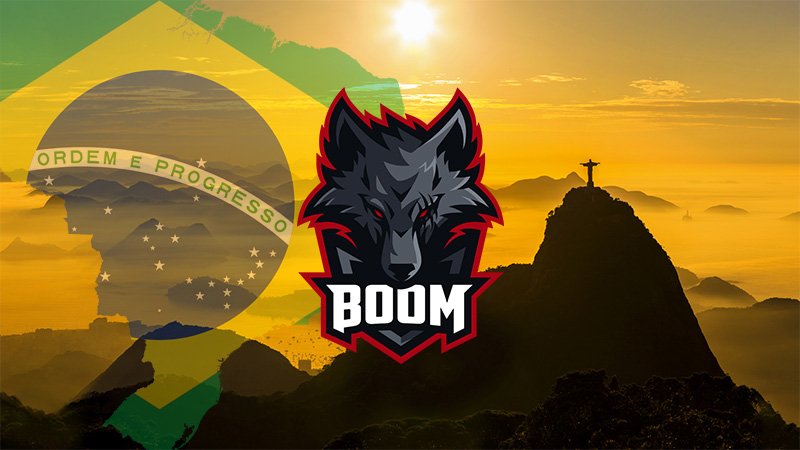 BOOM defeated paiN in a two map grand final on Dust2 (16-12) and Overpass (16-8) to become the Gamers Club Masters V champions.
paiN and BOOM started off their Gamers Club Masters V runs with best-of-one losses to Isurus and keyd respectively, but both teams then plowed their way through the field with 2-0 victories in their remaining group stage matches as well as in the playoff semi-finals.
Rafael "⁠saffee⁠" Costa topped the stats leader board before the grand final, boasting a 1.55 rating in his first tournament with paiN before the grand final match, but was unable to tip the scales in his team's favor as BOOM cruised to victory with strong showings on the two maps played in the last series of the tournament.
Map 1 Dust2:
paiN took a 2-0 lead on the CT side of Dust2, the first map of the series, but BOOM quickly found their stride on the attack, going up 4-2 before losing to a pistol buy from the defenders, although that didn't stop BOOM as they went back to winning ways picking up a 9-5 lead.
paiN then took the last round of the half on a forcebuy as an opening frag by saffee with a scout set his team up with an early man advantage.
A perfectly timed flash by Gustavo "⁠yel⁠" Knittel on long caught paiN off guard in the second pistol round as Bruno "⁠shz⁠" Martinelli took down three with the USP to increase BOOM's lead, 10-6.
They then carried their momentum into the gun rounds, inching closer and closer to map point, 14-6, before paiN could tally their first round with a successful B split.
Two rounds later Ricardo "⁠boltz⁠" Prass won a 1vs2 afterplant situation on B in time to defuse the bomb, but a 1vs2 clutch by Rodrigo "⁠biguzera⁠" Bittencourt the following round kept the map going. paiN powered their way to 12-15, but were finally stopped from coming back, 12-16.
Map 2 Overpass:
BOOM got ahead on Overpass, winning the CT side pistol round with doubles by shz and Marcelo "⁠chelo⁠" Cespedes, going up 3-0 before paiN won their first round on a play on the B site.
The Ts then hit the same site again to bring it within one, and then one more time in an anti-eco to tie it up, 3-3. Vinicios "⁠PKL⁠" Coelho's opening frags kept fueling paiN, who started to run away with the half, 7-3, but deflated as BOOM turned it on its head, leading 8-7 at the switch.
BOOM extended their lead on the attacking side, winning the pistol round and reaching 10-7 before the first gun round, and although paiN were able to get an eighth on the board, BOOM kicked it into gear and charged to the finish line, winning five rounds in a row close it out 16-8.
Finals scoreboard: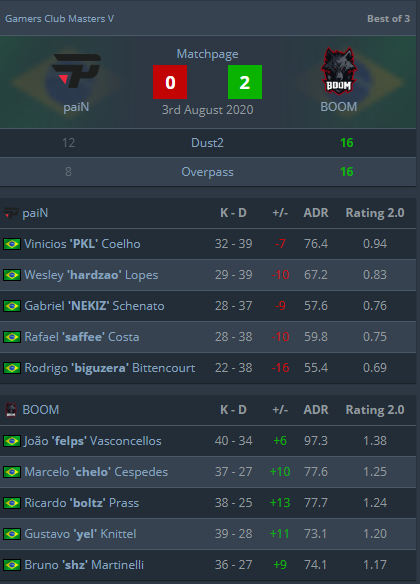 The final Gamers Club Masters V standings are:
1. BOOM – $5,700
2. paiN – $1,900
3-4. W7M – $950
5-6. Isurus – $570
5-6. Keyd – $570
7-8. Bravos – $380
7-8. Asterius – $380