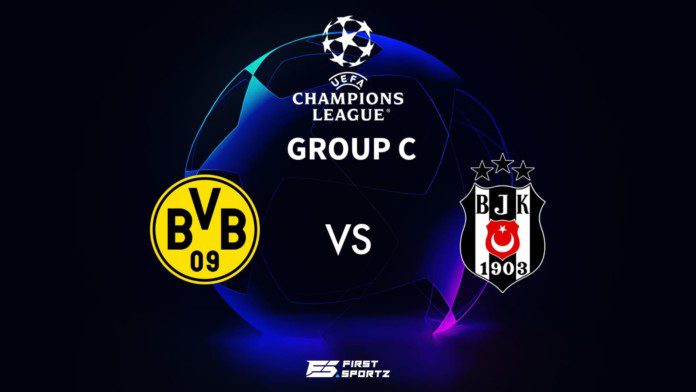 Borussia Dortmund vs Besiktas: Borussia Dortmund delivered an outstanding performance to outclass Besiktas in the final game of group stage of the Champions League. Right from the 1st minute, Dortmund attacked Besiktas and Malen's goal in the 29th minute opened the scoring for Dortmund. Things started getting worse when Welinton was sent off just before halftime and also gave a penalty to make the score 2-0 for Dortmund before halftime. In the 2nd half time, Besiktas didn't have much to answer but Haaland this time from the bench scored 2 goals and ended the game at 5-0 for Dortmund.
Here are the player ratings for the Champions League fixture between Borussia Dortmund vs Besiktas.
Borussia Dortmund vs Besiktas Player Ratings
Borussia Dortmund
Gregor Kobel (GK) (7/10): Kobelin the entire game showed excellent goalkeeping skills had an excellent clearance during the game and also his passing was spot on helping Dortmund to build up for more goals opportunities.
Nico Schulz (8/10): Schulz was very sharp on the field as he made some important clearances. During the game, he had 90% passing accuracy and also provided an excellent assist to substitute Haaland to secure the 4th goal for Dortmund.
Dan Zagadou (7/10): Zagadou was a great support to Hummels in defense line. He made two amazing tackles and had an outstanding clearance. His passing accuracy was 93% in the entire game.
Mats Hummels (7/10): Hummels was the wall at defence for Dortmund. With 96% passing accuracy, he made some great blocks and interceptions to dent Besiktas attackers getting in scoring positions.
Thomas Meunier (7/10): From right-back position, Meunier made some excellent runs during attacking build-up for Dortmund and he also tracked down the movements of Batshuayi and Larin very well which didn't allow Besiktas to get scoring chances.
Mahmoud Dahoud (8/10): Dahoud made some key passes to Reus, Malen and Wolf to score and had 3 shots on target but failed to score. In defensive situations, he made some important blocks that allowed regain possession for Dortmund.
Alex Witsel (7/10): Witsel played a very pivotal role in Dortmund's midfield performance. With the ball, he was accurate in getting Meunier and Bellingham. Also, through balls helped Malen and Bellingham to run past Montero and Welinton on multiple occasions.
Jude Bellingham (7/10): Bellingham continued his good form for Dortmund. He provided an outstanding assist to Malen at the 29th minute to score the 1st goal for Dortmund.
Marco Reus (8/10): Reus was the player of the match for Dortmund. Apart from scoring 2 goals for his side, he complemented Malen and Wolf to create more scoring chances.
Donyell Malen (7/10): In the entire game, Malen was impressive with his touches and his runs on and off the ball were amazing. He scored an outstanding goal in the 29th minute courtesy of a brilliant assist by Bellingham.
Marius Wolf (7/10): In the absence of Haaland in the starting XI, Wolf showed an impressive performance for Dortmund. He helped Malen and Reus get in scoring positions and also with accurate passing, he allowed the midfield to attack constantly on Besiktasdefense.
Substitutes:
Reinier (7/10): In the 2nd half, he came in as a substitute for Meunier and maintained the same pressure on Besiktas. He also delivered some key passes to Haaland and Bellingham to get scoring chances.
Felix Passlack (7/10): In the 2nd half, Passlack made some great runs and was close to scoring on many occasions. He made some very key passes to Malen and Haaland
Erling Haaland(9/10): After substituting in form Reus, Haaland delivered another masterclass performance. He scored 2 goals in just 30 minutes that he played.
Marin Pongracic (7/10): Pongracic was a tactical move by Rose to keep the defensive shape intact. He delivered some effective passes and stopped some key scoring chances for Besiktas
Raphael Guerreiro (7/10): Rose brought in Guerreiro to manage to tire Bellingham's workload. He did well both on the attacking and defensive front for Dortmund to keep possession of the ball.
Besiktas:
Ersin Destanoglu (GK) (5/10): Destanoglu had a day to forget as a goalkeeper, he wasn't able to provide good passes to support the build-up for Besiktas and also conceded 5 goals.
Umut Meras (6/10): Meras struggled in the entire game to stop the attacking trio of Reus, Malen and Wolf. Also, due to a high line attack by Dortmund, he failed to deliver good passes on multiple occasions.
Francisco Montero (6/10): Central Defender Montero was initially finding it difficult to block pacy midfield attack. But with the progression of the game, he was able to adapt and made some important interceptions and blocks. But in the defensive build-up, he was unable to create spaces for his team's attackers and midfielders.
Welinton (5/10): Welinton had a horrible day on the pitch. He made a poor foul on Dahoud which yielded a penalty but the referee showed him a red card. This left Besiktas down to 10 men in the 1st half.        
Necip Uysal (7/10): Uysal was smart in anticipating the runs of Thomas Meunier and also on a couple of occasions blocked Bellingham from getting in scoring positions
Josef (7/10): During the counter-attack situations, Josef looked very good in terms of movement and created a goal-scoring chance. Defensively, he looked solid making interceptions and won crucial tackles after Besiktas reduced to 10 men.
Mehmet Topal (6/10): Topal had an ordinary day with the ball. He was not able to provide the support expected from him to Larin and Josef. He was often dispossessed by Meunier and Hummels.
Cyle Larin (6/10): Larin played well in patches in the complete game. He created a couple of chances for Batshuayi to score goals. But his overall passing was poor with 76% accuracy.
Can Bozdogan (7/10): Bozdogan was the only impressive midfielder for Besiktas. He was sharp on and off the ball, he made three key movements in the Dortmund box.
Kenan Karaman (7/10): He had an excellent game with some very good passes to Bozdogan and Ghezzal for goal scoring and also helped the team during the counter-attacking situations with great interceptions.
Michy Batshuayi (6/10): It was another below par performance byBatshuayi. He was well managed by Dortmund defence line and never allowed him to create chances and make impactful runs.
Substitutes:
Velantin Rosier (7/10): After Welinton's red card, it was a tactical move to bring Rosier and he did well to stop many of Dortmund's chances to score. Also, he looked very firm with touches and passes during his stint.
Rachid Ghezzal (7/10): Ghezzal gave some real threat to Dortmund defence. He made some glorious runs in the box and also created some close opportunities for Josef and Bozdogan to get close to score.
Salih Ucan (N/A)
Atiba Hutchinson (N/A)
Also Read: WATCH: Toni Kroos comes in with a BANGER as he scores early to provide Real Madrid 1-0 lead