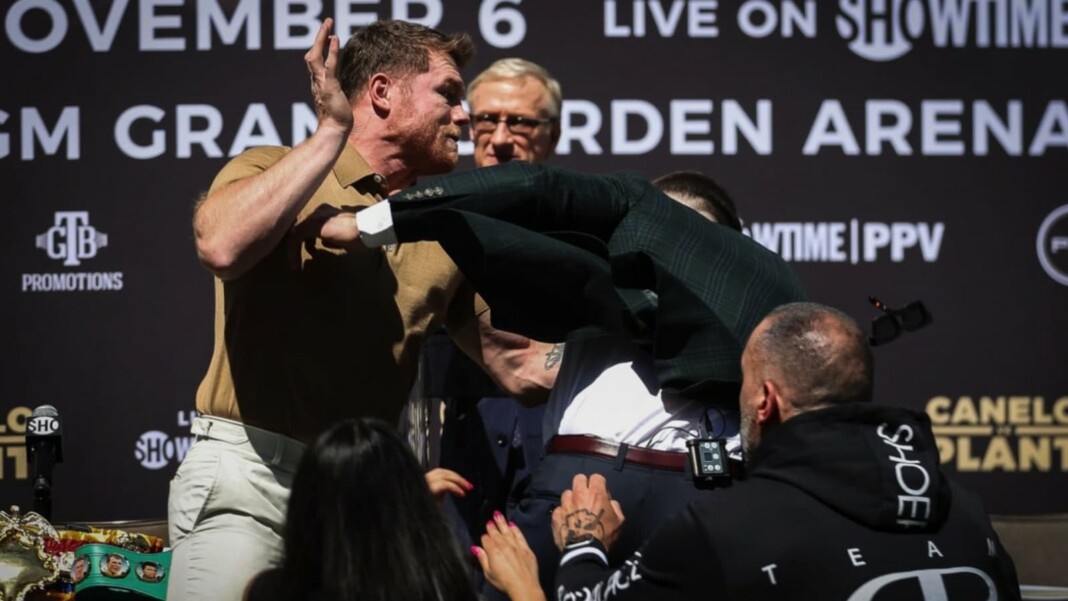 Canelo Alvarez is out on a quest to win all possible titles. He will take on Caleb Plant on November 6th, 2021 and the due already got a piece of each other even before the fight started. During their face-off, things got heated and Canelo shoved Plant which caused him to throw hands at each other and ultimately getting separated by the security.
Many people thought the incident could have been avoided, and UFC president Dana White criticized the promotion for the same. During a recent interview, he said, "How long have you been in the business that you would let two fighters go up to each other face-to-face without somebody there to try to [keep them from fighting]. And then, when it breaks out, there's like two women that are there before there's a man anywhere near it. You couldn't be f*cking dumber than what they did today, risk a massive fight with one of the biggest stars in the sport, by not having the fighters safe."
He continued, "I'm not surprised. Sh*t Showtime is, they're great. Those guys are really good at what they do, from production to press conferences. They're f*cking awesome." After all, was said and done, some fighters, as well as the fans were impressed by Canelo's quick reflexes and nasty slaps, here are some of the most insane Twitter reactions to the incident.
Here are some of the most insane Twitter reactions to Canelo Alvarez and Caleb Plant brawl at the press conference
Canelo posted this after the press conference.
Caleb completely denied such allegations, and he posted this.
Errol Spence left a sarcastic message for Caleb, he posted this.
Devin Haney was impressed by Canelo, and he posted this.
Both these athletes sat down with Marc Raimondi to present their sides of the story, here what they had to say.
Also read – "You'll never hear me talk about someone's mother, kids or wife"- Caleb Plant reacts following face-off heat against Canelo Alvarez