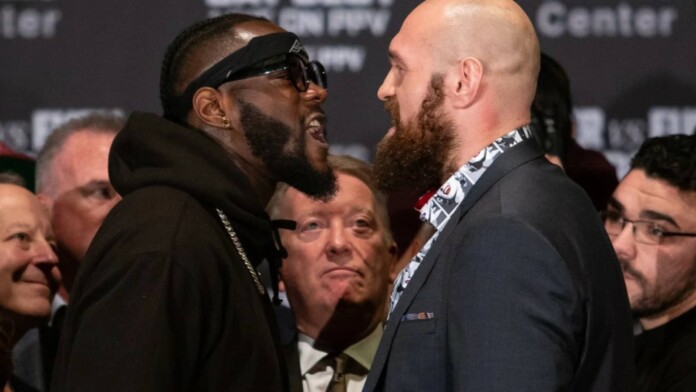 Deontay Wilder vs Tyson Fury is just over a month and a half away. No one expected to see a trilogy bout between the two, before an arbitrator ruled that Fury must fight Wilder before the 15th of September 2021. This put Anthony Joshua vs Tyson Fury which was a done deal in question. Due to the ruling of the arbitrator the fight against Wilder was the priority.
Speaking to Sky Sports in an interview, Wilder's co-manager Shelly Finkel claimed that Wilder's mentally was great this time, and he would have rectified the mistakes he committed in the second fight. Finkel also brought up Wilder being the underdog in the fight against Bermane Stiverne in 2015.
'He wasn't the Deontay we know in that second fight' – Shelly Finkel
Finkel was quoted as saying, "He [Wilder] mentally is great. He wants this more than anything and he's putting in the time and training, and all that's needed to get it. If he can't beat Fury the way he's planned to do it now, then he just can't beat the guy, but I believe he will. I've seen things before, and I've seen the way it is now. [via Sky Sports]
Speaking about the Stiverne fight, Finkel said, "I also remember, there was only one time he was the underdog and that was the first [Bermane] Stiverne fight, and he got disciplined and he did what he had to do. I think he just believed that there was no way that Fury could beat him, and it disrupted his equilibrium, I guess it is the best way to say it." [via Sky Sports]
About the fight on the 24th of July, he said, "He is definitely capable. Again, no excuses, he wasn't the Deontay we know in that second fight and we'll be looking to surprise the world. We're not really that surprised if it happens, but everyone else will and I honestly believe Deontay is going to stop him this time. [via Sky Sports]
Deontay Wilder vs Tyson Fury 2 was confidence-shattering for 'the Bronze Bomber'
Wilder had come into his rematch against Tyson Fury, a bit overconfident. Despite the previous fight ending in a draw and Fury landing the more cleaner strikes, Wilder scored a massive knockdown in the final round, which had Fury almost knocked out. He drew a lot of confidence from that.
However, things didn't go as planned in the rematch, and Wilder ended up losing via. TKO (corner stoppage). He might play a safe game this time, but Wilder isn't that good a defensive boxer. Prior to the Fury rematch, he had knocked out 38 of his previous 40 opponents.
Fingers crossed for the trilogy.
Also Read : Who won the heated rematch between Jon Jones and Daniel Cormier?
Also Read : UFC confirms that TJ Dillashaw vs Cory Sandhagen has been rebooked for July 24