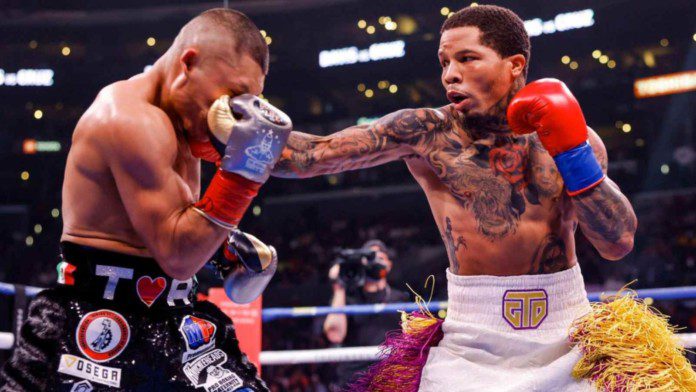 Boxing legend Gervonta Davis secured one more close but well-deserved victory against Isaac Cruz, Davis improved his undefeated record to 26-0, and was enjoying his win until some of the fellow boxers started criticizing him for the fight.
Davis was injured in the sixth round, there was something wrong with his left hand, and it was very evident in the final rounds. Davis kept on fighting and landed some big shots to bring the decision in his favor. Both the boxers showed each other respect after the fight, but some of their colleagues didn't waste any time sending out their witty remarks.
Ryan Garcia is calling out Davis for way too long, Ryan is out from the competition as he had to deal with some mental issues, he is fine now, and he is looking for a fight. He accused Davis of fighting "C-level" fighters and getting away with it.
In his tweet, he wrote, "Gervonta gets away with fighting c level fighters, out of all the lightweights he's the weakest!!! His toughest test was Leo Santa Cruz, almost lost tonight bring it on I've been calling you out for awhile…"
Here are some of the most insane Twitter reactions to Gervonta Davis' victory over Isaac Cruz

Another boxing legend, Oscar De La Hoya, too believes Ryan Garcia can destroy Davis, he wrote, "@RyanGarcia you will destroy!"
Claressa Shields congratulated Davis on his win, she wrote, "Congrats Tank!!!! showed a lot this fight! Great fighters don't just win. We adjust and use what we have to win!"
Jemel Herring was satisfied with the scorecard, he wrote, "Not upset with the score. It was close, especially down the stretch, but I know the Robbery Clan is about to pop up in 5…4…3…"
Joseph Diaz seemed unimpressed by Davis' performance, he wrote, "I'd knock out Isaac Cruz no."
Also read – "Someone has a 'short' temper"- Jake Paul brutally mocks Gervonta Davis as he releases hit list