Andrew Tate is always surrounded by some controversies, this time it's with Logan Paul. The Youtube star wants to fight the Kickboxer and wants to punish him. In a recent appearance on the Impaulsive Podcast with his brother Jake, Logan stated his interest in fighting the social media icon.
Tate called out the YouTuber turned boxer Jake during a recent appearance on The Nelk Boys podcast. The Problem Child didn't initially address the challenge, although he's since acknowledged he would be happy to throw down with the kickboxer.
Tate is a former kickboxer and Internet personality, who in recent time is always in some controversies. He has received unparalleled fame on social media in recent months for his hot takes on issues. He is also been labelled as a 'Sexiest' by many for his views and takes on women.
On the other hand, Logan is a YouTuber and a wrestler. He is currently signed with the WWE. He has a massive following on social media and hosts a podcast, Impaulsive since 2018. He has one boxing match after turning pro in boxing.
Related: "Logan Paul is a natural" WWE icon shares his thoughts on Logan Paul's future in the company
Logan Paul isn't fond of Andrew Tate and his controversial takes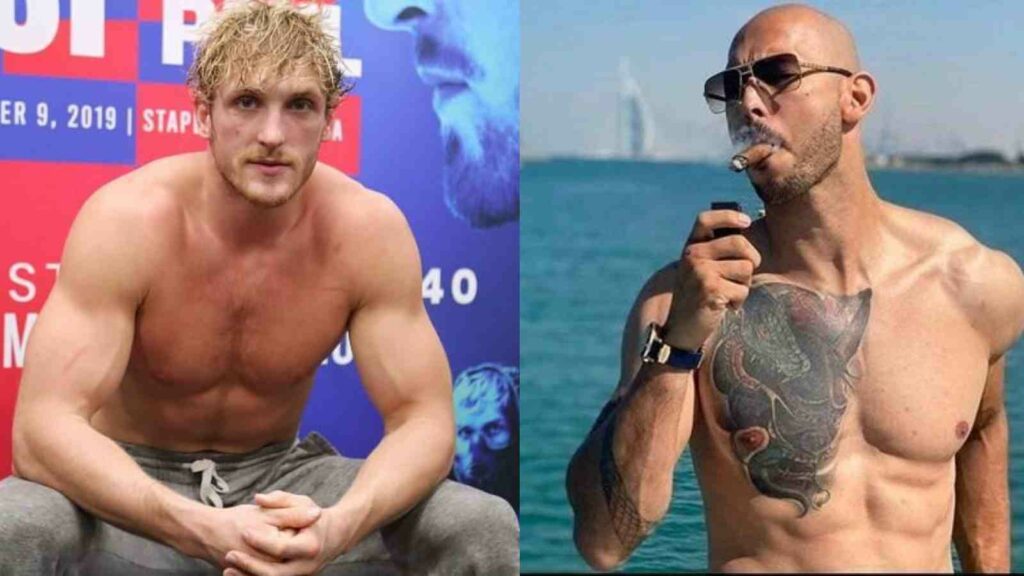 Recently during a 9th August 2022 episode of the IMPAULSIVE podcast, the YouTuber disclosed his intentions to fight Tate in a boxing match. The discussion started after Jake discussed Tate's callout and his intentions of fighting Tate in a boxing match.
The WWE star interrupted to ask his brother's approval to fight the kickboxer, "Jake, I know he's been talking s**t about you bro, but with your blessing can I beat the s**t out of Andrew f****ng Tate?"
Jake immediately gave his approval for the fight stating, "100 per cent, but I don't think he would fight us. I think it's too big of a risk for him because he's alpha male, that's his thing. When he loses, his whole schtick goes out of the window."
Also Read: "I'll remember this moment for the rest of my life" Logan Paul reflects on his incredible win against The Miz at Summerslam
The Problem Child further revealed that Tate once sent him an Instagram message but later he unsent it. He further stated, "Andrew if my brother doesn't f*ck you up, I will."
Logan hasn't fought since last June after facing boxing legend Floyd Mayweather. He recently announced his boxing return this December. Although he doesn't have an adversary for his return. Meanwhile, Tate has previously indicated that he has no hatred toward Jake but would be willing to step in the ring to end his boxing career.
What do you think of a fight between these two social media personalities? Who do you think wins a boxing match between Logan and Tate? Let us know in the comments below.
Also Read: "The best thing to happen"- Darren Till seemingly rallies behind polarising internet sensation Andrew Tate
Do follow us on Google News | Facebook | Instagram | Twitter