Ryan Garcia and Gervonta Davis recently got into a brawl at a nightclub. Though none were harmed, Garcia made the situation public via his Instagram live. The two lightweights were scheduled to face each other next but those plans have long fallen off.
Though Garcia may have the biggest name in lightweight boxing today, thanks to his social media presence and a network of influencers hyping him up, Davis has been argued to be the best inside the squared circle. A fight between the young lightweights has always been called for by the fans but never materialized.
Recently Davis and Garcia happened to be at the same nightclub. "He's a tough guy," said Garcia giving his initial reaction after meeting his fellow boxer face to face. Davis, a protege of Mayweather, rolls around with a similar entourage of training partners and bodyguards. Compare this to Garcia who came only with a friend, and the situation was already lopsided.
"I went up to his table and (we) said 'Are we gonna make this fight happen? ' and he I guess he got offended by that, got all worked up", said Garcia about the events that led to the clash. Garcia then asked Davis because of his aggravated state if there was no respect between them, to which Davis responded with a resounding no.
"He grabbed my chain, but I wasn't worried about it, cause there were so many security guards there, I knew he wasn't gonna take my chain or do anything, he just wanted to seem tough" , said Garcia as they both established that mutual respect between the two did not exist.
Garcia then alleged he said something to Davis that he couldn't repeat on Instagram saying, "She knows what I said" before he ended the message by saying he only acts tough when he needs to, i.e. inside the ring.
Related: "One is scared"- Darren Till questions matchmaking in boxing using Ryan Garcia vs Gervonta Davis
When will the Ryan Garcia – Gervonta Davis fight take place?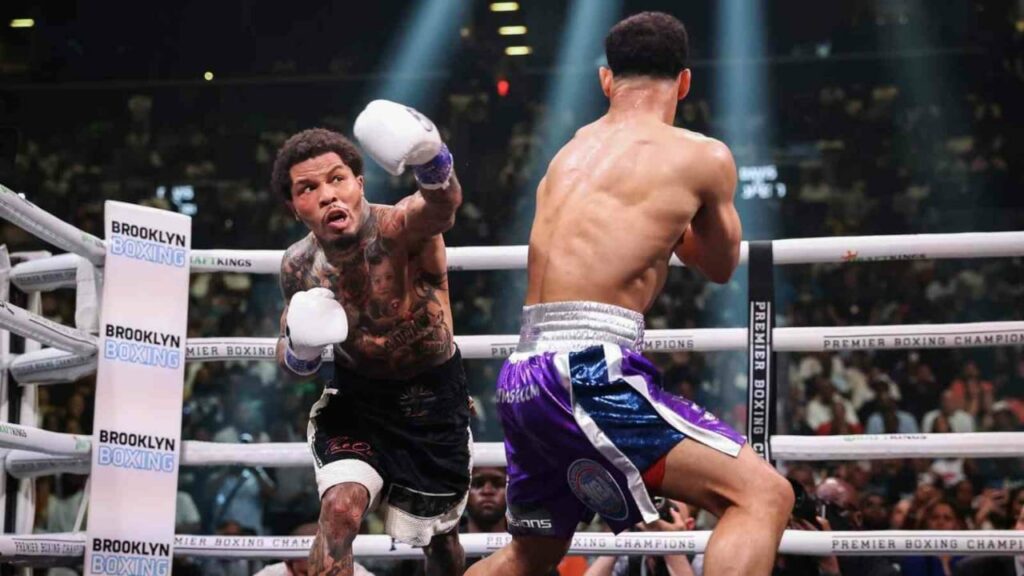 The fight between Gervonta Davis and Ryan Garcia is one that fans of boxing have wanted to see for a long time. Fans for that matter have wanted to see Garcia matched up against any top contender to get a better gauge of his skill set.

The two were scheduled to face off earlier this year after Davis' fight with Rolly Romero, but those plans fell off quick. However, a recent twitter spat between the two may hint at a possible December date.
Also Read: "Sounds like a big fight for me"- Sean O'Malley would love to test his will against Gervonta Davis in the near future
While Davis had already announced that he may fight by December, at the start of this month, Garcia posted a tweet saying just that, "December". This got the attention of the tank and the two gradually descended into a verbal battle questioning each other's abilities and willingness to fight the other.
Also Read: "Avengers can't stop me" Ryan Garcia mounts a fiery response to Canelo Alvarez and Floyd Mayweather's criticisms