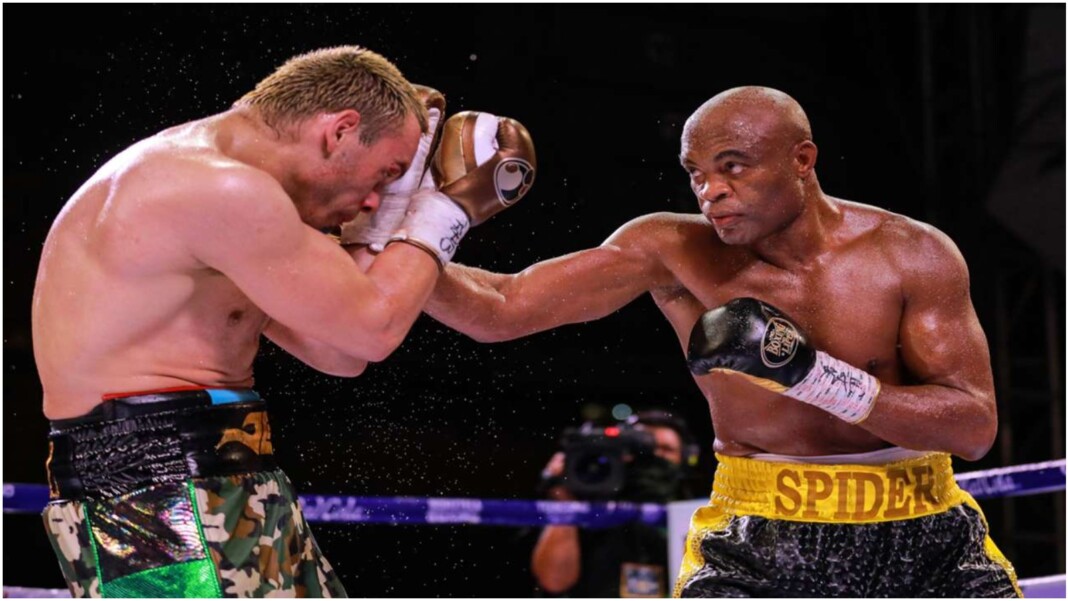 Anderson Silva vs Julio Cesar Chavez Jr went the full-eight rounds and Silva put on an absolute show against a much younger and full-time professional boxer. The Brazilian won the fight via. split decision, scoring 77-75 on two judges' scorecard, while the other judge scored in favour of Cesar Chavez Jr.
It was a night to forget for the Mexican boxer, as he couldn't beat the Brazilian legend who was making a comeback to Boxing after almost 16 years. His father Cesar Chavez Sr. was present in the crowd, and was clearly a frustrated and dejected man.
A legion of pros from the combat sports community took to Twitter to appreciate the greatness of Anderson Silva, who at the ripe old age of 46, stepped inside the boxing ring after a 16-year gap, took on a full-time professional boxer, and still delivered the goods to perfection.
"There is only one GOAT"
Former UFC heavyweight Daniel Cormier was quick to congratulate Silva on his success. He wrote, "@SpiderAnderson just beat Julio Caesar Chavez Jr!!!!! Great job champ."
Bellator women's featherweight champion Cris Cyborg chimed in calling Silva the GOAT. She tweeted, "There is only one GOAT #AndersonSilva @SpiderAnderson."
Former UFC heavyweight Frank Mir made his opinion known. "A true combat sports legend @SpiderAnderson," he wrote.
Referee John McCarthy was not happy with the split decision victory. He felt that Silva clearly won the fight. He tweeted, "Holy crap @SpiderAnderson just beat Chavez Jr. They gave him a Split Decision, but it was a runaway win no doubt for Silva. Should have been no more than 6-2 for Silva."
YouTuber Jake Paul had a suggestion, and claimed that it would be an honor for him if Anderson Silva took on Roy Jones Jr. on the same card that he was fighting. Paul tweeted, "Respect to Anderson Silva @spideranderson on the win….vc é uma lenda brasileira! Would be an honor to have him vs Roy Jones Jr on the same card as Tyron and I."
UFC Hall of Famer BJ Penn wrote, "I've said it before and I'll say it again @SpiderAnderson… "You're the best"
Mexican boxing king Canelo Alvarez who was present in the stadium, seemed clearly impressed with the MMA legend's performance.
Following the fight, Anderson Silva hinted that he would soon fight again. Fight fans will be looking forward to seeing their OG hero back in action. Take a bow legend!
Also Read : 'They sparred and made money' – Khabib Nurmagomedov mocks Logan Paul vs Floyd Mayweather
Also Read : 'Borrachinha is totally right' – Patricio Pitbull Freire rips into UFC over Fighter Pay Issue