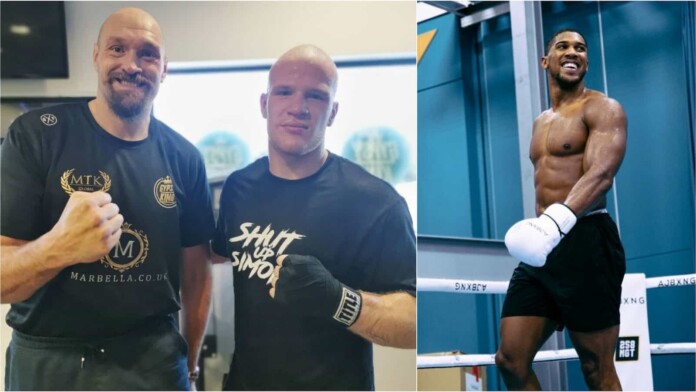 Tyson Fury vs Anthony Joshua announcement might be made official any time soon. The fight is expected to take place in the second week of August, possibly in Saudi Arabia. Joshua has been training in the UK, while Fury has taken to Vegas and has been balancing both relaxation and training.
More recently, Aleksandar Mraovic who has been training with Tyson Fury recently spoke about how hard 'The Gypsy Kings' punches were. In an interview with MyBettingSites, Mraovic revealed he had never felt punches like that ever before.
'He's punching like a machine' – Aleksandar Mraovic on Tyson Fury
Mraovic said, "This man is not of this world. He's a different animal. He's punching like a machine. I have never felt punches like that before from anybody. When we were sparring, Tyson even showed me how he got the power and how he works on it." [via PlanetBoxing]
He further revealed, "His fists feel like rocks on you when he hits. It's incredible. The power comes from how he punches and how he uses his weight. He's in great condition. Tyson Fury never had a bodybuilder's body, but he moves like a real athlete. He did twenty rounds, no problem. We were all done after 12 rounds, we did a lot of body sparring, and we were all dead." [via Planetboxing]
Tyson Fury trains with Nick Diaz!
Tyson Fury who has been training in Vegas, also had a training session with the legendary Nick Diaz. The pair sparred for a few rounds, before Tyson took to social media, asking Dana White to book a fight for the 'OG' Diaz, since he felt that he was in phenomenal shape.
Diaz hasn't fought since 2015, and it was only in the recent months that he expressed his desire to fight again. He is currently 37 years old now.
Also Read : UFC 262 (Main event): Charles Oliveira is the new lightweight champion; knocks out Chandler in round-two
Also Read : UFC 262 (co-main event): Beneil Dariush dominates Tony Ferguson; wins via. unanimous decision