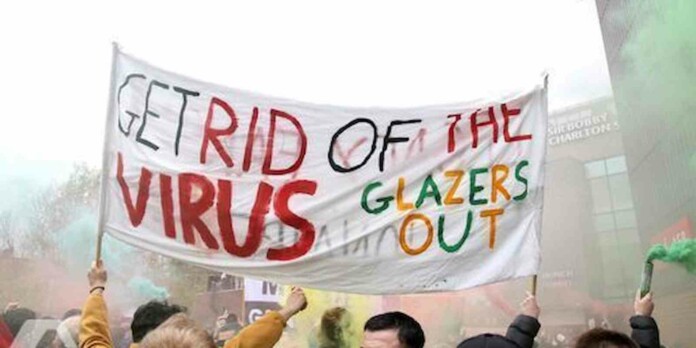 Manchester United fans have stormed inside the Old Trafford stadium in a bid to make themselves heard and are shouting 'Glazers Out'. The fans say that this protest is not related to participating in the European Super League but it's an Overall dissatisfaction with the club's current owners.
It's a long known fact that Manchester United fans are unhappy with the club's hierarchy and management. The Glazers have put them in a large amount of debt and continues to relish his own profits instead of caring about the club.
'Glazers Out'!' shout Manchester United faithful
Large numbernof protesters gathered around Old Trafford and have now got inside the football field. They are parading inside the Stadium with their flares and banners and are making themselves heard.
Last week itself we saw mass unrest amidst Arsenal fans as they gathered around the Emirates to protest against their owner's Stan Kroenke. Chelsea fans too led protests against the European Super League. The fans are finally having their say.
Manchester United supporters are showing their anger against the Glazer family and are trying to implement the 50+1 fan ownership model as seen in Germany.
According to latest reports, Manchester United fans have clashed with police outside Old Trafford during protests against the club's owners. Many supporter's are in favour of the cause as one writes
Shout out to the Manchester United fans, bringing one of the biggest fixture in football to a standstill. Leaders in Premier League titles and protests.
ALSO READ: Manchester United vs Liverpool: Match Preview, Probable Playing XIs and more