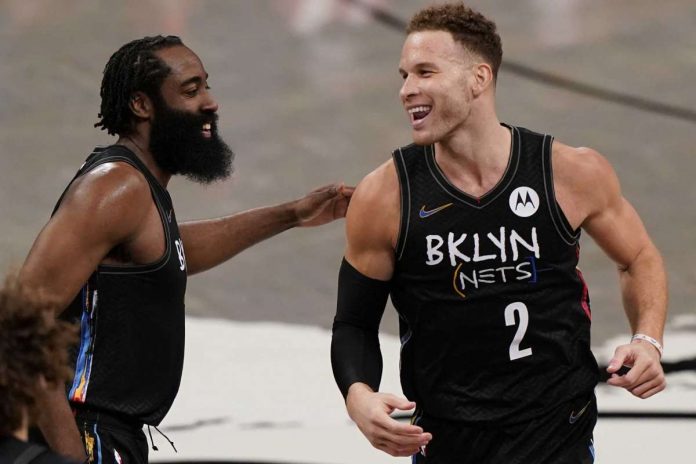 The super team Brooklyn Nets took on Portland Trail Blazers in a very important game. The Brooklyn Nets have developed significantly since their mid-season trade. Blake Griffin is one of their successful addition to the roster. Similarly, Portland Trail Blazers have levelled up their game. Damian Lillard has been in an elite performer. He has proved every time he stepped up. May it be the regular season or the All-Star game, he has dominated with his clutch abilities. However, both the teams went head to head today in a very important game.
The game ended with 112-116 in favour of the Brooklyn Nets. The Nets have been a much more dominant team and so they displayed the same in their game today. The Brooklyn has been a team to fear. With a 30-14 record they seem unstoppable. This is their 9th win in their last 10 matches. As the game started, both the guards were piping hot for the Portland. CJ McCollum and Damian Lillard were off to a great start. CJ stole to the ball and dispossessed James Harden on numerous instances. But the main highlight was Enes Kanter.
Brooklyn Nets with 30th win of the season after getting past Portland Trail Blazers
The Brooklyn had a determined start. It was a much to ask without Kyrie Irving and Kevin Durant. But James Harden made sure they never felt their absence. James ended his night with 25 points and 17 assists. This was a huge double-double game for the beard. The main reason was their calm play in the final minutes.
Despite losing rebounds on defensive end to Kanter, the team was always settled. They contested ever shot and tried to create turn over chances. Jeff Green was another highlight for Nets with 20 points. On the other hand, Portland fell short because of their lack of defense. Although they took the game to a much competitive end, still could not win it. Lillard's last minute hanging three pointer was not good as well. Robert Covington missing 3 crucial free throws overturned the game. It slipped away from the Trail Blazers in the dying moments.
Portland needed to secure this win. They are 6th in WC. But every team in West is looking to foot in for playoffs. This makes their chances shimmer into playoffs. On the other hand, Nets seem more settled. They are 2nd in the EC and seem to go deeper into playoffs this season. They are the fan favorite to win the title this year.
Also Read: Golden State Warriors put to test against Philadelphia 76ers without Stephen…