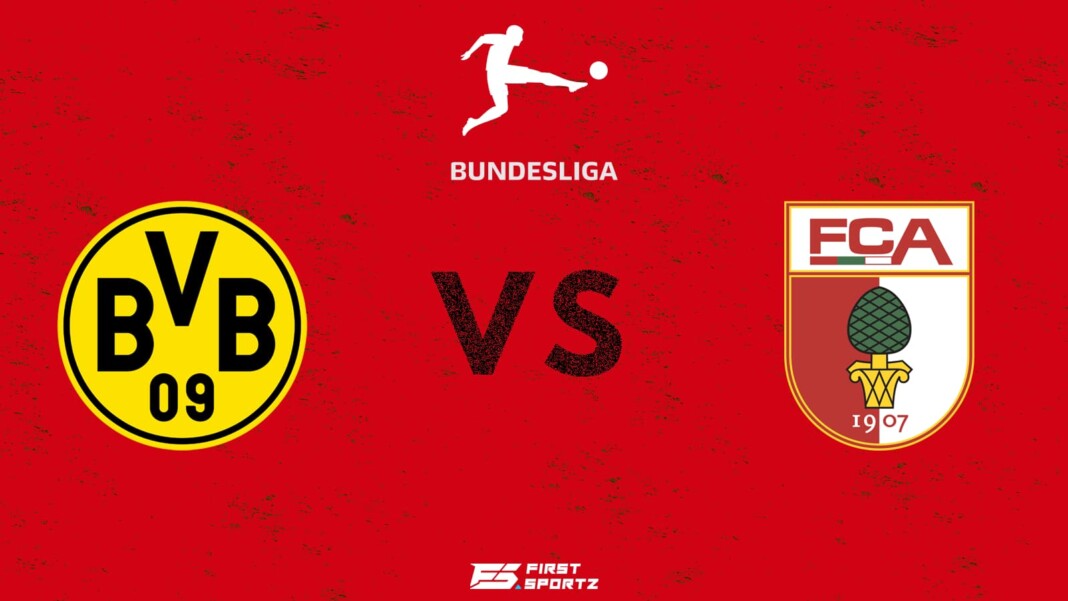 Borussia Dortmund's overall looked outstanding and clinical to dent the chances of Augsburg at their home. Raphael Gurreiro scored 10th minute penalty to give Dortmund the early lead which sets the tone for Dortmund. Zeqiri's equalizer at 35th minute threatened to put pressure on Dortmund but it didn't happen. Later Brandt scored a marvellous goal to take important 3 points at home for his team.
Here are the Player Ratings for the Bundesliga fixture between Borussia Dortmund and FC Augsburg.
Borussia Dortmund
Gregor Kobel (GK) (7/10): Kobel looked outstanding at the goal for Dortmund. He made two important saves and also had excellent passing build up with Meunier, Akanji and Hummels.
Raphael Gurreiro (7/10): Gurreiro was very good with his passes and took an excellent penalty to give early lead to Dortmund.
Manuel Akanji (8/10): Akanji looked excellent at centre back position and was did exceedingly well in partnership with Hummels, Meunier and Guerreiro. He made some amazing interceptions and clearances to stop Cordeva from getting in attacking positions.
Mats Hummels (7/10): He played well for his 65 minutes making five critical clearances and made three important interceptions to block Augsburg's attacking chances.
Thomas Meunier (7/10): From right back position, Meunier made some excellent runs during attacking build up for Dortmund.
Julian Brandt (9/10): Brandt was player of the match for Dortmund. He scored the 2nd goal to give Dortmund in 2nd half and also had 96% pass completion, his build up was beautiful with Reus and Witsel.
Alex Witsel (8/10): Witsel played at right midfield position and he made excellent runs through Oxford and Gruezo. He had 100% pass completion and looked impressive with the and without the ball.
Jude Bellingham (8/10): In the entire game, Bellingham was smart with his movements on and off the ball. He made some key passes to Reus and Brandt.
Marco Reus (7/10): Throughout the game, Reus was excellent with the ball, he provided the important assist to Brandt to score Dortmund's second goal.
Donyell Malen (7/10): In the entire game, Malen was impressive with his touches and his runs on and off the ball were amazing.He made some very good passes to Brandt and Reus.
Marius Wolf (7/10): Wolf grabbed the opportunity with both hands in the playing XI. He made some glorious passes to Malen and Brandt, also his passing and through balls were amazing.
Substitutes:
Thorgan Hazard (7/10): In the 2nd half, he came in as substitute for Meunier togive more attacking options and was excellent with 88% passing accuracy and also made some key movements to Can, Schulz and Reus.
Marin Pongracic (7/10): He replaced Hummels and looked intact in pressing Zeqiri and the other attacking opportunities.
Emre Can (7/10): After substituting Witsel, Can provided the speed and penetration required in the game for Dortmund. He had 86% passing accuracy and had two shots on goal.
Nico Schulz (7/10): Schulz was tactical move by Rose to keep the defensive shape intact. He delivered some effective passes and stopped some key scoring chances for Besiktas
Reinier (7/10): At 72nd minute, Reinier was brought to provide more attacking opportunities to Dortmund. Even though his impact was less but his build up with Can and Schulz was amazing.
FC Augsburg:
Rafal Gikiewicz (GK) (5/10): Gikiewicz was lack lustre with his performance. Apart from conceding goals, his passes completion with the defenders was only 48%.
Reece Oxford (6/10): At left back, Oxford looked good in patches. He often failed to track the movements of Malen and Brandt.
Jeffrey Gouweleeuw (5/10): Central Defender Gouweleeuw was initially finding difficult to block pacy attacking trio of Malen, Reus and Brandt. His passing was often intercepted by Dortmund attacking trio.
Robert Gumny (6/10): At the right back position, Gumny looked nervy with his touches. But as the game progressed, he made some good interceptions and passes.
Mads Pedersen (7/10): Pedersen was smart in anticipating the runs of Thomas Meunier and Bellingham. He also on couple of occasions blocked Malen from getting in scoring positions.
Arne Maier (7/10): During the attacking situations, Maier looked very good in terms of movement and created some goal scoring chance. Defensively, he looked solid making interceptions and won crucial tackles.
Tobias Strobl (6/10): Stobl played well in patches in his 90 minutes play on pitch. He created couple of chances for Batshuayi to score goals. But his overall passing was poor with 65% accuracy.
Daniel Caligiuri (6/10): Caligiuri had an ordinary day with the ball. He was not able to provide the support expected from him to Strobl and Gruezo
Carlos Gruezo (6/10): Gruezo was attacking the ball well at midfield position in the 1st half. But in the 2nd half his penetration and attacking stint tailed off and was often blocked by Akanji and Meunier.
Sergio Cordova (6/10): He looked good in creating chances with Zeqiri but failed on multiple occasions to convert the attacking chances.
Andi Zeqiri (8/10): It was a best performance for Zaqiri. He scored the goal for Augsburg in 1st half and also created some key chances to score goals.
Substitutes:
Fredrik Jensen (7/10): After coming in as a substitute Jensen tried to create penetrative chances in Dortmund defense but he found it difficult to get in the box.
Noah Sarenren-Bazee (N/A):
Florian Niederlechner (N/A):
Michael Gregoritsch (N/A):
Lasse Gunther (N/A):
Also Read: Bundesliga: Vfl Wolfsburg vs Borussia Monchengladbach Player Ratings as Borussia Monchengladbach seal all three points