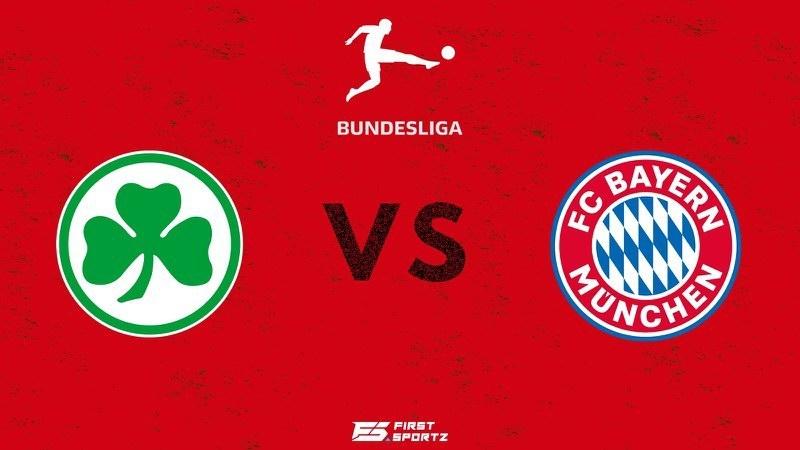 Fürth played their sixth encounter of their Bundesliga campaign against the mighty Bayern Munich at Trolli-Arena. This marked as a home game for Fürth which didn't turn out to be the encounter they would've hoped for.
Bayern started the scoring quite early in the game with Thomas Müller bagging a fantastic goal in the tenth minute of the game. Joshua Kimmich followed that with a beautiful finish in the far corner of the post to double the lead before first-half.
The match was heading onto a 2-0 win for Bayern Munich but an unfortunate own goal by Griesbeck to make it an even better 3-0 for Bayern. However, a consolation goal came in by Itten in the 87th minute to give Fürth something to cheer about.
After bagging three points, Bayern sit atop with 5 wins off six games while Fürth are placed last on the points table and are yet to open their account.
It was a fantastic battle between the two teams and their players. Let's have a look at how they performed :
Fürth
Sascha Burchert (GK) (6.2/10) : A below par performance by the keeper as he let past three goals including an unlucky own goal by the midfielder. He didn't have too many saves and didn't seem at his best.
Marco Meyerhöfer (6.6/10) : Despite losing possession at regular intervals, Marco didn't fear taking on the Bayern Munich players and won several ground duels.
Maximilian Bauer (6.4/10) : Bauer made as many as 10 really good clearences but he failed at keeping possession and also failed at giving the long ball in. A deflection off Bauer also ended up providing a neat ball for Müller to finish.
Nick Viergever (6.3/10) : The confidence was just not visible in Nick during his time on the field. He did clear a fair few balls but couldn't give his best.
Jetro Willems (6.4/10) : A decent game all in all for Jetro Willems. He did make some good clearances and tackles but lost possession way too many times.
Sebastian Griesbeck (6/10) : One of the unluckiest games for Sebastian as he ended up conceding an own goal and made it 3-0 for Bayern. He did have a shot on target but was comfortably denied.
Paul Seguin (6.9/10) : Paul had a good game. He was quick with his feet and didn't hesitate to take on the big guys. He won a good number of interceptions and tackles and contributed well to the team.
Julian Green (7/10) : Apart from his skillful interceptions, Julian had two attempts at goal off which one was off target while the other being on target and comfortably saved.
Håvard Nielsen (6.7/10) : Just the 67 minutes for Håvard Nielsen. He failed on multiple occasions to keep hold of the ball and also failed to win any duels.
Branimir Hrgota (6.6/10) : The captain himself didn't have one of the best possible games. He himself struggled at ground duels that lagged the team play in the forward half for Bayern.
Jeremy Dudziak (6.5/10) : Just another dull day for Jeremy. He lost possession on as many as sixteen occasions.
Substitutes
Cedric Itten (7.2/10) : The super substitute walks in and gets Fürth a consolation goal to walk away with in this disappointing encounter against Bayern Munich.
Jamie Lewling (NA)
Dickson Abiama (6.7/10) : Dickson didn't have enough time to make any impact on the match or provide valuable contributions.
Timothy Tillman (6.9/10) : The substitute came in and did a fantastic job for Fürth and got them a consolation goal. He brilliantly assisted Itten to get a goal in the 87th minute.
Abdourahmane Barry (NA)
Bayern Munich
Manuel Neuer (GK) (7.2/10) : Neuer had a wonderful night with the gloves. He didn't have much to worry about as he made four clean saves and three crucial saves from inside the box. A job well done indeed.
Niklas Süle (7.6/10) : Niklas was a magnificent beast in the defence for Bayern with his clearences, interceptions and tackles. He did a fantastic job to keep the box clean.
Dayot Upamecano (7.1/10) : Dayot sure knew how to successfully pass a long ball while he also was extremely successful at winning ground duels and tackles.
Lucas Hernandez (6.9/10) : Lucas was a busy player on the field as he did a commendable job with his passing. He also did a fair good job at defending and keeping the ball in possession of Bayern.
Benjamin Pavard (5.8/10) : An unlucky game for Benjamin Pavard as he was sent off the pitch in the 48th minute of the game due to a harsh sliding challenge on the Fürth player.
Leon Goretzka (7/10) : Goretzka was invincible at Ariel duels and seemed pretty strong and confident. He kept making chances for himself and got three off target shots in the end.
Joshua Kimmich (7.9/10) : Kimmich scored and doubled the lead for Bayern in the 31st minute of the match. He received a decent assist from Sané and curled a low, first-time effort and beats the keeper to finish in the far corner.
Alphonso Davies (7.4/10) : Davies took the ground duels battle on his shoulder and he did a fine job at winning almost every single battle he challenged.
Thomas Müller (7.6/10) : Müller scored the opening goal for Bayern Munich in the tenth minute of the match. A cheeky deflection off Bauer sat perfectly in the path of Thomas who side-foots a precise low finish off the post and in from 10 yards.
Leroy Sané (6.8/10) : Sané provided a decent assist in the 31st to help Joshua double the lead for Bayern. Apart from that, he had a decent game and got substituted in the 61st minute.
Robert Lewandowski (6.9/10) : Unfortunately, Lewandowski couldn't find himself on the scoresheet in this game. He did have a fair few attempts but couldn't net himself a goal.
Substitutes
Marcel Sabitzer (6.1/10) : Sabitzer got himself an opportunity in the 61st minute to play on-field but he lost possession on many occasions.
Serge Gnabry (6.7/10) : A decent performance put up by Serge Gnabry in the time he was allotted.
Jamal Musiala (NA)
Josip Stanišić (NA)
ALSO READ | LaLiga : Granada vs Real Sociedad player ratings as Real Sociedad clinch a thrilling win