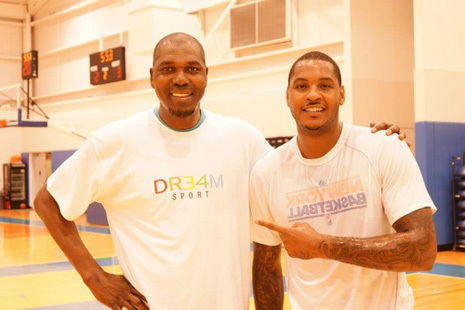 Portland Trail Blazers' veteran guard Carmelo Anthony has passes NBA Legend Hakeem Olajuwon to move to #11 spot in All-Time Scoring list. Carmelo hit a pull up jumper with 9 minutes, 46 seconds left in the 4th quarter, against Minnesota Timberwolves to do so.
Anthony finished with 26 points for Portland as he took over the game down the stretch. He hit a key baseline jumper and a pair of 3-pointers, and Anfernee Simons also hit two 3s to give Portland a 109-103 lead.
Carmelo Anthony surpasses NBA Legend Hakeem Olajuwon
Hakeem Olajuwon, a two-time NBA champion and 12-time All-Star with the Houston Rockets, ended his career with 26,946 points.
Talking about the game between Trail Blazers and Timberwolves, Carmelo Anthony then hit a step-back jumper to put the Blazers up 118-115, and with the Wolves still trailing by three, the 17-year veteran found Derrick Jones Jr. alone under the hoop for a dunk that sunk Minnesota's comeback hopes.
"I'm just happy to be here," Anthony said. "I'm still here is all that matters. I'm able to continue to play. I'm still here and I'm still climbing."
"We all know what Hakeem did for the game," Anthony said during an on-court interview. "The mark he left on this game is well beyond precedent."
Having said that, Anthony's performance against Minnesota Timberwolves put him at 26,955 points for his career. Next up on the NBA's scoring list is Elvin Hayes in 10th with 27,313 points. 
Also Read: Utah Jazz continue to dominate; hands Houston Rockets with 15th straight-loss