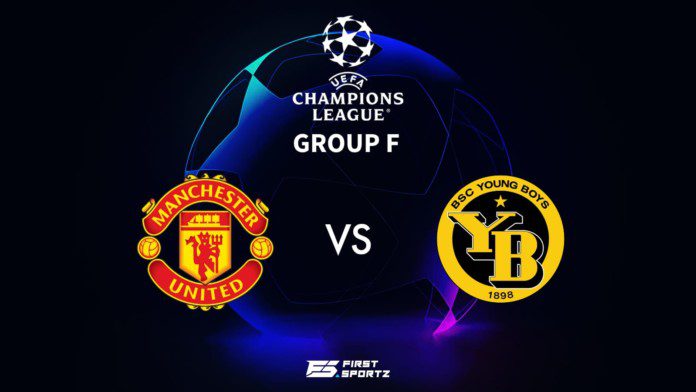 Manchester United vs Young Boys: Ralf Rangnick's men earned themselves a draw in their final fixture of the Champions League group stage matches, against Young Boys. The Reds had already been qualified but were testing the young guns out in the centre.
Manchester United shined bright in their home game with Mason Greenwood scoring the opening goal and bringing the 1-0 lead in the 9th minute. However, it was equalised a couple of minutes before halftime by midfielder Fabian Rieder.
The match went on pretty average ever since after the first half with neither of the teams being able to score a goal in the second half. As a result, the match ended in a 1-1 draw. With that, let's have a look at how the players performed.
Manchester United vs Young Boys player ratings:-
Manchester United
Dean Henderson (GK) (7/10) : Henderson made some really good saves over-all and did a commendable job at saving all that came at him. However, he did concede a goal to give away his clean sheet.
Aaron Wan-Bissaka (7.4/10) : One of the more mature players in the team did a great job. He did excellently at clearing the ball while also was so quick with his feet to win multiple tackles and ground duels and even interceptions.
Eric Baily (7.5/10) : Baily did seemed to have performed splendidly for the Reds. He made fantastic clearences and also made a brilliant clearence off the line to save the home side from trouble.
Nemanja Matić (6.1/10) : The skipper struggled for most part of the game. He made a couple of errors which led to the shot being taken cleanly at the United goal. He also did give away possession.
Luke Shaw (6.5/10) : Shaw made a brilliant assist in the ninth minute by lifting a cross into the box which was converted by Greenwood to get the lead to United. He had a decent game over-all before being substituted in the 61st minute.
Donny van de Beek (7.3/10) : van de Beek was really up and running for the Reds and did a brilliant job to contribute. He won almost all the ground duels he was a part of it and did marvelously well at winning interceptions and making successful tackles. However, one of his errors led to a goal.
Amad Diallo (6.6/10) : Diallo lost a lot of possession and also had just the one on target attempt at goal which was kept away quietly by the keeper.
Juan Mata (7.2/10) : Mata made several key passes to keep the game moving. He also had a couple of attempts at goal from which he missed out on a big go scoring opportunity.
Jesse Lingard (6.8/10) : Lingard created a big chance but wasn't dealt with well by the others. He did a really good job at keeping the ball running and made accurate passes.
Anthony Elanga (6.7/10) : Anthony had just the one on target shot and he failed to convert. He had missed out on a huge goal scoring opportunity.
Mason Greenwood (7.9/10) : Greenwood certainly received a brilliant ball by Luke Shaw, who lifted the cross into the box. The youngster found space and fired a volley first-time on his left foot and found the bottom left corner with a crisp finish.
Substitutes
Tom Heaton (GK) (6.7/10) : Heaton did a fine job by replacing Henderson as the goalkeeper and kept the scorecard intact as the final whistle blew.
Teden Mengi (N/A)
Charlie Savage (N/A)
Zidane Iqbal (N/A)
Shola Shoretire (N/A)
Young Boys
Guillaume Faivre (GK) (7.2/10) : After conceding the first goal which Faivre could've done nothing about, he had a great game. He made multiple saves to keep the Young Boys still in contention.
Quentin Maceiras (6.1/10) : An average job at defending but barely did impact as he kept losing possession, especially on 16 occasions.
Mohamed Ali Camara (6.7/10) : Camara did have a brilliant passing accuracy but didn't do that well with what the game demanded out of him.
Fabian Lustenberger (6.8/10) : The skipper had a busy day as he made as many as five clearences for his side while also having a shy at goal. He was off target on attempt.
Jordan Lefort (6.3/10) : Despite doing a magnificent job at defending, he did a horrifying job at keeping the ball to himself as he lost possession on 28 occasions.
Moumi Ngamaleu (7.3/10) : Ngamaleu was really good with his footwork as he made quite a few long balls while also winning several ground duels and making successful tackles. He did a superb job overall but couldn't get his team over the line.
Michel Aebischer (6.8/10) : Aebischer had as many as two attempts at goal and despite being on target on both, he couldn't convert. However, he failed miserably at ground duels and keeping possession.
Christopher Martins (6.7/10) : Several tries to break the wall at Old Trafford, but, his constant effort kept going in vain as the defence kept kicking his attempts away. Martins, however, was really good at aerial duels.
Fabian Rieder (7/10) : A lack of judgement and van de Beek gifted possession to Fabian at the edge of the box. He got the ball out of his feet before he curled a right-footed attempt away from Henderson into the top right corner and equalised the scoreline.
Meschak Elia (6.8/10) : Meschak did all he could but could just get himself into one opportunity at goal which he was off target on attempt. Regardless, he had plenty of lost possession occasions.
Theoson Siebatcheu (6.7/10) : You'd know you're having a tough day when you keep striking out. Theoson had two opportunities to get goal but he still went off target while attempting.
Substitutes
Silvan Hefti (N/A)
Wilfried Kanga (N/A)
Vincent Sierro (N/A)
Sandro Lauper (N/A)
Nico Maier (N/A)
ALSO READ | UEFA Champions League: Zenit vs Chelsea Player Ratings as Blues are held by a spirited Zenit.