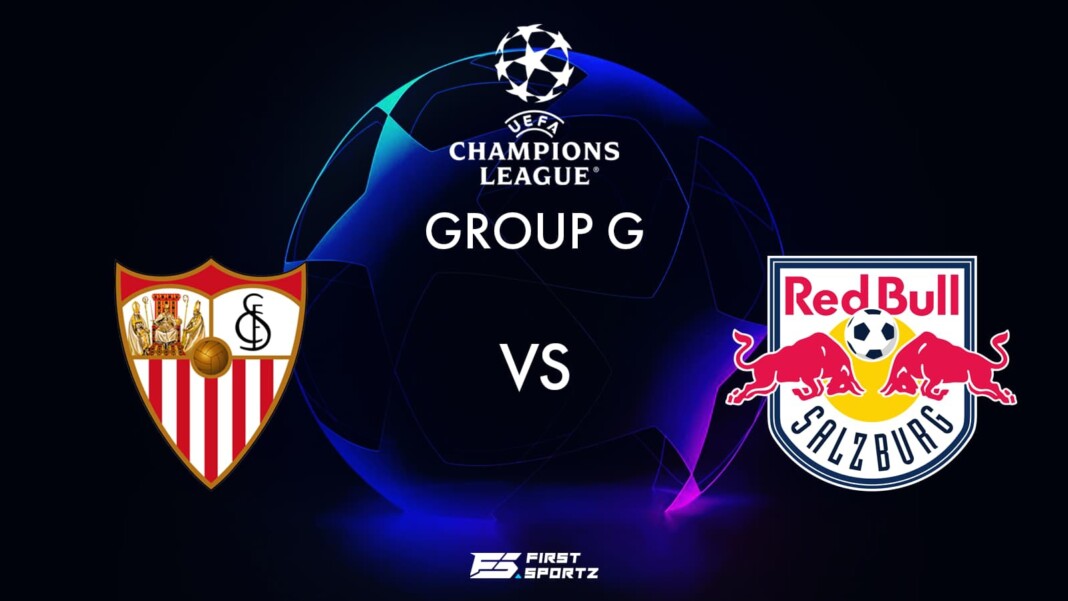 Red Bull Salzburg secured 1-1 draw against Sevilla in the nerve wrecking encounter. For the 1st time 4 penalties opportunities were created, out of which in 3 chances Salzburg scored once and Rakitic scored for Sevilla in penalty. In the 2nd half, En-Nesyri got a red card which forced Sevilla to get in defensive route and they secured a draw. 
Here are the Player Ratings for the La Liga fixture between Sevilla and Red Bull Salzburg
Sevilla: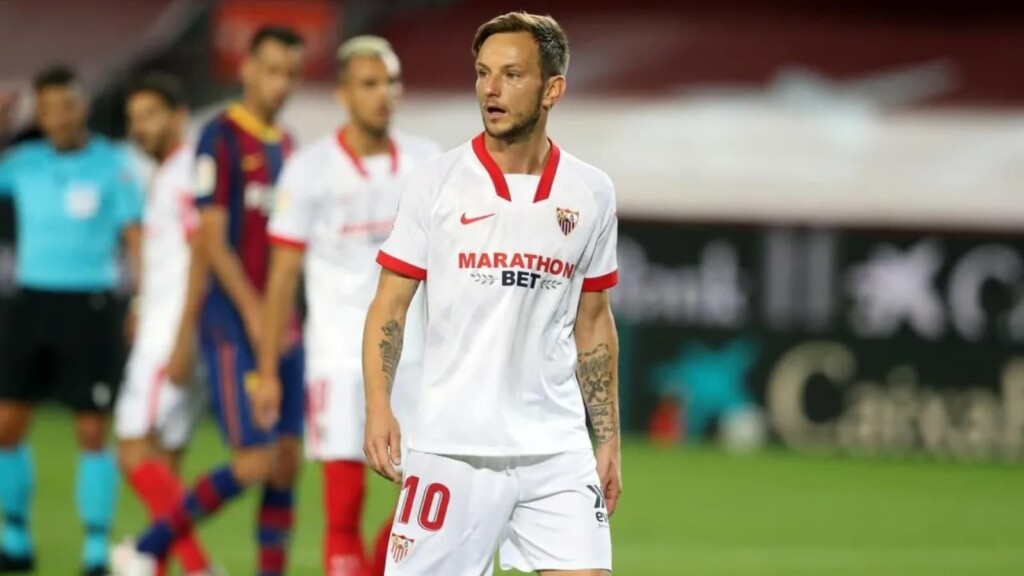 Yassine Bounou (7/10): Bounou had a busy day throughout the game. He made five important saves and one excellent clearance
Jesus Navas (5/10): Navas was not able to build up well from the defense and he ended up committing two fouls
Diego Carlos (5/10): Central Defender Diego Carlos was verymuch upto the mark in the initial period of the game as he made 4 clearances but he had committed a foul leading to penalty.
Jules Kounde (7/10): In his comeback game for Sevilla, he looked impressive with the ball. He made 85% pass completion rate and also tracked the build up Aaronson
Marcos Acuna (8/10): Acuna was finding it difficult to settle himself on the pitch. He won two important tackles and was able to restrict Sucic in many occasions.
Joan Jordan (7/10): In his 45 minutes of game, Jordan was looking good in defensive build up but on offensive front he was unable to get through Salzburg defense
Fernando (7/10): Fernando was building up the game play with Rakitic and Jordan in the game for Sevilla. He had 94% passing accuracy and made some amazing key passes to En-Neysri
Ivan Rakitic (7/10): Rakitic looked in great touch in his 64 minutes of play. He scored the crucial penalty for Sevilla at 42nd minute
Suso (6/10): This is the 2nd game in a row were Suso was finding it difficult to make things happen. He was subbed off at 46th minute but during his stint, he had 76% passing accuracy and made one interception
Alejandro Gomez (6/10): He had an excellent game with some very good passes to En-Neysri and Suso for goal scoring and also helped the team during defensive build up.
Youssef En-Neysri (4/10): En-Nesyri had a day to forget on field. He was awarded red card on 50th minute leaving Sevilla as 10 man team
Substitutes: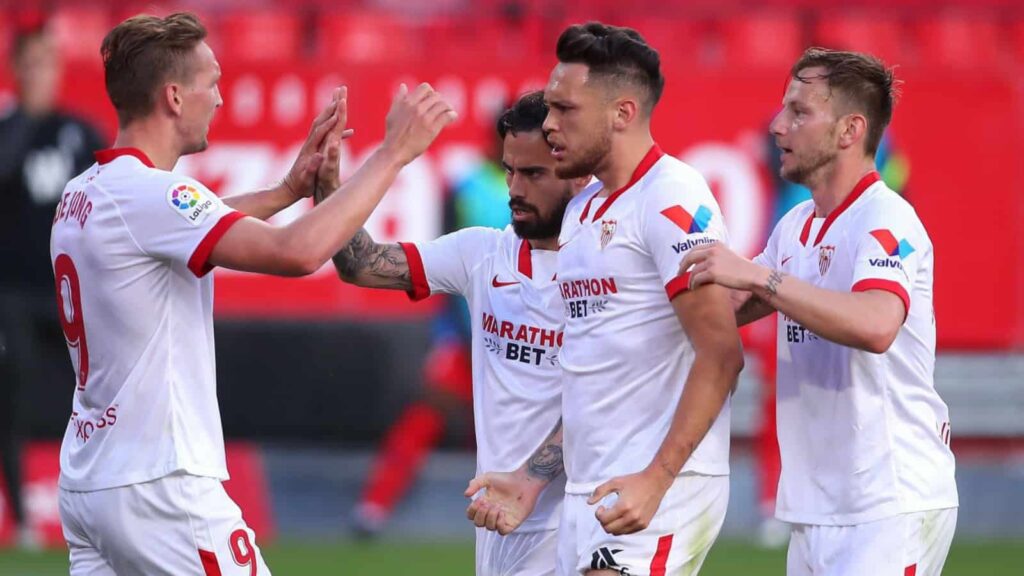 Lucas Ocampos(6/10): After coming in as a substitute Ocampos tried to create penetrative chances in defense but had only one chance in the game.
Thomas Delaney (6/10): Delaney was tactically brought in for creating more chances for Sevilla in the game to attack, but he was very bad with his passing.
Erik Lamela (7/10): Lamela was brought in for more chance creation and he made two keyc chances and one shot on goal
Rafa Mir (6/10): Mir in his 26 minutes of play in 2nd half but was not very impressive. He had only 12% passing accuracy
Gonalo Montiel (7/10): Montiel played for only 3 minutes and in that stint, he made one important clearance and four good passes
Red Bull Salzburg: 
Phillip Kohn (GK) (7/10): Kohn had an excellent clearance during the game and also his passing was spot on helping Salzburg to build up for more goal opportunities
Andreas Ulmer (6/10): Ulmer was very sharp on field as he made some important clearances. During the game, he made 40 passes and was able to stop En-Neysri and Suso from scoring goals
Maximilian Wober (5/10): Wober had a poor game on field, he made a foul leading to a penalty and also had only 59% pass completion rate
Oumar Solet (7/10): He was the best defender for Salzburg. Solet made three amazing interceptions and eight important clearances
Rasmus Kristensen (7/10): Kristensen looked tactically in great positions during the game. He won five tackles and five amazing clearances
Nicolas Seiwald (7/10): In the entire game, Seiwald was impressive with his touches but passing accuracy was on lower side.
Mohamed Camara (8/10): Camara played a very pivotal role in Salzburg's performance. Apart from winning three pivotal tackles and had 91% pass completion.
Brenden Aaronson (6/10): He was not able to create proper chances for the midfield. Even though he had 44 touches and one shot on goal, but not able to develop key goal scoring chances
Luka Sucic (7/10): Throughout the game, Sucic made some very effective runs in the spaces, scored the goal on penalty.
Karim Adeyemi (6/10): Adeyemi had chances to make difference in the game and put Salzburg ahead but missed the penalty
Substitutes:
Kamil Piatkowski (7/10): In the 2nd half, he had 93% passing accuracy and he was able to allow Salzburg more defensive support
Chukwubuike Adamu (7/10): Adamu played for 24 minutes and he had a shot on goal and was making effective runs for more scoring opportunities
Noah Okafor (6/10): Okafor played for only 10 minutes but his pass completion rate was poor. It was diluting Salzburg's goal scoring chances
Nicolas Capaldo (6/10): Capaldo was not very effective in terms of coming as substitute. Similar to Okafor he was finding difficult to create chances 
Also Read | Champions League : Young Boys vs Manchester United players ratings as Young Boys stun 10 men Manchester United