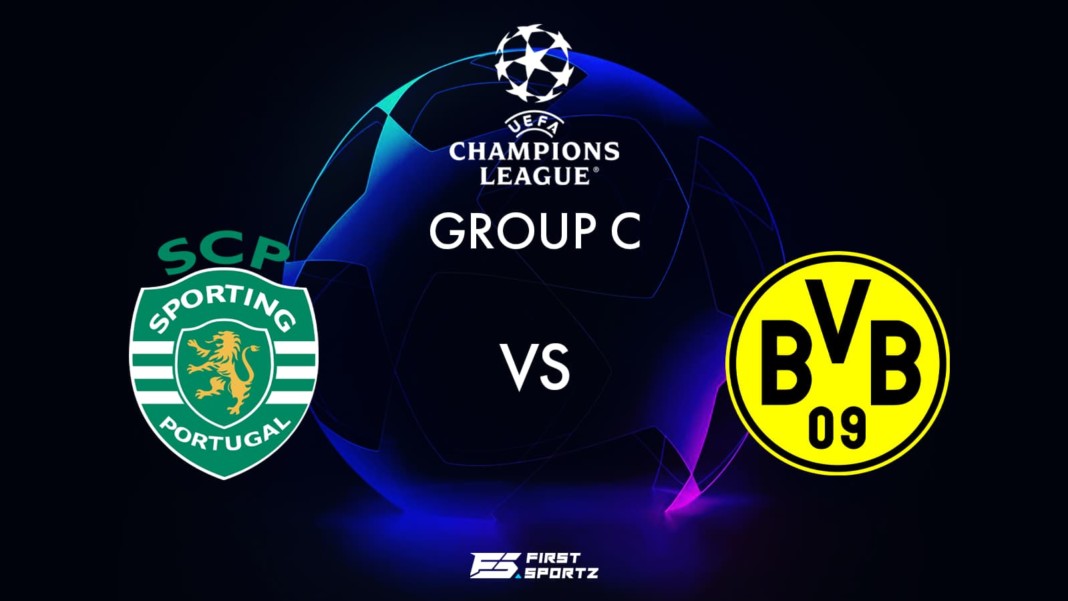 It was brilliant game of football at Estadio José Alvalade as the home side, Sporting CP bagged an astonishing 3-1 win against one of the giants of Bundesliga, Borussia Dortmund.
Borussia Dortmund were already down in the dumps as they missed the likes of Erling Haaland as well as Thorgan Hazard. However, they walked in with high expectations only to later lose miserably.
Pedro Gonçalves' brace in the first-half ensured a brilliant start for the home team in their race for qualification for the Round of 16. Later, in the 81st minute Pedro Gonçalves misses a penalty which could've helped him complete his hat-trick.
However, midfielder Pedro Porro scored the third goal for Sporting CP off the rebound and it turned out to be the worst nightmare for Borussia Dortmund. Donyell Malen certainly did pull one back for his team in the added time but Borussia Dortmund faced a disappointing 3-1 loss.
Let's have a look at how the players performed:-
Sporting CP
Antonio Adán (GK) (6.7/10) : The Sporting CP made some brilliant saves the keep the ball away from their goal. However, he did let a tap in pass by which certainly ruined his clean sheet in a dominant match.
Gonçalo Inácio (7.8/10) : Inácio was brilliant with his footwork and skills, especially in defence. He made five valuable clearences followed by winning bunch of really good Interceptions. He also stunned many by making a Clearence off line.
Sebastián Coates (7.3/10) : Sebastián defended excellently and his numbers speak for itself. He made as many as six clearences and won bunch of tackle battlee. He also had a shy at goal but was off target on attempt.
Zouhair Feddal (6.7/10) : Feddal was brilliant with clearences and ground duels for Sporting CP but did lose possession on quite a few occasions. He was quick enough to win interceptions and tackles.
Pedro Porro (7/10) : Pedro certainly was at the right place at the right time for Sporting CP. In attempt to complete his hat-trick, Gonçalves took the penalty but missed. However, Porro was there to tap it in and made it 3-0 for the home team.
João Palhinha (6.4/10) : A pretty average performance by João Palhinha as he committed as many as seven fouls and barely won any ground or aerial duels.
Matheus Nunes (7/10) : Nunes was fantastic with ground duels as he won quite a few of them. However, he did a wonderful job at making valuable clearances and won interceptions and tackles.
Matheus Reis (7/10) : Reis had just the 67 minutes of gameplay available to make an impact. He did good at ground duel but failed the possession of the ball, quite a few times.
Pedro Gonçalves (8/10) : Pedro had a mind-blowing game for Sporting CP. He started off the proceedings with a shot under the legs of the keeper followed by a firepower shot in the top left corner to complete his brace. Had Pedro converted that penalty, he would've eaned his hat-trick.
Pablo Sarabia (6.7/10) : Sarabia brilliantly assisted the second goal for while also himself having a couple of attempts at goal. He also missed a big goal scoring opportunity that came hi way.
Paulinho (6.7/10) : Paulinho did win the penalty for Sporting CP but it wasn't dealt with quite nicely. Apart from failing to win ground duels, he did contribute with his heart being into the game and providing necessary breakthrough.
Substitutes
Tiago Tomas (N/A)
Nuno Santos (N/A)
Manuel Ugarte (N/A)
Ricardo Esgaio (N/A)
Flavio Nazinho (N/A)
Borussia Dortmund
Gregor Kobel (GK) (6.5/10) : The Borussia Dortmund goalkeeper did a decent job at keeping the ball away from the box and kept it clean on most occasions. However, he failed to capitalise on the penalty he saved and conceded a goal.
Thomas Meunier (6.3/10) : Thomas did a decent job at defending the ball away by JHC but he was rather disappointed as he lost possession of the ball on as many as 25 occasions.
Manuel Akanji (7/10) : Manuel Akanji did brilliantly well with defending and also had a knack for winning ground and Aerial duels for Borussia Dortmund. He seemed to be confident with a bright future ahead of him.
Marin Pongračić (6.5/10) : Just the 67 minutes of Pongračić. He barely made any contributions in other departments and he surely didn't do anything impactful to help Borussia Dortmund's cause.
Nico Schulz (5.7/10) : Nico had the worst possible game. One of his own errors committed to a penalty while trying to win the ball for his team. A silent one looks suspense.
Jude Bellingham (7.4/10) : Jude had multiple attempts at goal but he failed to convert either of them. Jude didn't have major support but he did a magnificent job. He was the least terrified while taking on the ground duels and winning them consecutively.
Axel Witsel (7.1/10) : Witsel created some wonderful goal scoring opportunities but wasn't dealt with neatly. He was just inside the dugout after 66 minutes of gameplay.
Marco Reus (7/10) : The captain made a brilliant assist to Malen who was waiting there to tap the ball in. A brilliant strategy by the captain.
Reinier Jesus (6.8/10) : Reiner had just the one off target attempt at goal. Otherwise, he's been great and working quite nicely with the brand.
Julian Brandt (7.6/10) : Brandt was brilliant with the ball around him. He created a huge goalscoring opportunity which wasn't dealt with. Quite nicely . He'll probably talk about this in the next game and shadow and overs back.
Donyell Malen (7/10) : Malen was at the right place at the right time when Reis sent a pass in for Donny Mallen. He know he could easily tap in and he did to pull one back of the facts.
Substitutes
Steffen Tigges (N/A)
Mahmoud Dahoud (N/A)
Emre Can (N/A)
Dan-Axel Zagadou (N/A)
ALSO READ | UEFA Champions League: Inter Milan vs Shakhtar Donetsk player ratings as Dzeko gifts Inter Milan a 2-0 win over Shakhtar Donetsk