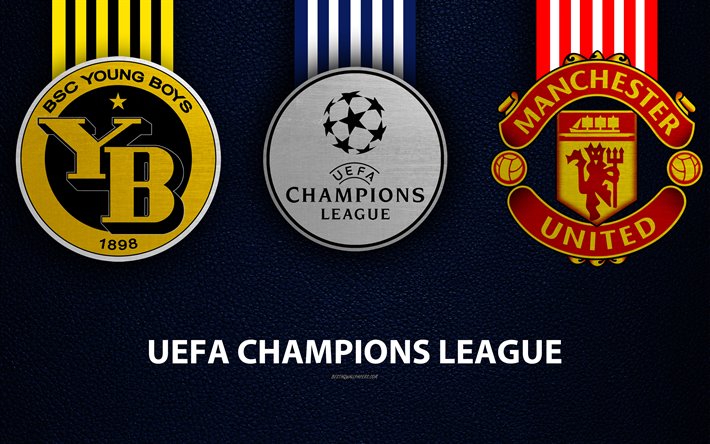 Young Boys and Manchester United traded tackles at Wankdorf Stadion for their opening game of Champions League 2021/22. Being a home game for the Young Boys really boosted their morale before the first whistle.
Manchester United on the other hand have had a magnificent time in the centre, especially their hero coming back and scoring a brace in their previous game in Premier League.
However, as the match kicked off, United began attacking and showed no hesitation whatsoever. In the 13th minute of the game it was the Portuguese duo who shined bright for Manchester United.
Bruno Fernandes came in from the left to provide a curving assist into the box which Ronaldo tapped in the back of the net through the Keeper's legs. The opening goal gave them the perfect start.
Although, a poor challenge by Wan-bissaka showed him the bench as he was given a redcard and a ten man united side went into the second-half with 1-0 on board. As United went into second-half, Young Boys were the one's who kept most of the possession. Soon came in the equaliser by Ngamaleu which created havoc in the red dugout.
However, the match went into added time as the ten men United kept it calm and were aiming for a draw. Although, it didn't seem to go in their favour as Lingard gave away a poor ball which resulted in an easy goal to the right of the goal for Young Boys who managed to take a 2-1 win at home.
In this disappointing match-up for Manchester United, let's have a look at how the players faired.
Manchester United
David de Gea (GK) (6.6/10) : De Gea did a really good job throughout the game and made some good looking saves to keep the Manchester United box clean. However, being a man down got to him and he let one slip past his left side which turned to be the equaliser. Although, he also made a fantastic save with the ball touching the top of his fingers which went flying over.
Luke Shaw (6.4/10) : Shaw did what he could throughout the course of the 90 minutes but couldn't save his team from a 2-1 stunner. He was invincible at at Ariel duels but it wasn't enough to hold Young boys back.
Harry Maguire (6.9/10) : The captain showed great content throughout the game but couldn't do everything by himself to keep the scoreboard in their favour. Overall, he made five good clearences and also won four tackle battles.
Victor Lindelöf (6.6/10) : Throughout the context of the game, Lindelöf barely made any contributions to the team except for a bunch of clearences and a fair few tackles and interceptions to keep the ball in possession.
Aaron Wan-bissaka (5.5/10) : Couldn't have been a worst possible situation than Wan-bissaka receiving a red card in the 35th minute after a poor attempt to win the ball. A really poor decision by him that has cost his team a player.
Paul Pogba (6.5/10) : Pogba tried his best but didn't have much support in the midfield to keep the ball moving. He gave an average performance as he managed to get just six out of ten ground duel wins and in contrary to that gave away possession on 17 occasions.
Fred (7/10) : Fred was amongst the better lot of the players who contributed well in the midfield. He was really good at winning ground duels and winning interceptions. He also made some good clearances and did good with his footwork to win tackle battles.
Bruno Fernandes (7.1/10) : The midfielder showed signs of excellence with his pace and accurate passing. He made an excellent assist which went curving inside the box and Ronaldo converted it into a magnificent goal to give United the lead.
Jadon Sancho (6.2/10) : Yet again a below par performance by Jadon Sancho. It was so unlike him to lose ground and ariel battles consecutively. He never looked comfortable to begin with. Apart from that, getting 21 touches in 37 minutes he lost possession 7 times. He eventually got subbed in by Dalot.
Donny van de Beek (6.9/10) : Van de Beek had a good game overall but the 10-man deal had to bring in a strategy change. He was subbed in after the first half for Varane. In his short time period, Donny won a couple of ground duels and valuable interceptions. He also blocked an important incoming shot to keep the ball away from the box.
Cristiano Ronaldo (7.5/10) : It had to be Cristiano to open the scoreline for Manchester United in their Champions League opener. A beautiful inswinging assist by Bruno was dealt with a comfortable tap in which went into the back of the net through the Keeper's legs.
Substitutes
Diogo Dalot (6.8/10) : Despite coming in late into the game, Dalot seemed to be really quick with his feet as he was pacing through to win as many balls as he could. He did an exceptional job at defending after winning 6 tackles and making five good clearences.
Raphael Varane (6.5/10) : Varane walked into the second half and gave his hundred percent to keep the ten men Manchester United into the match. He made as many as seven clearences while challenging the opposing forwards without any hesitation.
Nemanja Matic (6.6/10) : Just managed to get 18 minutes of gameplay. He barely got to move the ball around or make gameplay with less help around but he did manage to win two ground duels.
Jesse Lingard (5/10) : What a disappointing end to this opening game. Manchester United were already 1 man down and in the final few seconds of the game, Jesse made a horrible mistake by passing it incorrectly to the opposing forward who scored the winning goal for Young Boys.
Anthony Martial (6/10) : Just a bunch of minutes of gameplay for Anthony Martial in this game as he came in the 89th minute. He hardly got any touches to the ball and before he knew, the whistle blew.
Young Boys
David von Ballmoos (GK) (6.6/10) : In an unlucky attempt in the first half, Ronaldo's tap in went through his legs which gave away the lead. However, David bounced back and made some brilliant saves to keep the match alive for the Boys. He also made a really good save from inside the box which came in really handy.
Silvan Hefti (6.4/10) : Silvan provided a fantastic assist to Ngamaleu to make it 1-1 for the Young boys at their home turf. Apart from that he struggled throughout to win any ariel or ground duel and lost possession way too many times.
Mohamed Ali Camara (6.6/10) : Camara looked solid with ariel duels and also made it look too easy to win the possession of the ball. He also had a chance at goal but was way off target on his shot attempt.
Sandro Lauper (7.5/10) : Excellent job with the passing by Sandro Lauper. He kept the ball moving quickly and with his quick feet and skillwork, he got a shot at goal. He did manage to be on target but was denied by de Gea.
Ulisses Garcia (7.2/10) : Garcia was one of the most active and determined players on the field for the Young Boys. He made a valuable contribution in defence with three clearances and winning three interceptions. He had a shy at goal but was way off target. He came running in twice to make a huge goal scoring opportunity but was blocked out in the defence.
Vincent Sierro (6.7/10) : Just the first half apperance then from Vincent Sierro. He made two key passes which were putting the away team in a tough spot. He also had a shy at goal but was denied by the keeper despite being on target.
Christopher Martins (7/10) : Martins won three excellent interceptions while also making three key passes. Christopher did a fantastic job in the midfield to keep the ball moving and looked real confident while moving the ball with him.
Christian Fassnacht (6.4/10) : The forward did find himself running around a lot in the United box to keep creating goal scoring opportunities. He did have three attempts at goal. Two of them werr way off target while the other being on target but denied by the keeper.
Michel Aebischer (6.5/10) : Aebischer gave all what he had but missed out on way too many chances. To begin with he lost almost every ground duel and he later went off target on three occasions which could've been vital for his team on many levels.
Nicolas Ngamaleu (8.1/10) : Ngamaleu, the star of the match for Young Boys. After being one goal down, Ngamaleu recieved and excellent assist by Hefti in the box. He then converted that into a lucky equaliser on the left of de Gea. Apart from that he had three more attempts at goal off which two were off target and one was kicked out by the Manchester United defender.
Meschack Elia (6.7/10) : After United went one man down, Young Boys kept attacking to get more opportunities. That's what Elia did and he found himself lucky on two occasions but was way off target on both to get himself a name on the scoresheet.
Substitutes
Fabian Rieder (6.4/10) : Fabian played just a bare minimum time on the pitch and hardly got any touches on the ball or opportunities to deeply affect the flow of the game.
Jordan Siebatcheu (7/10) : The star of the match in the final few seconds of the game was Jordan Siebatcheu. He was granted with a misdirected ball from Lingard and he took it with sheer comfort and placed it easily to the right of de Gea to get the winning goal and the win in their opening game.
Wilfried Kanga (6/10) : Kanga walked into the match in the final few minutes of added time where he had not much to do except for keeping the ball moving and celebrating the winning goal with his other substitute teammate.
Miralem Sulejmani (6.6/10) : Miralem didn't spend too much time onto the field but did help in moving around the ball as much as he could. He did lose the ball multiple times and failed at making any good crosses.
Cedric Zesiger (6/10) : Cedric too came into the field in the 90th minute replacing Lauper. With not much time on the clock to contribute with his skills, Cedric enjoyed witnessing the winning goal that saw his team through and gain a much important win first up.
ALSO READ | Premier League: Everton vs Burnley Player Ratings as Rafa Benitez and company take all three points against the Clarets