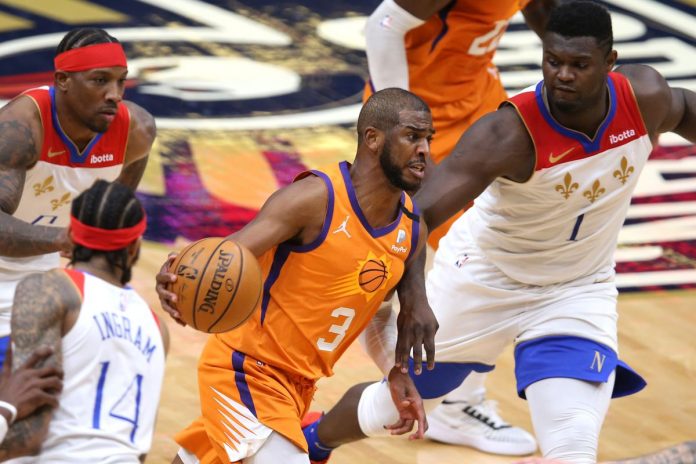 The Phoenix Suns are quickly proving out to be the lethal team in West. They are one of the most dangerous franchises who are running a show. Veteran Chris Paul and Devin Booker are marrying around with the team. Their back-to-back victories have given them the edge over other teams. Devin Booker is turning back to being dangerous like he appeared in the Orlando Bubble. However, Charles Barkley highlighted the main focus of Phoenix Suns' success.
The Phoenix Suns closed down the Portland Trail Blazers earlier today. The game was pretty tough in the 3rd quarter. However, Suns were able to closed down 121-127 by the end. Devin Booker had 35 points to his name. He added 5 rebounds and 8 assists to go with it. Veteran Chris Paul was outstanding as well. He registered 19 points and 7 assist to the win. This lethal duo is turning all the heat and making a dream run for Suns. The Suns are 14-2 in their last 16 games.
Charles Barkley shows his confidence in Chris Paul being MVP Candidate
In the recent debate Charles Barkley revealed his ideas backing Chris Paul. He said, "If a guy traded for a guy on a last-placed team, they didn't make the playoffs. If a team made a trade in the off-season, and they went from last place to first place. Why will we not mention that guy for MVP? I think he's the key ingredient. Shaq is 100% wrong, he said the team doesn't matter. The team does matter. We talk about all these other guys who are playing great, I'm not going to hate on the Joker, I'm not going to hate on Embiid."
It's a long time since Phoenix Suns were in the playoffs. Chris Paul's arrival has changed the mind-set of the entire roster. Phoenix Suns have really evolved. While Shaquille O'Neal and Stephen A. Smith vouched for other players, Charles Barkley was determined with his take on CP3.
He addressed, "Shaq, when Steve Nash won the MVP, he wasn't better than you. He wasn't better than Kobe, but they had a better regular-season… I hate this stupid argument every year. It's not who the best player. Listen, Michael Jordan was the best player, probably three years before he got into the MVP conversation because his team wasn't any good… When Magic and Bird were going back and forth, it was whoever had the best regular season. It wasn't about who is the best player."
Also Read: Utah Jazz continue to dominate; hands Houston Rockets with 15th straight-loss