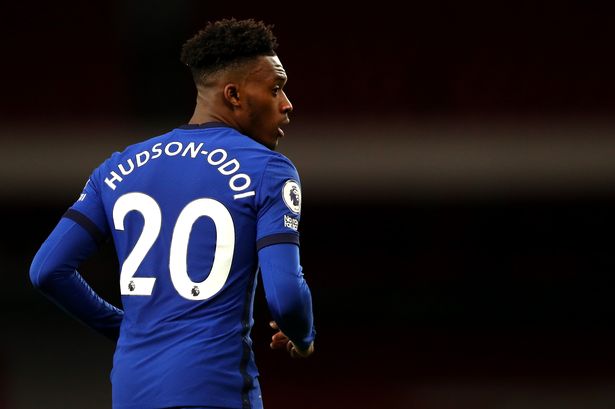 Chelsea winger Callum Hudson Odoi has returned to London after suffering a shoulder injury with the England camp. He has thereby returned to London to attend to the injury and won't take part in the game against Poland.
England have been in terrific form in the FIFA World Cup Qualifiers and recently defeated Albania 2-0 in Tirania. Chelsea's homegrown talent Mason Mount scored in that game.
Callum Hudson Odoi withdraws himself from England U-21 camp
This could be troubling news for Chelsea fans as they will be back in premier league action during Saturday's lunch time against West Bromwich Albion. Callum Hudson Odoi's absence will be vital for the team.
England U-21 coach Aidy Boothroyd has confirmed the news about Callum Hudson Odoi;d injury. He says that the youngster has suffered a knock on the shoulder and flows back to the Chelsea training facility for further assessment. Manchester United striker Mason Greenwood is also out after suffering from injury. Hudson Odoi suffered the blow while training in Slovenia.
"We have one or two situations where I am waiting for the evidence from the medical team to make a decision," Boothroyd said from England's training camp in Slovenia.
"Callum is definitely out and has gone back to his club. With everyone else, we are keeping them in as they have a fighting chance to be ready. As for Emile, he will be very doubtful, I would say.
"We hoped we would have Mason and Callum, and there's a situation with Jude [Bellingham being with England's senior squad] but I don't want to be a whinge-bag saying we have not got this player or that player. Those are the facts.
Aidy Boothroyd says Callum Hudson-Odoi is back at Chelsea because of injury while Arsenal's Emile Smith Rowe is "very doubtful" for tomorrow's game vs Croatia.
ALSO READ: Chelsea's quarter finals tie against Porto to be played out in a neutral venue